Saturday, April 8, 2017
A Word From The Weiss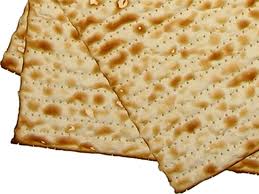 Happy almost Passover, people!
While you are still busy searching for your great grandmother's matzo ball recipe and trying to eradicate every last trace of chametz (leavened bread products) from your household, I have already taken the full plunge into the spirit – and spirits – of Passover.
That is to say, by the end of last week, in the course of only 24 hours, I had already celebrated my Jewish heritage at a seder and sipped my way through four cups of wine at a single sitting. OK, so only the first of these occasions actually involved 10 plagues and the breaking of the middle matzo. And the second, I might as well confess right now, featured a healthy dose of non-kosher food items, otherwise known as trayf. Maybe even an unhealthy dose of trayf. No matter. Both of these events were well worth attending and then telling you all about.
First thing first.
The seder.
You might well surmise that if you have been to one seder, you've been to them all. I mean, no doubt you know the drill, from the seder plate and matzo ball soup to the singing of "Dayenu." Which can typically be summed up like almost any Jewish holiday:
They tried to kill us. We survived! Let's eat! And I don't just mean eat a little nosh. I'm talking about a five-course meal.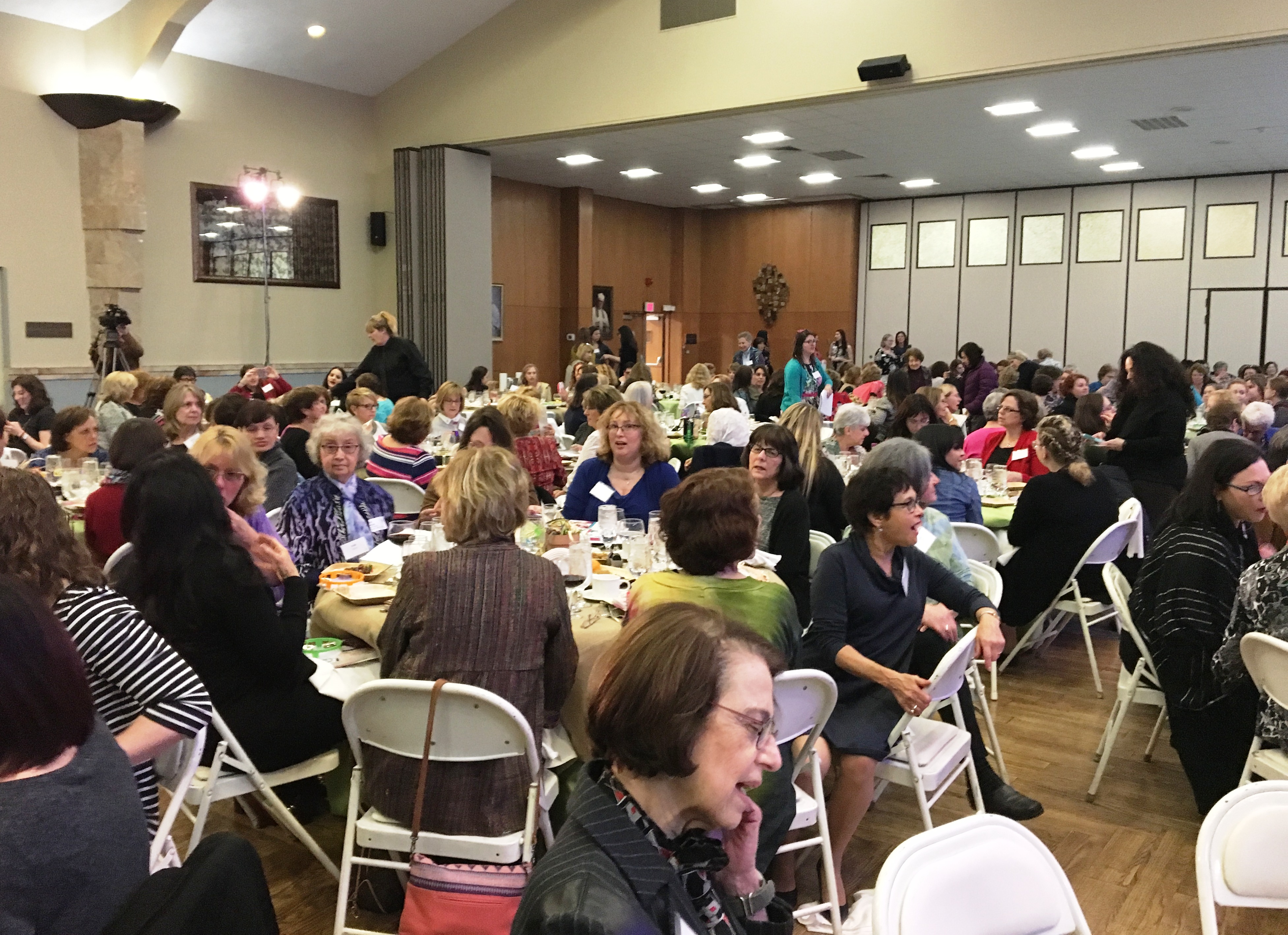 This particular seder, however, was a seder of a slightly different color. Or gender. Mostly because it almost exclusively involved what is commonly called the fairer sex.
This was not the first Women's Seder to be hosted by my local Jewish Community Center at a nearby synagogue. On the contrary, it was sequel No. 2. But unlike the typical case with most movie franchises, this event appears to be improving with age.
Picture 350 festively dressed women of all ages seated at tables inside a happily packed banquet hall singing together, reciting prayers, schmoozing, kosher boozing, and otherwise reveling in their shared sense of community, Jewishness, and sisterhood.
What gave this particular communal event extra verve and added zest was the entertainment provided by the featured guest, a young Brooklyn-based, Jewish singer-songwriter named Michelle Citrin, who proved herself to be a sassy musical firecracker.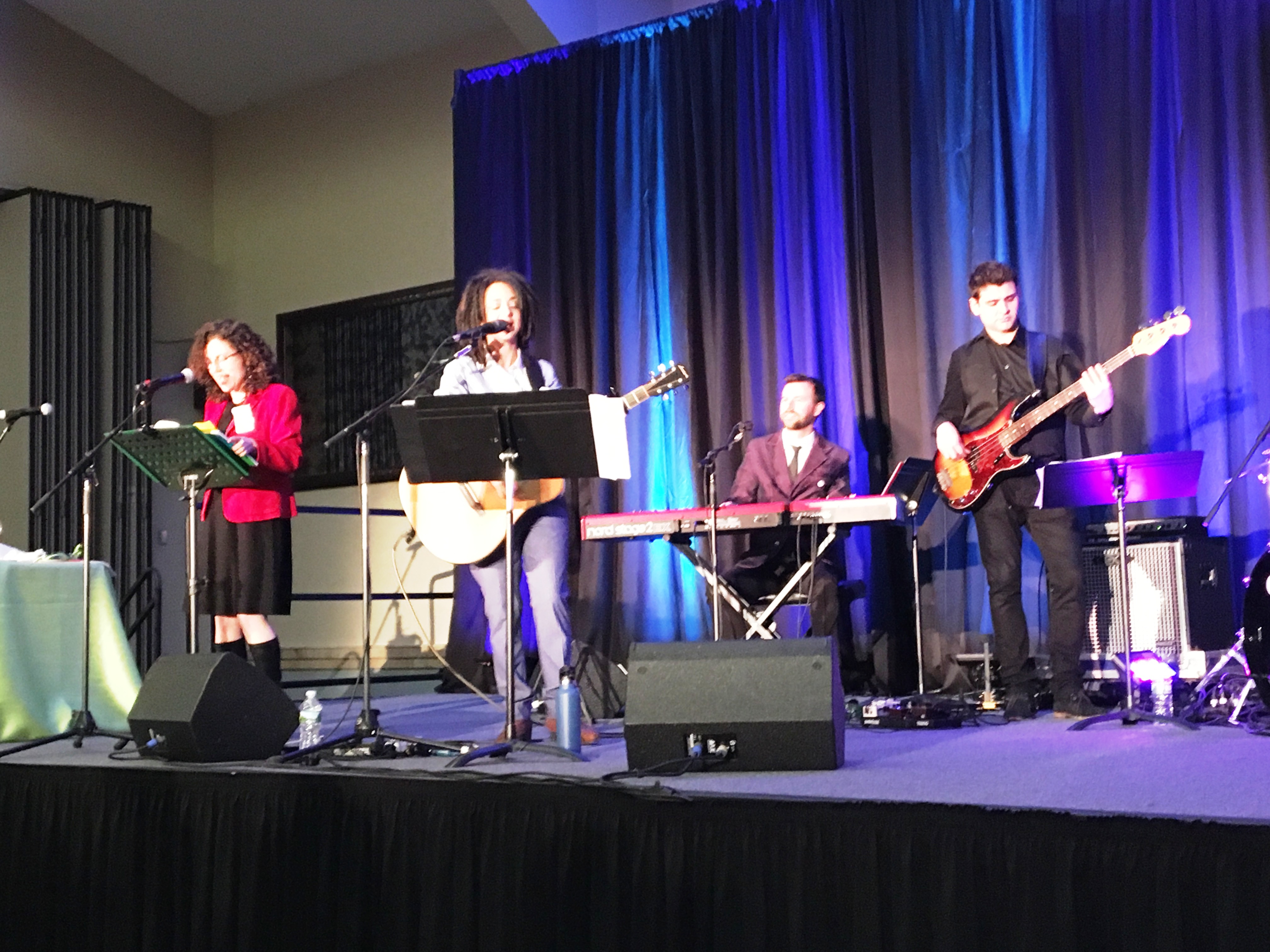 And this so-called Jewish rock star didn't even perform her famous song from 2008, "Twenty Things You Can Do With Matzah," which poses the important musical question, "Passover's over and wouldn't it be neat if you could use all the matzah that you didn't eat?"
And, of course, as with most questions posed during Passover, this song – the hilarious video of which can be viewed on YouTube --then proceeds to offer many more answers than questions. Such as, "You can make a matzah pick and play the guitar. Or you can make a matzah license plate for your car."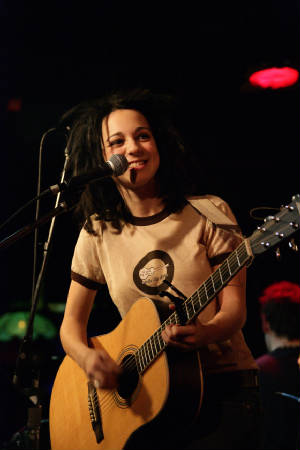 All I can say is that after a week that was a little challenging for me -- Jewish-wise and in every other way -- it felt no less than genuinely euphoric to find myself dancing around the perimeter of the room, shaking my booty as well as a colorful plastic timbrel, along with a few hundred of my Jewish sisters to the familiar strains of "Miriam's Song."
"And the women dancing with their timbrels
Followed Miriam as she sang her song
Sing a song to the One whom we've exalted
Miriam and the women danced and danced the whole night long."
OK, so this particular gathering of women only danced till about 9 – 9:30, tops.
No matter.
There were moments when I felt so uplifted that my feet barely touched the ground. Never mind that I only downed two small goblets of wine, neither of them Manischewitz. It was one of those nights that remind me (as if I ever need reminding) why I love to be a Jew.
The second event, the very next afternoon, was also a celebration of sisterhood. And actually was a five-course meal. A five-course meal with wine pairings, no less, one for each of the Five Books of Moses. Although there was no mention of the Five Books.
Or Moses.
It all began when I woke up early last month to an invitation from an upscale local restaurant called Max's Oyster Bar (pardon the mention of trayf). No big surprise there. I'm on their mailing list and often receive such invitations. This particular invite, though, was to a luncheon featuring GIFFT wines, the label owned by Kathie Lee Gifford.
And not just the wines of Kathie Lee Gifford, but also Kathie Lee Gifford herself.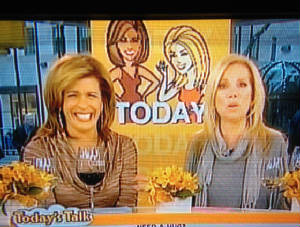 Normally, as a longtime devotee of the fourth hour of Today on NBC, hosted by Ms. Gifford, I wake up not to such invitations, but rather to watch Ms. Gifford herself. So I didn't hesitate for even two seconds before making a reservation for two for the lunch.
And it was a good thing I did, because within an hour the event had sold out.
I then proceeded to send another email to my good friend and frequent partner in crime and nice Jewish excursions, Pat, inviting her to join me.
It was Pat, after all, who had accompanied me on another such outing four years ago, to attend an earlier luncheon with Kathie Lee and her own sidekick, Hoda Kotb.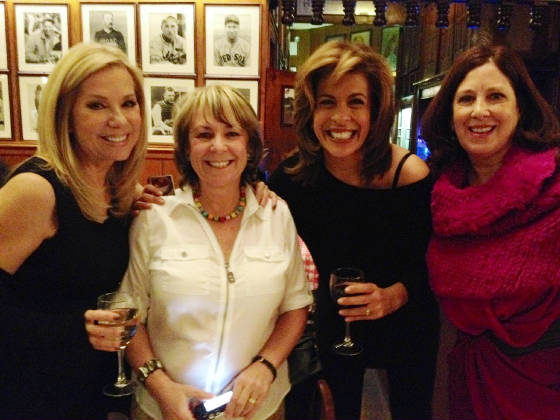 Never mind that Pat is not a devotee of morning television (or even evening television, for that matter), and until that day had been totally unfamiliar with Kathie Lee, Hoda and all four hours of Today. I had been telling her for years that we were Kathie Lee and Hoda – that is, I was more or less the Hoda to her Kathie Lee – and so I felt that it was high time that, in the inimitable words of Seinfeld, worlds collide.
We drove to New York City. Our worlds collided. I still have the photo – and the blog – to prove it.
But Pat wrote back now to thank me for my latest offer yet regretfully decline. She would be away with her husband that week.
So I quickly recruited my daughter Allegra to go with me instead.
Maybe that was just as well. For, as eager as I was to see Kathie Lee again "up close and personal," as they say, I had another motivation for attending this luncheon.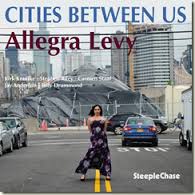 I hate to use the phrase "ulterior motive." "Ulterior" always sounds a little unsavory. As though you have something sneaky up your sleeve.
In this case, there was nothing the least bit sneaky. But I would have something up my sleeve. Or, more likely tucked into my tote bag or purse. No, make that two things.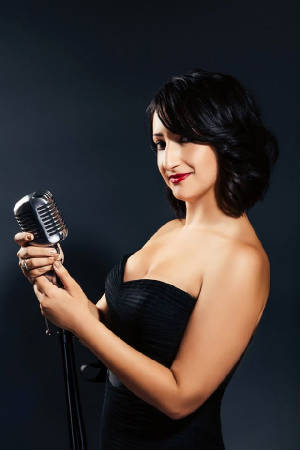 My daughter, Allegra Levy, a rising young jazz singer, has just released her second CD, Cities Between Us. The fourth hour of Today often features new singers, and as a daily devotee of the show I have long dreamed that my daughter might be one of them.
Kathie Lee was bringing her Giffts. Why not give her my own gift, a copy of the CD? And surely, it would be even better to have Allegra present when I gave her this present.
And as long as I was giving her that present, why not give her my new book too?
Ya never know.
With luck, Allegra would be on spring break that very week from the school at which she works. But as luck would have it – or real life would have it – home is not exactly where most 27-year-olds necessarily want to spend spring break.
Also, as it turned out, Allegra scheduled a rehearsal in NYC for her upcoming CD release show on the same afternoon I would be dining in Connecticut with Kathie Lee.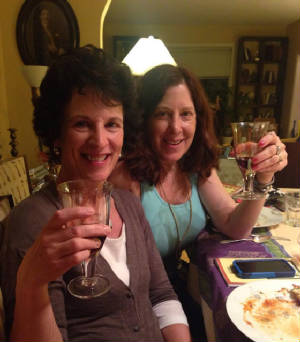 So a few days before the luncheon, I invited my friend Sally to join me instead. Never mind that Sally was not a devotee of morning television either, and until that moment had also been unfamiliar with Kathie Lee, Hoda, and all four hours of Today.
And never mind that Sally had a doctor's appointment late that morning and feared she might arrive extremely late. Sally enjoys wine. Not to mention trayf. I told her to come whenever she could.
Hoda would not be at this luncheon because she adopted a baby a few weeks ago and is on maternity leave. But I wanted to make sure to get my photo snapped with Kathie Lee once again. With that in mind, I wanted to wear something similar in color to what Kathie Lee would be wearing. Maybe that sounds deranged – it's not as if we were bridesmaids. It's just that Kathie Lee and Hoda almost always wear the same color scheme on the show. (Does the wardrobe consultant plan it, or do they confer each day when they wake up, which, given their perfect coiffures at 10, must be by 4 a.m.?)
With this in mind, I decided to wait to pick my own outfit until after I saw what Kathie Lee wore on the show that morning.
Speaking of which, if she was going to appear on the show that morning, how the heck would she possibly arrive anywhere close to on time for the luncheon at 1 p.m.? The show ends at 11, and NYC is a good 2½-hour drive away. Even without traffic.
With that in mind, I told Sally not to worry if her doctor's appointment ran late. She would probably still beat Kathie Lee.
When I tuned into Today that morning, Kathie Lee was wearing a beige dress. I'd been hoping to wear black – it's stylish, not to mention slimming, as we all well know – but far be it from me to wear black when she was in beige. So I slipped on the blush-colored sequined top and slacks I'd worn to my son's rehearsal dinner last summer.
Never mind that it was a little sparkly. Not to mention NOT slimming. It was festive. And noticeable. Even at a crowded, sold-out luncheon, you just couldn't miss me in that.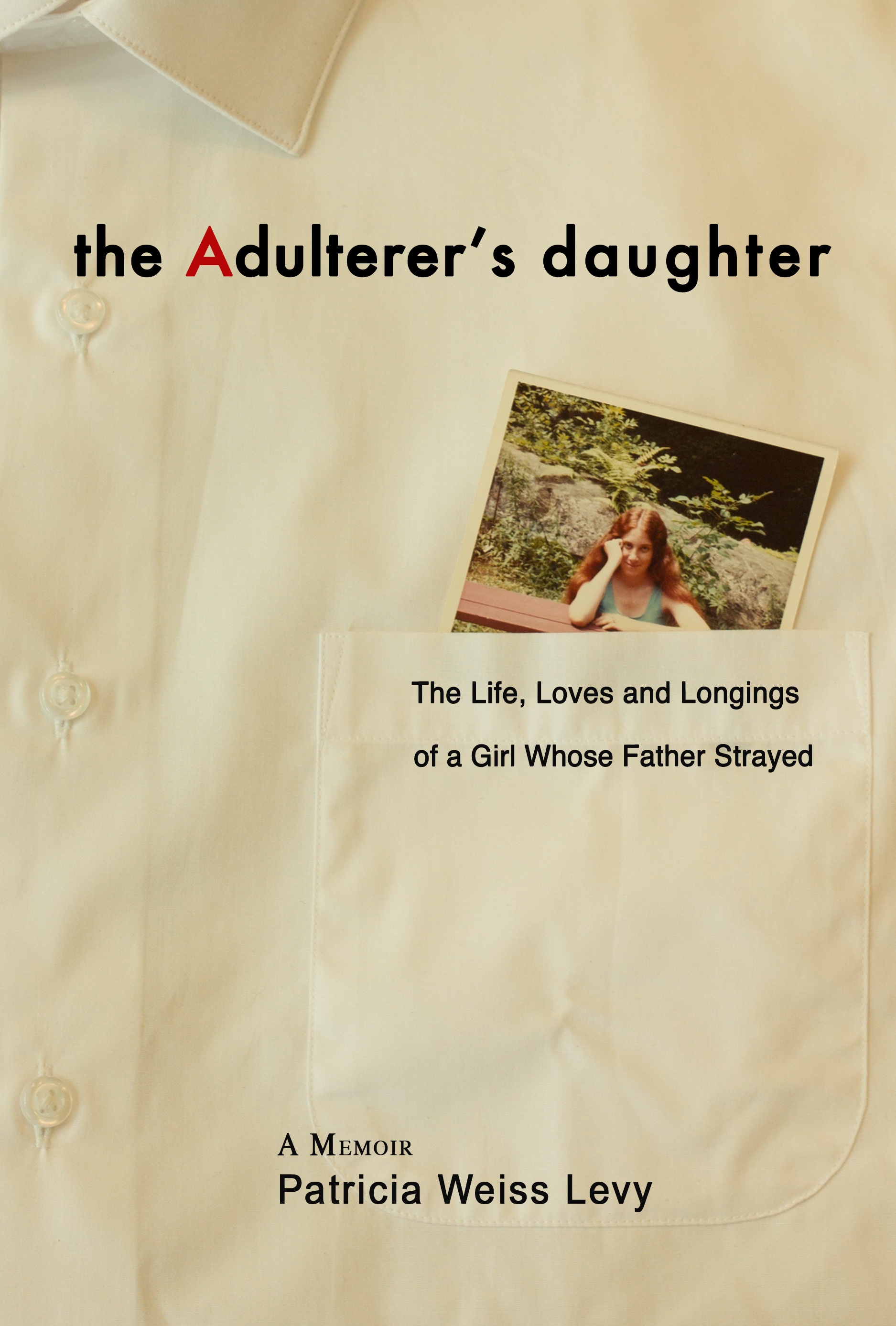 After tucking a copy of both my new book, The Adulterer's Daughter, and Allegra's CD into my purse, I had another inspiration. Why not also give Kathie Lee a copy of the blog post I'd written about our earlier meeting, the luncheon I attended in New York?
It took me awhile to locate this in the archives of my blog, though, then even longer to figure out how to print it. No matter. It was pouring out. Kathie Lee would be lucky to make it to the lunch by 2.
So imagine my surprise when I arrived at Max's at a fashionably late 1:05 to find the luncheon already in progress and Kathie Lee halfway through her welcoming speech.
And to see that she was dressed in a jumpsuit in a very slimming shade of black.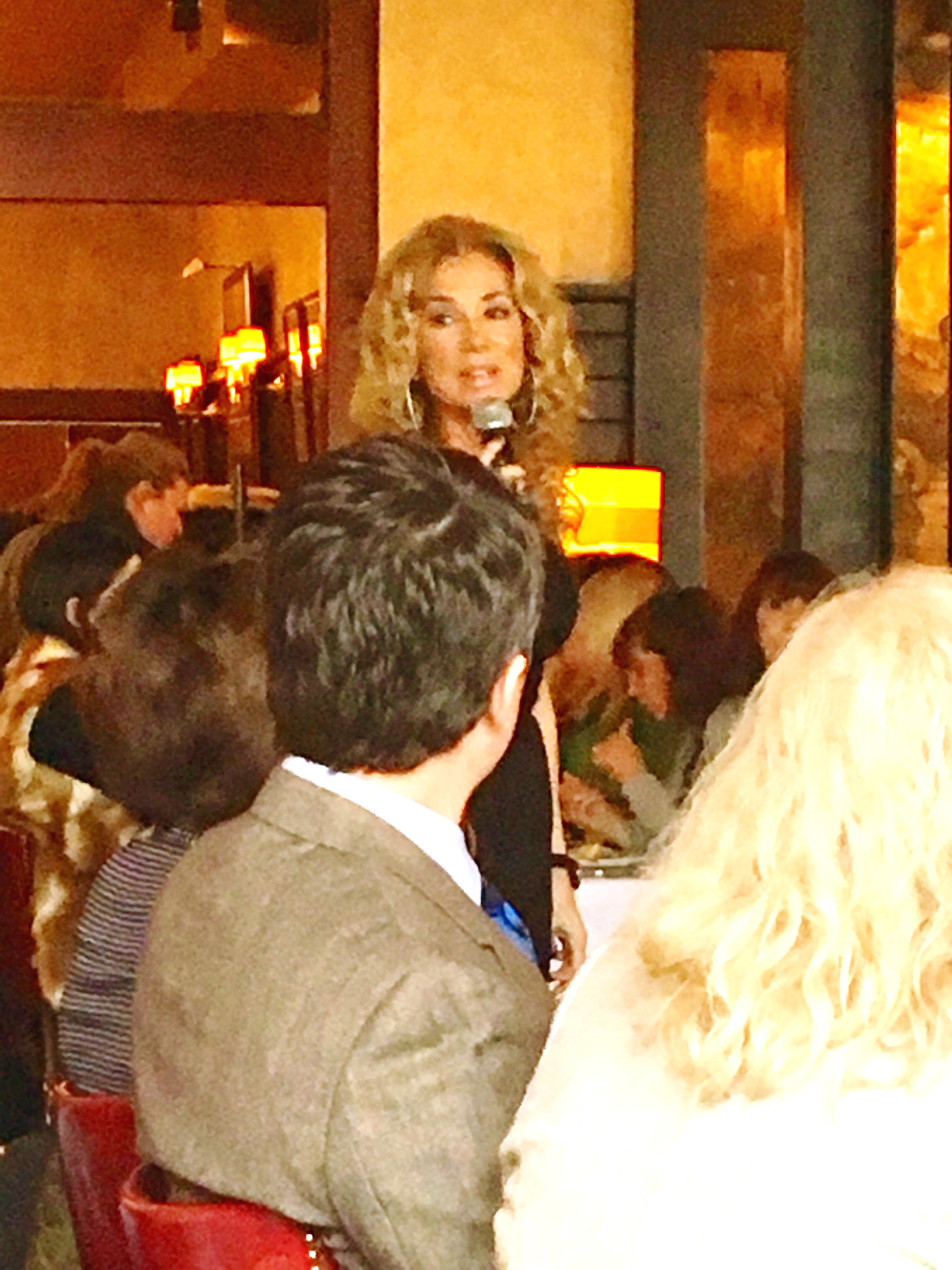 How had she gotten there so fast and even found the time to change? Had she flown in by helicopter, or on a private jet? When I was ushered to the only pair of empty seats left in the room, at a table of eight in the front window, I soon learned. As she had just divulged to the crowd, that morning's show had been taped the day before.
Talk about having something sneaky up your sleeve!
As I took my seat, a waitress approached to serve me the first wine of the day. I'd been too busy watching Today and getting dressed to eat breakfast. So at 1 p.m., with four wines to taste, I was already well on my way to getting sloshed.
For those of you who may also not be familiar with Kathie Lee, allow me to explain. She is famous for many things. Along with her long career on morning TV – the past nine years on Today with Hoda were preceded by 15 years hosting with Regis Philbin – she has enjoyed fame as a singer, songwriter, and actress. Many might just know her from the years of commercials she did for Carnival Cruise Lines, beginning in 1984. Plus, she was married to NFL football star Frank Gifford, who passed away last year.
But thanks to the frequent ribbing and snide references seen on late-night talk shows and Saturday Night Live, she may be best-known now for drinking wine, not because of what she drinks, or how much she drinks, but because of when she drinks it: On the fourth hour of Today, every weekday, starting at 10 a.m.
So choosing to market her own wines was a matter of doing what comes naturally.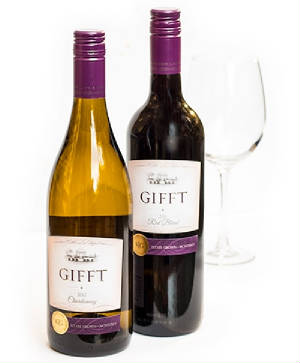 As she had evidently explained just moments before I arrived, she had gotten into the wine biz when a man came up to her a few years ago and asked out of the blue why she hadn't done it yet. This led to a collaboration with Scheid Family Wines of Monterey, CA. They currently produce four different vintages for her, all of which have achieved high ratings from Wine Enthusiast. One of them, a pinot grigio, was now being served with our first course, a seared tuna tapenade crostini atop frisée, olives, egg, and pickled veggies.
Sally, alas, was still nowhere in sight. No matter. I made sure she was served both the tuna and wine anyway. Then I got acquainted with two of my other table mates.
Leslie and Steve, a cute and affable couple, were there because Steve had received the email and instantly signed up Leslie, a dedicated Kathie Lee devotee, as a surprise.
What a man! Make that prince. My own husband happens to be a longtime fan of the beauty makeovers done on the show every Thursday. In fact, he has taped them for years, watches them the minute he gets home, and often calls from the office to inquire, "How were the makeovers today?"
And yet when I'd asked him to accompany me to the lunch, after learning that Allegra had decided to renege, he had answered with a fairly abrupt and decisive "No."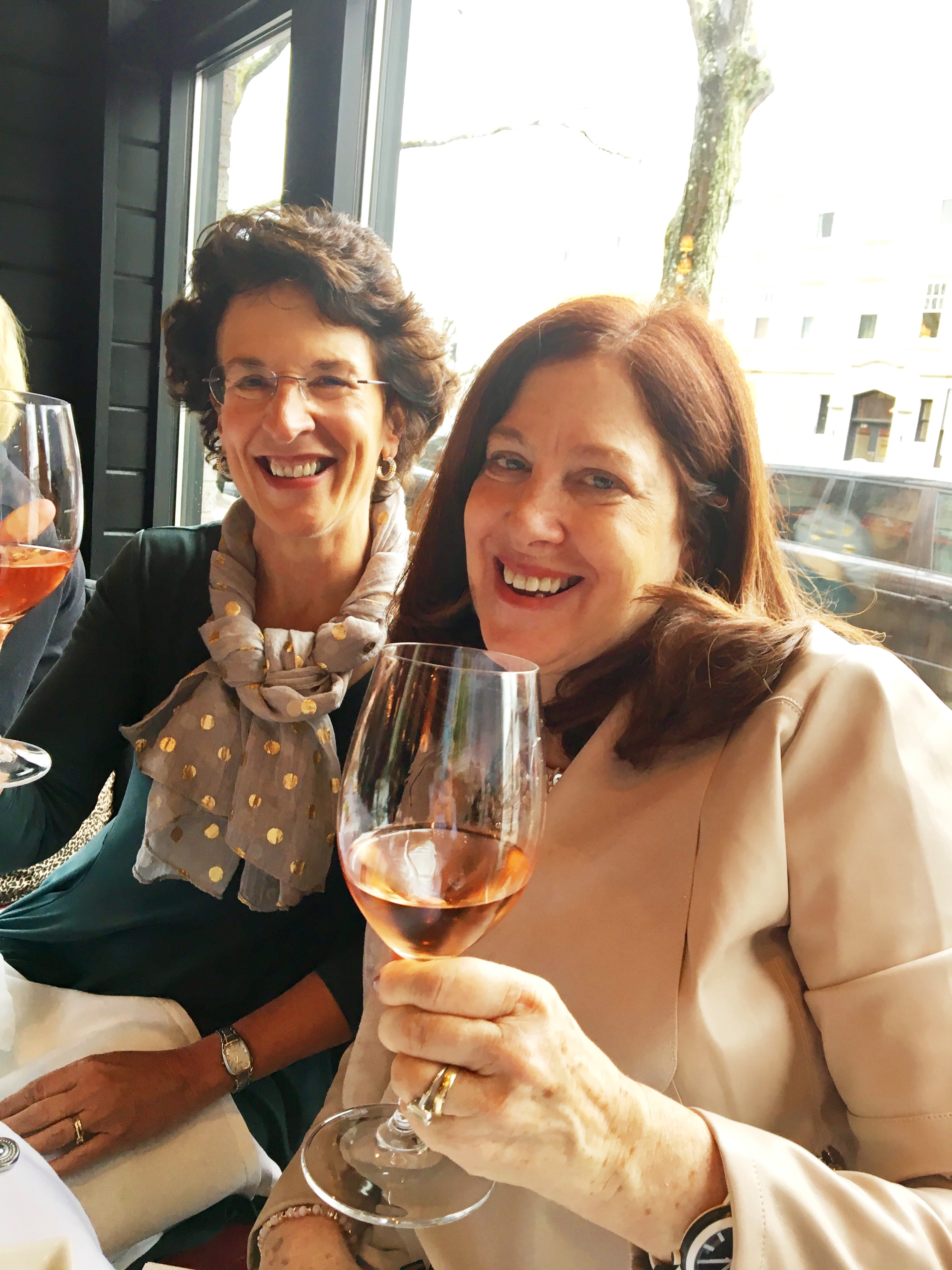 By the time Sally finally arrived, just in time for the second course – and the second wine, an absolutely delicious Chardonnay – Leslie and Steve were my new best friends. And so, even before Sally could dig into the chowder-stuffed cherrystone clams with scallops and leeks, they happily snapped our photo, and we readily returned the favor.
Kathie Lee was also busy posing for pics and selfies with her many guests, circulating slowly around the room as she greeted each and every one. Before every course was served, though, she would take a break to deliver a few introductory remarks.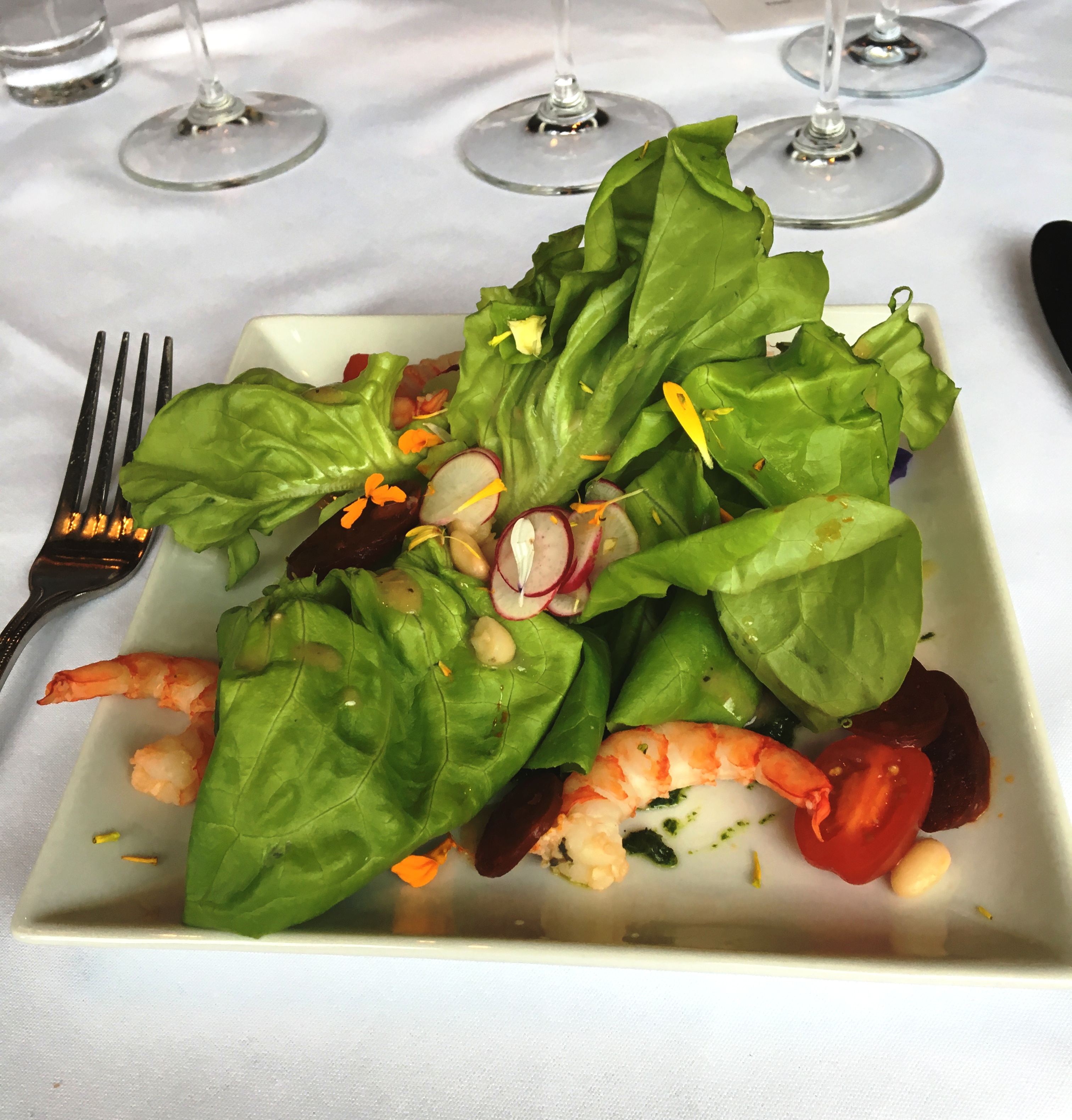 "You really are a medicated bunch of people!" she quipped as we were being served the third wine, a blush-toned rosé. Can't say that she was wrong. I also can't say that I hesitated to dive into the accompanying dish, a Stonington Royal Red Shrimp Salad embellished with white beans, chorizo, and a kale salsa verde. Never mind that it was double trayf. It was also doubly delicious.
Then, just before the main course, without warning, Kathie Lee suddenly approached. Leslie had encountered her on the way back from the ladies', and having heard that she'd brought her boyfriend to this mostly ladies' lunch, Kathie Lee had come over to meet Prince Steve.
But first she wanted to know how all of us were enjoying ourselves. And her "stuff," as she often calls it on the show, so as not to sound like she is overtly advertising it.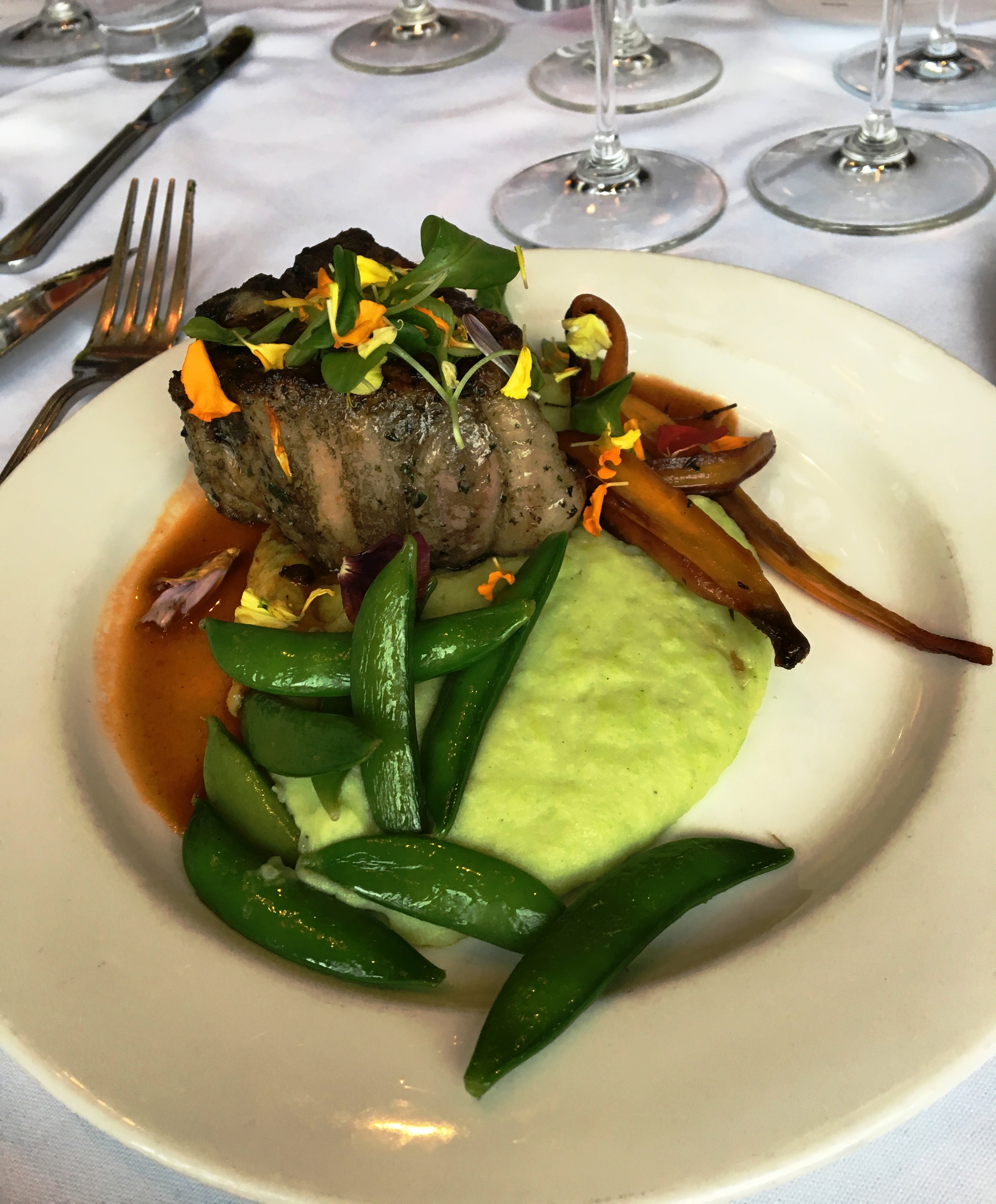 She began to tell us how proud she was that her 2015 Chardonnay had snagged a gold medal in this year's San Francisco Chronicle Wine Competition. At this, I found myself summoning up my nerve (or was it just liquid courage?) to speak up.
"I don't know from gold medals," I responded, lifting my glass to toast her. "I just know what I like, and I love this!"
I meant well. I truly did. But the instant those words flew out of my mouth, like a flock of wild, squawking birds, I regretted them and wanted to put them back into the cage. Because instead of reveling in the compliment, Kathie Lee gritted her teeth and perceptibly grimaced. She began defending herself, noting that this medal was real, and a true coup. I don't know quite what she said, though – I was too busy wishing I could eat my words instead of course No. 4, an herb-grilled Colorado lamb chop served with mint pea potato puree, honey-roasted baby carrots, and a red wine rosemary orange jus.
What the heck had I been thinking? Was I crazy?
Why couldn't I have echoed one of her favorite expressions, "Of course you did!" and simply said, "Of course you did! It's delicious!"
And now that I had insulted her, how was I possibly going to try to slip her my stuff?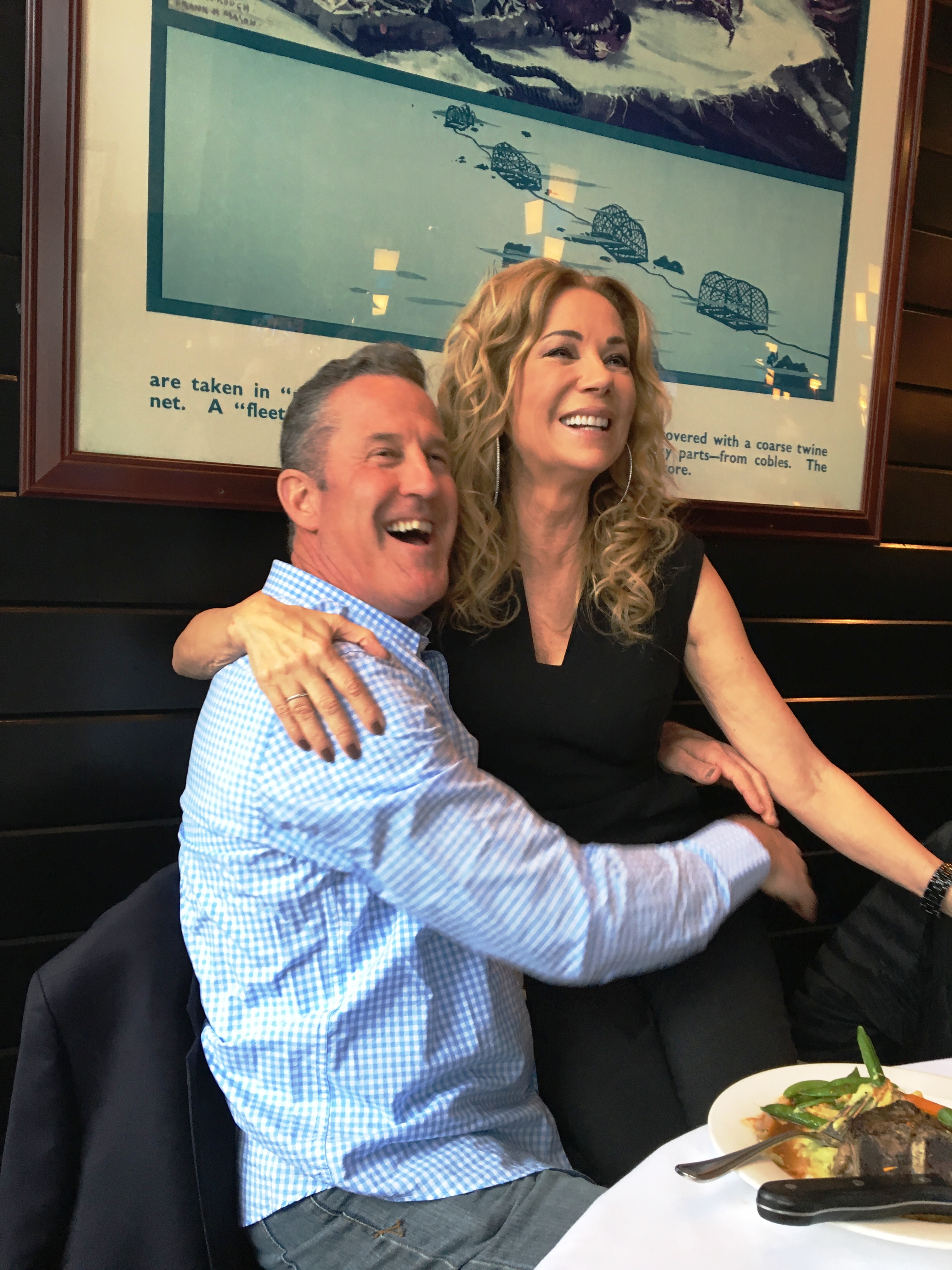 While I contemplated all of this, Kathie Lee managed to recover her warm smile, as well as her joie de vivre. Within seconds, she found herself perched upon Steve'slap.
Steve didn't seem to mind one bit. At 63, Kathie Lee has unquestionably still got it. And I am not talking about her "stuff."
Then, as abruptly as she'd arrived, the vivacious TV star popped up again. With 143 guests to greet, and only one course left to serve, she had to keep making her rounds. "I've got to go," she said.
Oh, no! Was this really happening?
I had taken my friend Pat with me to that luncheon in NYC in large part because she has much more chutzpah than I do. I knew she would make sure that I met my idols. Sally is one of the sweetest, loveliest, and best friends anyone could ever hope to have. But she doesn't know from chutzpah. (And not only because she is not a fellow Jew.)
So I knew in this case that even if I had offended Kathie Lee, I was on my own here. And I summoned the nerve to cry out again as she began to slink off, wine in hand.
"Kathie Lee, can I get a photo with you? For my blog?"
Kathie Lee is nothing if not gracious. "Of course," she said, "but it has to be fast."
So I bounded up with the CD and the book in hand. I left the printed copy of my blog behind. Seriously, how much hazzerei did I actually have the chutzpah to hand her?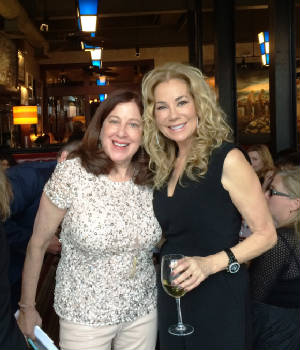 After she had slipped an arm over my shoulder and posed genially, I blurted out the nature of my mission before she could walk away.
"I met you at a luncheon in New York four years ago when you produced your musical Scandalous," I began. "At the time, I told you that my daughter, who's a young jazz singer, was about to record her first CD. Well, she recently released her second CD, and I want to give you a copy."
Maybe that was enough already. But if she could serve five courses, and four wines, couldn't I offer two?
"I also want to give you a copy of my new book, which was just published," I quickly added.
"How wonderful for you!" she exclaimed.
"Yes and no," I replied. "It's a memoir about how, when I was growing up, my father kept a mistress for 15 years while still married to my mother."
Again her face noticeably fell. But all she said was, "Thanks, but I can't really carry all of these things around the room with me."
"No, of course you can't," I said, not skipping a beat. "Is there someone I can give them to for you?"
At this, she indicated the attractive young woman who had been trailing her around the room. I promptly proffered my booty to her.
As the pair made their way to the next table, and then a third, I noticed that this woman still had both my book and Allegra's CD tucked safely under her arm.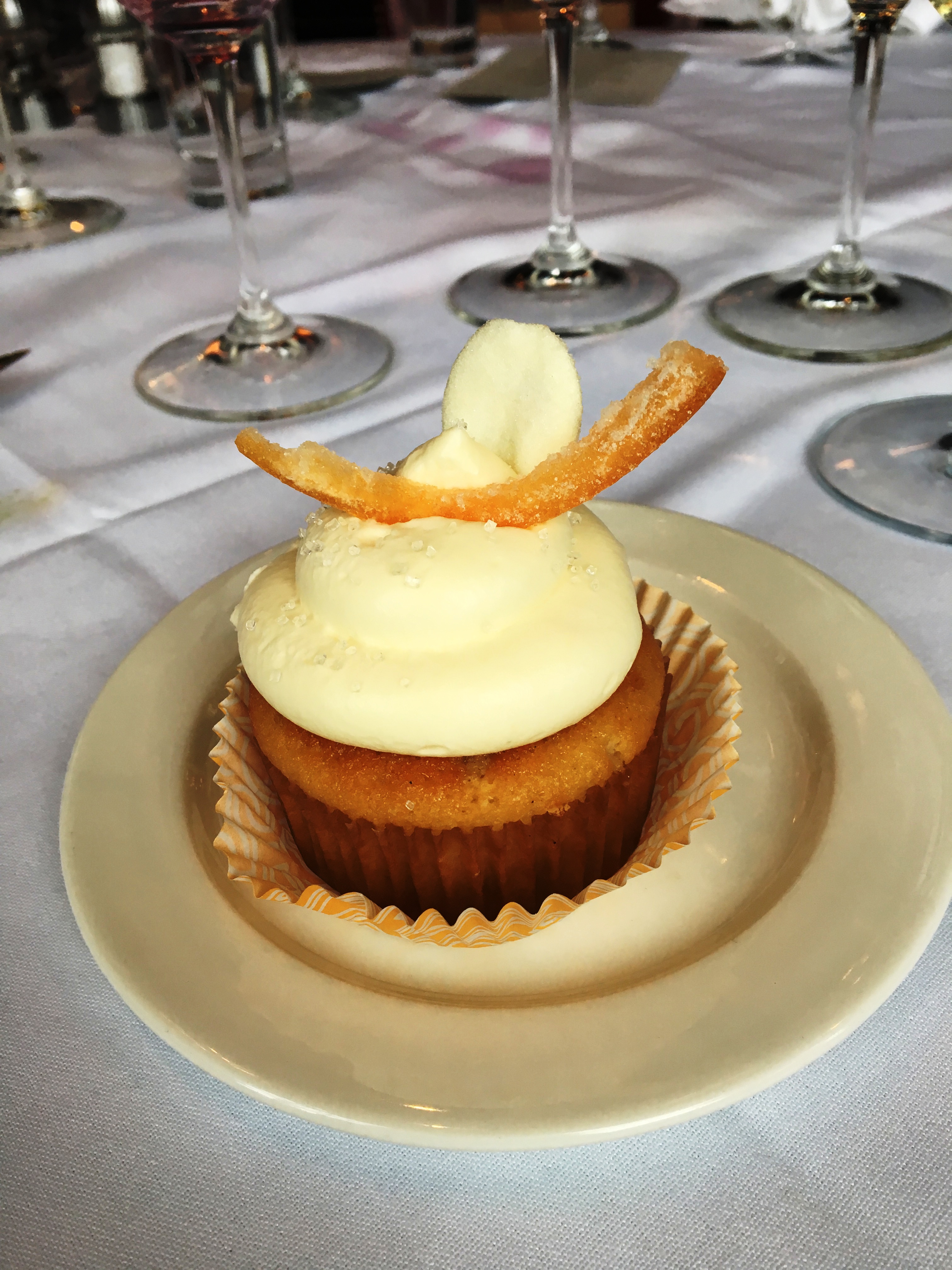 As to what happened to my offerings next, I cannot say. Because by the time we'd been served the final course, a lemony meringue-topped mini-cupcake, sans wine, Kathie Lee had already departed.
In her wake, however, she had left everyone present a special present – a signed bottle of one of her wines, which, in case you are wondering, all retail for under $15.
As pleasantly surprised as I was to receive this unexpected bonus, I was a teeny bit disappointed, only because I tend to be a dedicated – and sometimes medicated -- Chardonnay drinker, and the bottle that I was handed turned out to be the pinot grigio. Believe me, though, I was not about to complain. Neither was anyone else at my table. For as Leslie wryly pointed out, "I don't want to look a GIFFT horse in the mouth."
And although a whole week has gone by since that day, without a call, email, or word from Kathie Lee or anyone else at the fourth hour of Today, I don't want to look a five-course lunch -- with wine pairings, no less -- in the mouth, either.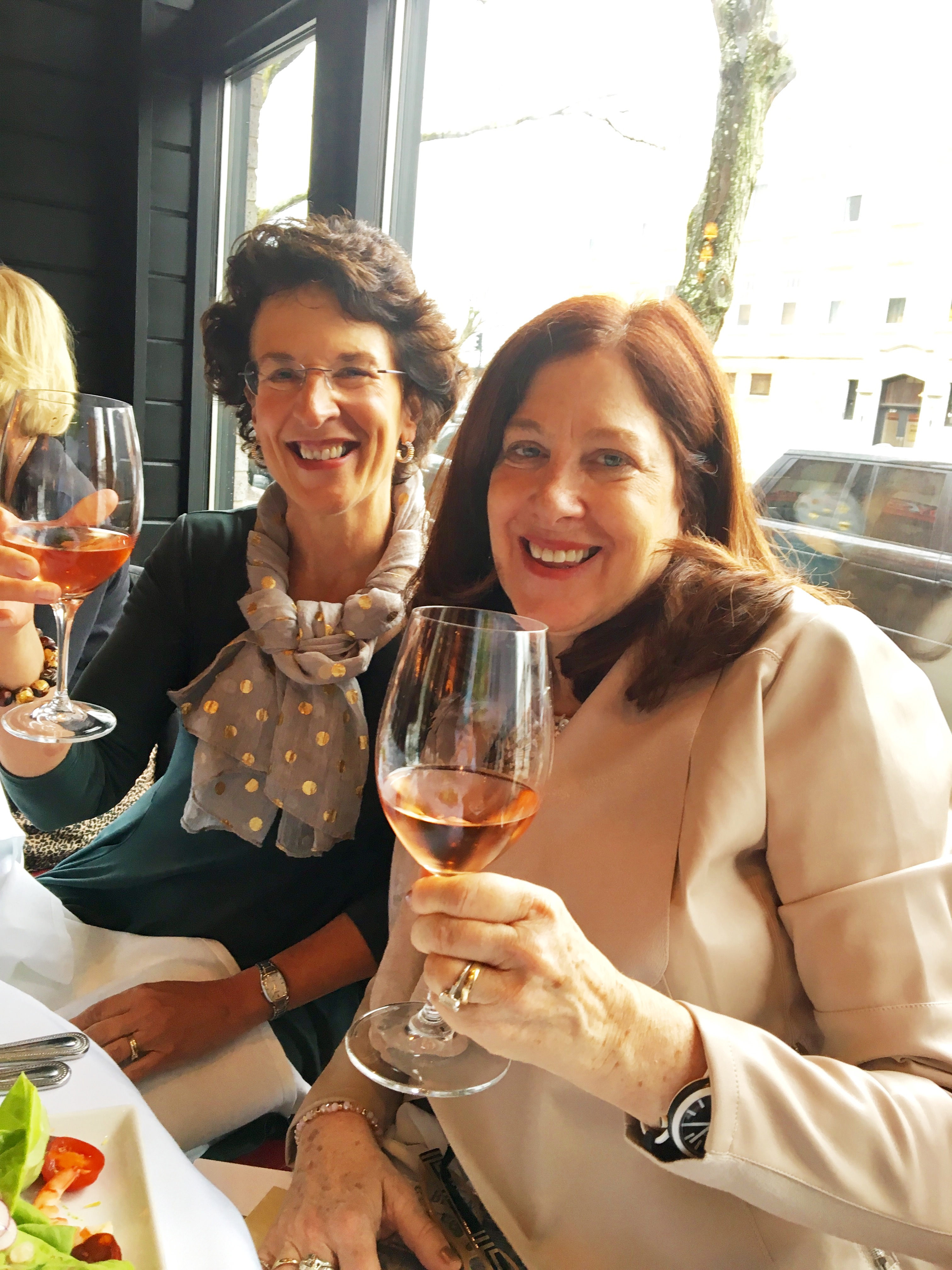 Maybe Allegra's CD and my book got inadvertently left behind at the restaurant. Or maybe, as gracious, kind, and down-to-earth a person as Kathie Lee may be, as the recipient of too many gifts herself she later had no choice but to toss them in the trash.
Or maybe, just maybe, she listened to the CD on the way back, or in the privacy of her own home. Or has my book on her nightstand. And one of these days, the chutzpah I summoned will pay off.
Now, that would make for a truly happy Passover. Is it possible?
Ya never know.
1:34 am
Friday, March 17, 2017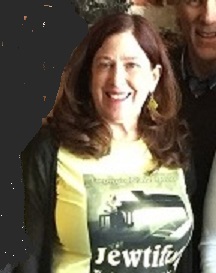 A Word From The Weiss Maybe it's a little late to wish you a happy Purim and to share the new recipe I found for hamantaschen that taste "just like buttah" because that's what they are -- mostly buttah. But is it too late to tell you about my latest Purim spiel -- latest and most probably last?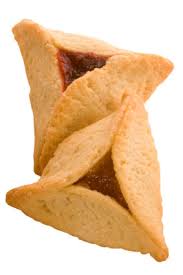 OK, OK, I know what you're thinking. "After 16 years of writing Purim spiels for your temple, you're quitting now? Just like that?" And/or as my mother would probably say, "'Never again?' Really! We'll see… But if you have any sense at all, never say 'never!' "
So for now, well, let's forget about "last." And "never." Let's just leave it at "We'll see."
I knew that this was going to be a challenging year, Purim-wise, thanks to the retirement last spring of my congregation's longtime cantor who was beloved by all.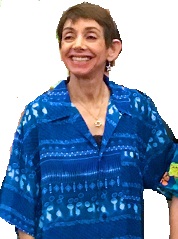 But out of courtesy to her young successor, I am not going to go into many details of why, in many ways, that proved to be the case.
Suffice it to say that transitions are difficult for everyone, especially for nice Jewish moms when they relate to age-old or at least longstanding traditions of the Jewish persuasion. So I will admit that I approached this year's Purim celebration with trepidation. And I am sorry to report that in many ways it managed to live down to my expectations.
In all fairness to the new cantor, who deserves every consideration and every chance to succeed in her new position, I will also admit now that, after 16 years of writing lyrics for Purim spiels, I am borderline -- no, make that certifiably -- OCD when it comes to all things Purim. But in all fairness to me, please consider the situation.
Last spring, at the end of our previous cantor's retirement party, held in our synagogue's social hall, I was approached by the temple president with a firm request. She wanted to make sure I remained on board for Purim for at least another year. "You can't both leave!" she cried.
It was an offer I wouldn't have even considered refusing. Why would I, considering that writing the spiel makes me feel like I am making a real contribution to my community? And that I have a sense of loyalty to the merry band who appears in it every year, the group I long ago dubbed The Not Ready for Purim Players?
Not to mention the best part for me: Thanks to my annual participation in the spiel, my kids always come home for Purim.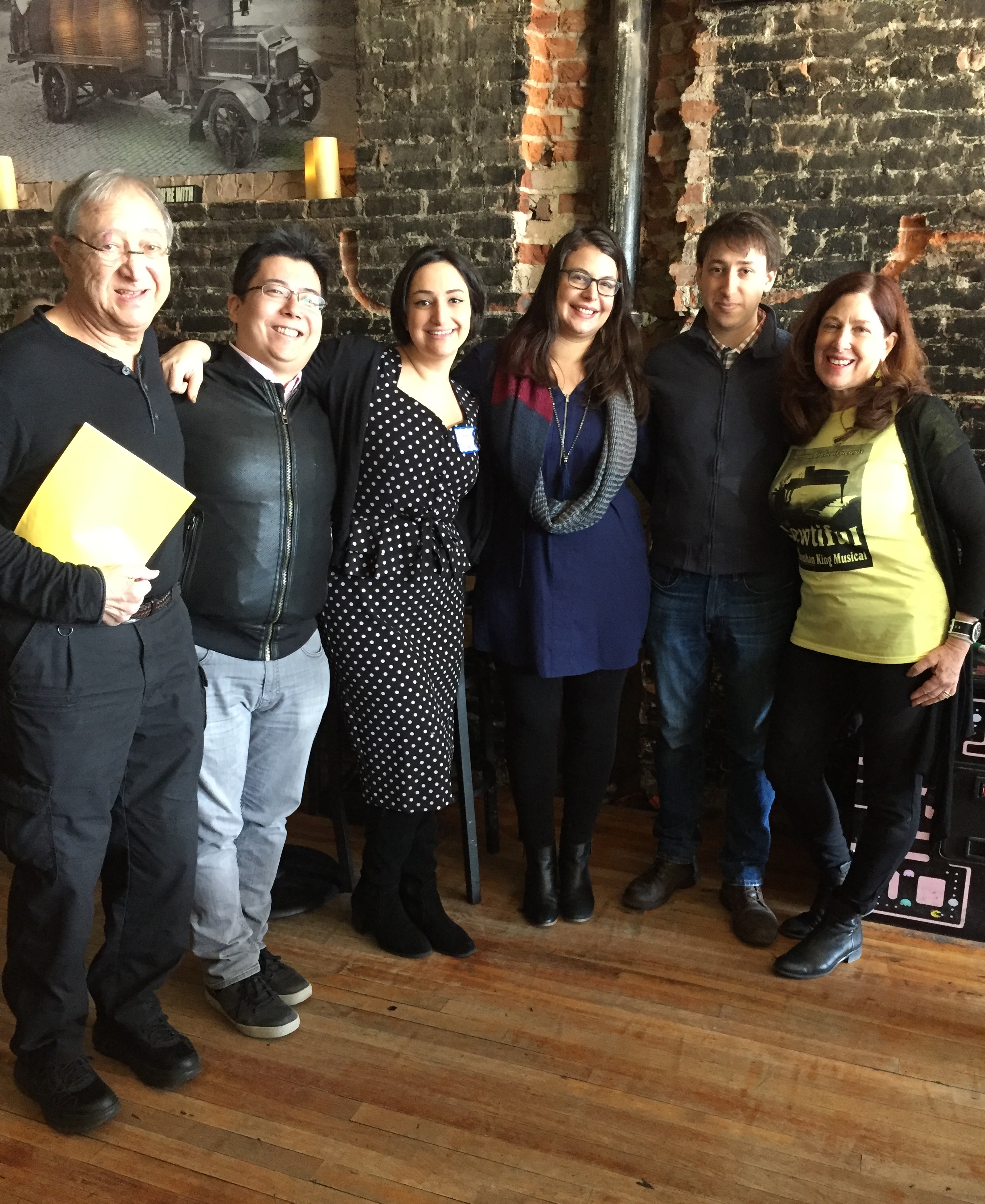 So it was far easier to convince me than for Mordecai to persuade young Queen Esther to "woman up" and go see the king. I said that she could count on me.
From my first meeting last fall with the new cantor, however, I began having second thoughts.
To my relief, she readily embraced my chosen theme. After years of writing new lyrics to the music from assorted Broadway musicals, creating everything from "Kiss Me, Esther" (based on Kiss Me Kate) to "South Persia-cific" and "The King and Oy," I had repurposed the music of The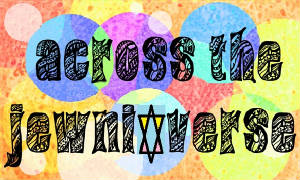 Beatles two years ago for "Across the Jewniverse," followed by last year's Beach Boys-based extravaganza, "Good CHAI-brations."
This year, I proposed, would be a happy marriage of Broadway and classic pop music: "Jewtiful," using tunes written by Carole King et al from the current Broadway smash Beautiful.
No problem there. The cantor loved musicals, she said, and had seen that one. She seemed not just on board, but gung-ho.
Yet when I told her how we had always proceeded in the past, she stopped me cold.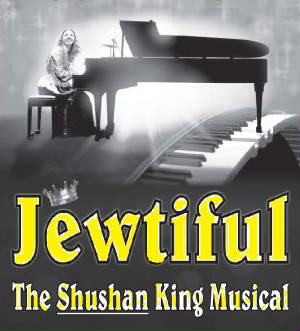 The word "cold," in fact, had everything to do with it. Our usual MO was to rehearse every Sunday throughout the winter, starting right after New Year's Day. In years when Purim fell early, thanks to the fluctuating Jewish calendar, we might even commence practicing right after Thanksgiving... when the turkey carcass was barely cold.
At this, she seemed incredulous. She was not inclined to begin rehearsals until the end of January, and planned to skip a week or two in the interim, due to school vacations and other obligations. After all, at her previous congregation they had managed to prepare with only three rehearsals, despite having a young cast, half of whom were under the age of 8, no less.
We proceeded to debate the matter. She remained unmoved. It was just Purim, she said. Why did it have to be perfect? Unlike most Jewish celebrations, Purim is pure fun. Never mind that she had never directed a spiel, or any other production before. It would be fine. The more mistakes the better.
OK, maybe she had a point there. But it was a point that pierced me right in the heart.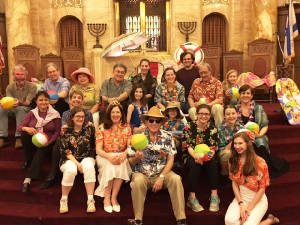 Over the 15 years that I had been writing the spiel, my shul had come to refer to Purim as the third High Holy Day because it consistently attracted so many congregants. And not just congregants. People from other synagogues -- why, even some non-Jews -- often came.
Our clergy members clearly prided themselves on that fact. But how in good faith could I begin to explain that in our town, in many ways, Purim had become something of a competitive event?
So instead we continued the debate. Sure, I saw her point. But here's what I was hearing: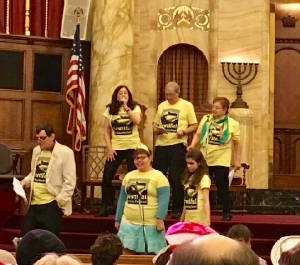 I had been engaged to ensure continuity and to initiate her into the way that we did Purim and had always done it. Considering that everyone always enjoyed it, I figured that they expected us to give them more of the same. And the only way I knew to produce that was to do it exactly the way we always had.
To me, it was a lot like my brisket. Everyone in the family seems to love my brisket. And so I continue to make it every Passover, even though it takes hours in the oven. Now someone my daughter-in-law's age was telling me, "I want to make your brisket. And never mind that I have never made brisket before. I want to make it in an hour… And then I want to serve it to almost everyone you know and tell them that it is yours!"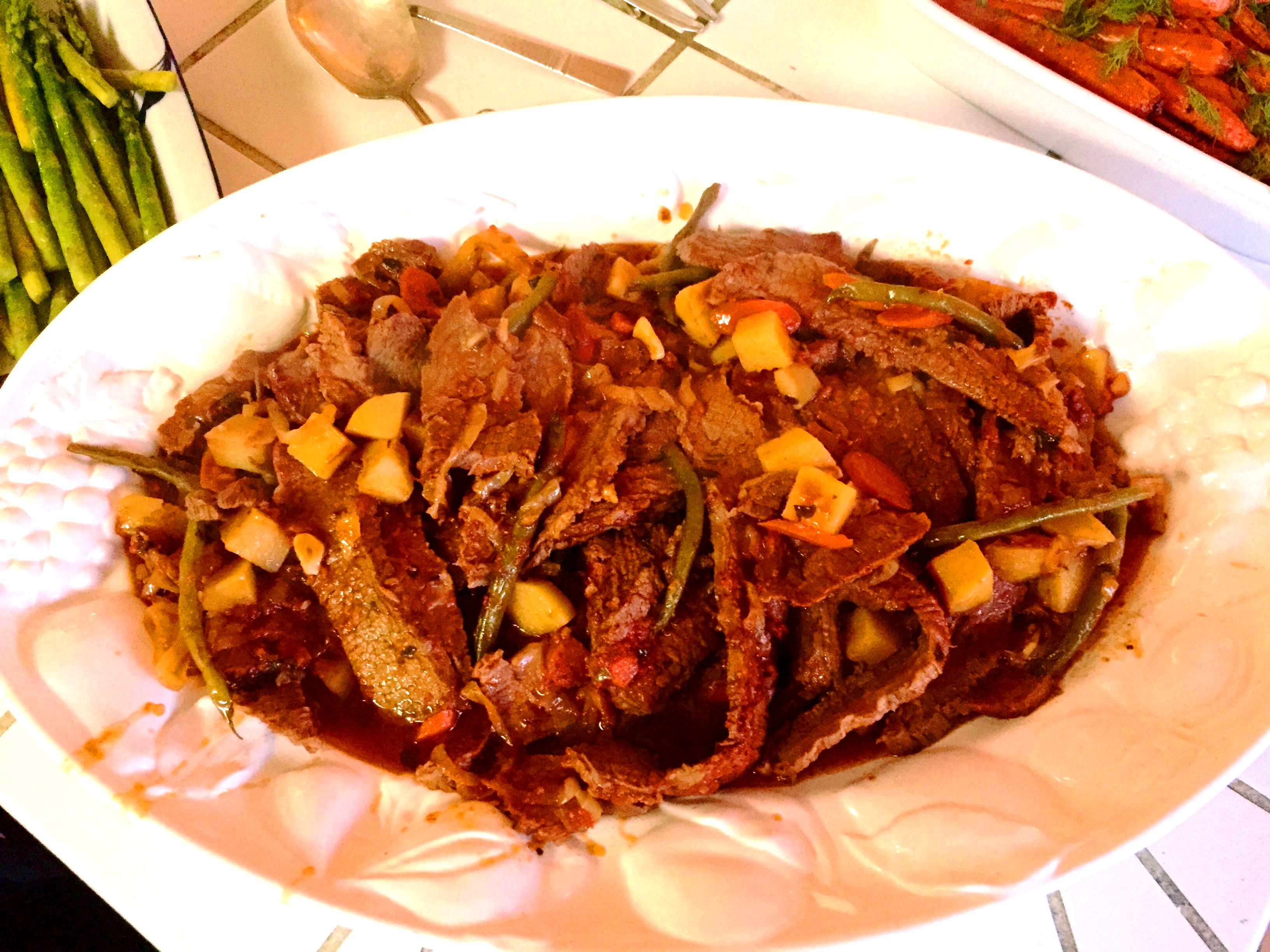 Gulp.
What you need to bear in mind, of course, is that I do this every year as a volunteer. Even if I had continued to argue with her until I was blue in the face, I had no standing. She was in charge. And so we proceeded to do it her way.
I will not continue to bore you by prolonging the saga, or denigrate her by supplying any other gory details of other conflicts that arose between us over – what should I call them?
Artistic differences?
Since I am writing a week later, I can now report that, despite all of my angst, and regardless of what felt to me like extreme under-rehearsing, the spiel went on and it was just fine. Everyone came. Everyone loved it, thanks in part to the clever script she wrote herself with no lack of subtle references to Donald Trump and the current political administration.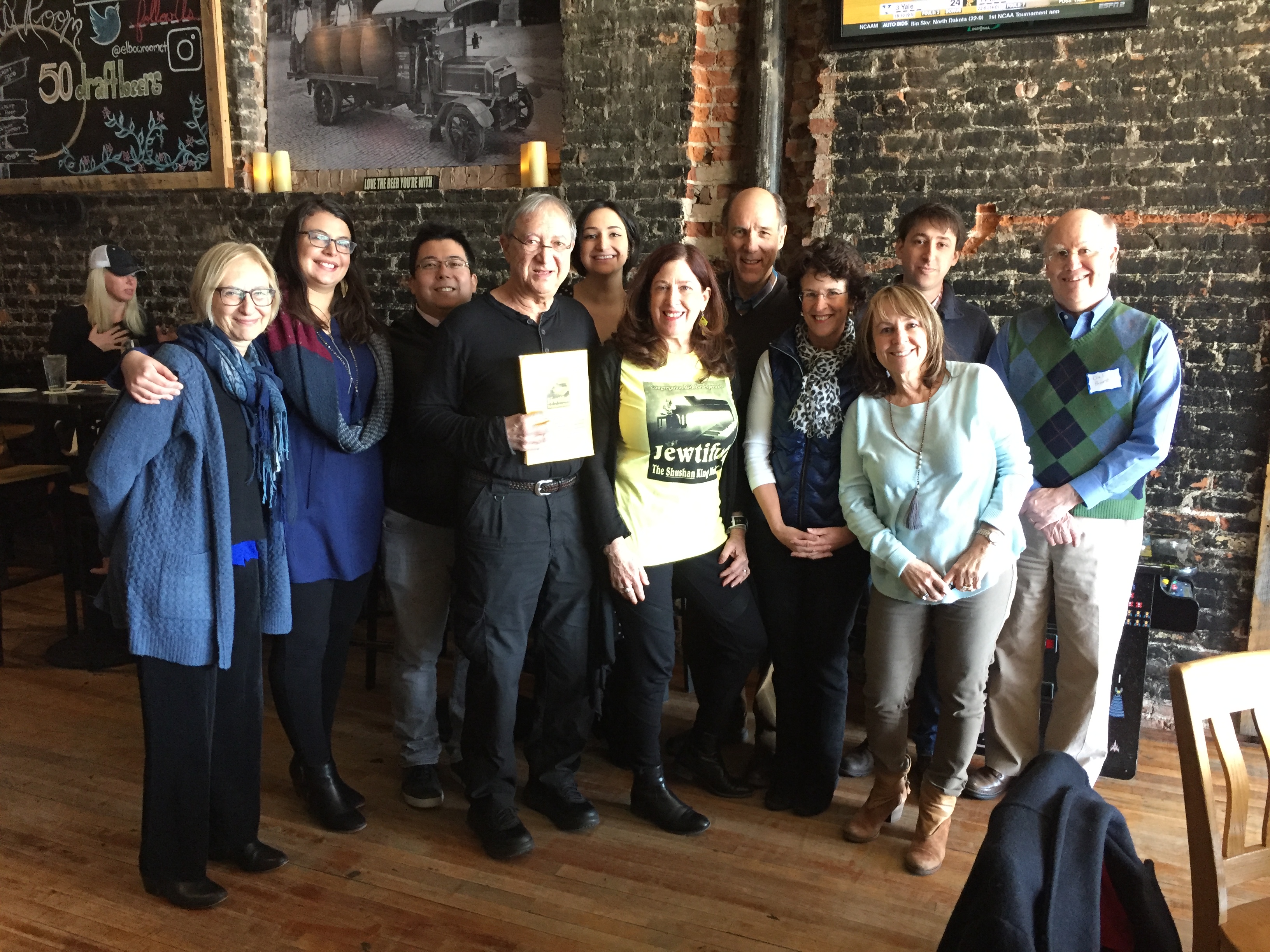 As for me, once again it was better than fine because my kids came home as always... and many of our best friends came too!
Instead, I will simply treat you to one of the many songs we sang – not Esther's number, or the king's, or the ballad sung by Esther's cousin Mordecai entreating her to save the Jews, "We Need a Queen," sung to the tune of Carole King's "You've Got a Friend."
Rather, here is one of the closing numbers, the one in which my husband and I got to each sing a solo, talking about how, despite all that has happened to us throughout history, the Jews are still here.
Yes, we are here. The Jews will always be here. As for me next Purim?
We'll see.
We Are the Jews
(to the tune of "Up on the Roof" by Carole King and Gerry Goffin)
When this new world starts getting us down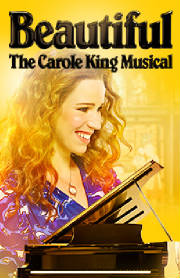 And no one "likes" what we tweet or post or say
We turn to temple or read the Torah
And soon our tsuris lifts, and we're OK!
We're the Jews, we kvetch and kvell and pray
We heal the world, but sometimes say, "Oy, vey!"
Let us tell ya now
That on Shabbat, we read from the siddur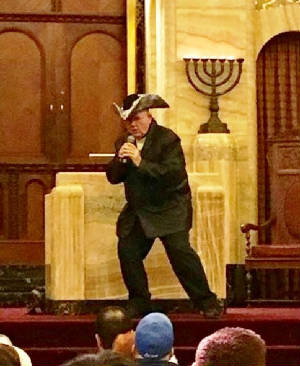 We fast and we atone on Yom Kippur!
We are the Jews!
At Passover, we hold big seder feasts
And talk of 10 plagues – blood, boils, frogs, and beasts!
We are the Jews!
We love lox and are the only group
With balls of matzo floatin' in our soup!
We wanna tell ya now
When you're a Jew, although trite, it is true
You're always glad to be with other Jews!
We are the Jews!
So when this world starts getting you down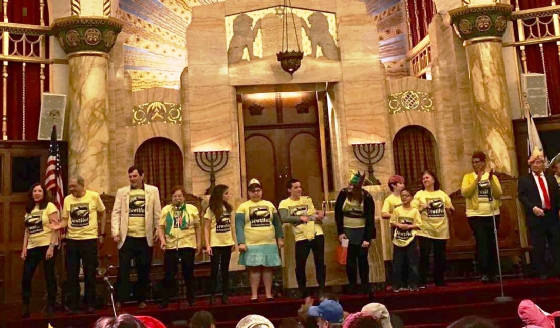 There's room inside the shul
We are the Jews!
We are the Jews!
We are the Jews!
We are the Jews!
Everything is kosher now!
We are the Jews!
Ohhhh!
WE ARE
THE JEWS!!!
3:52 pm
Friday, February 10, 2017
A Word From The Weiss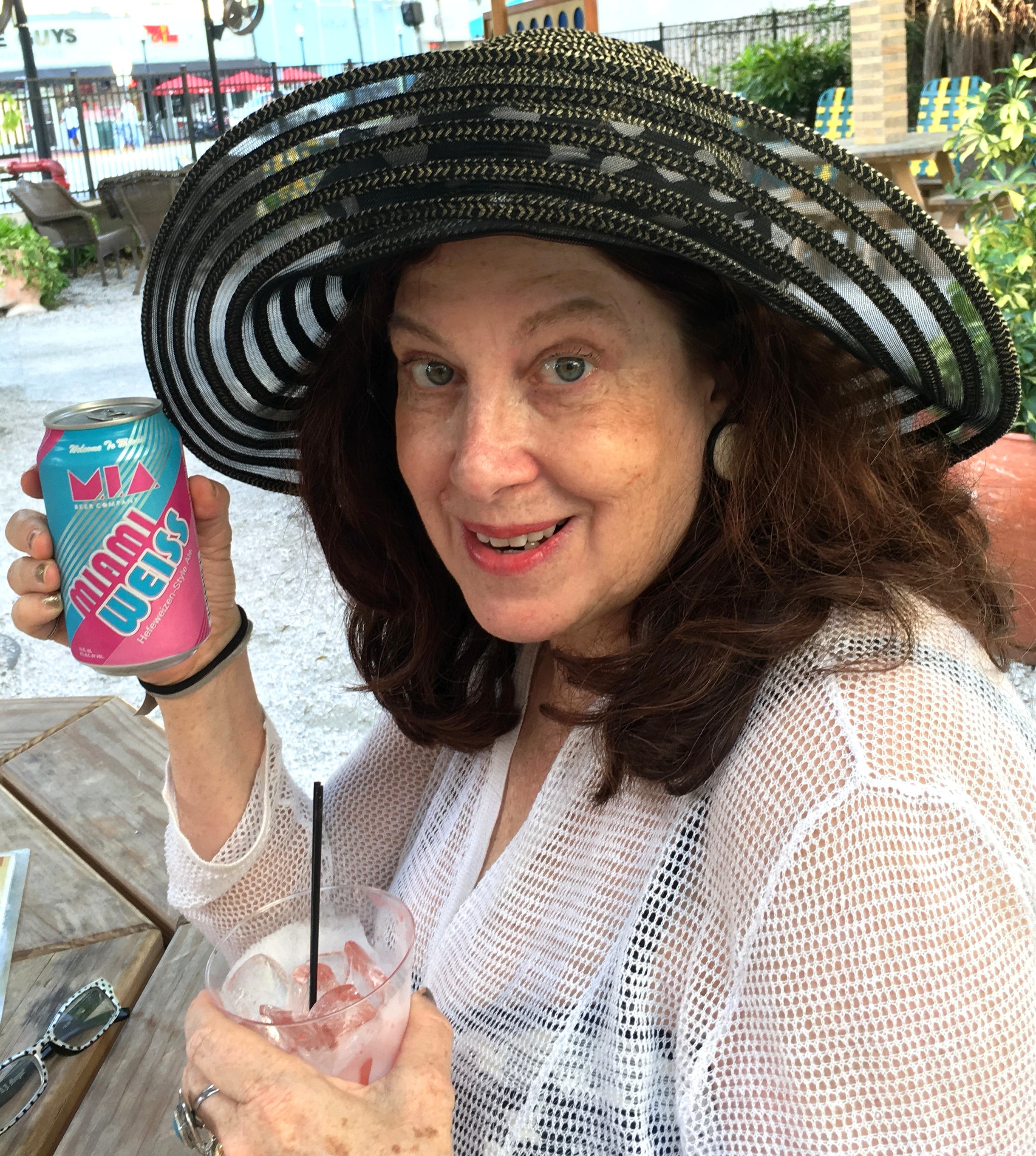 Hello! That is, hello again! Sorry that I've been MIA for more than two months now. Are you still there? Is anyone?
It's been so long since I last wrote that I have that feeling of overwhelming guilt I used to get years ago whenever I had neglected to call my grandparents for awhile. I knew that I should call them, but I kept putting it off and putting it off because I also knew that they were hurt and disappointed… so that by the time I finally did get up the nerve to call, they were really hurt and disappointed.
In this case, I have just been busy. Incredibly busy. Life has gotten in the way. I know, I know. Not the best excuse. Sorry if my hiatus -- the fact that "I didn't call, I didn't write" -- disappointed you.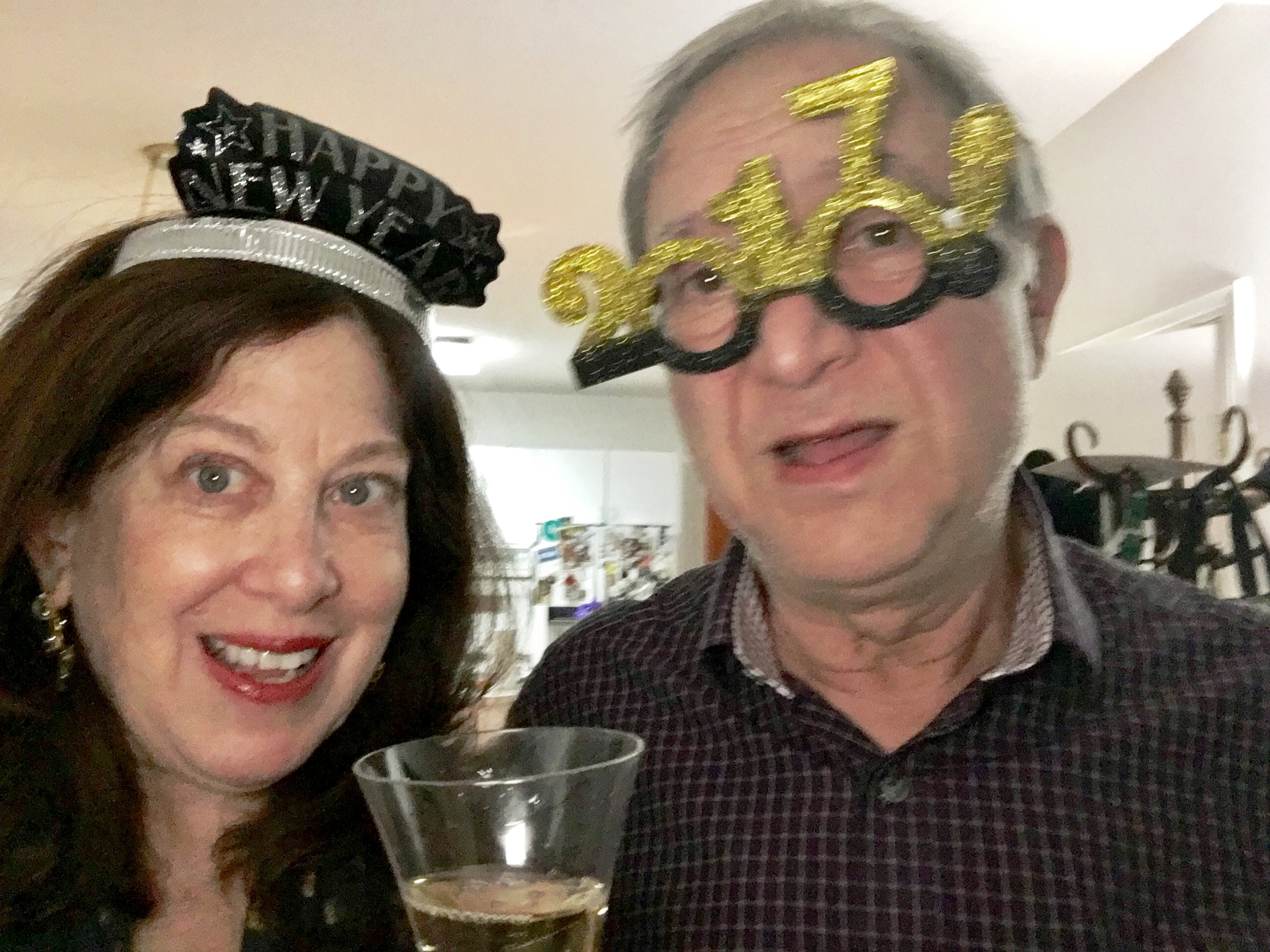 Why, it's been so long since I last wrote that I hardly know where to begin. At the end of last year? Or the beginning of this one? Even New Year's is now almost ancient history.
Well, if I can't begin by wishing you a happy new year, then I'll begin with the news.
Yes, I have news. Good news. And even gooder news.
The good news is that (no matter what may become of us and our nation, language, and culture in the next four years) "gooder" is not now and never will be a word.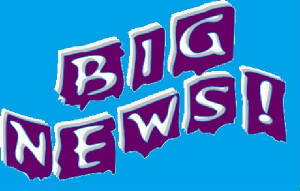 So let's just say that I have news.
Big news… and even bigger news.
The big news is that my daughter is finally better. After about 10 weeks of being bedridden and virtually incapacitated, Allegra managed to recover from her terrible concussion shortly after New Year's. She has returned to work, as well as to her budding singing career and lively New York City life as she used to know it.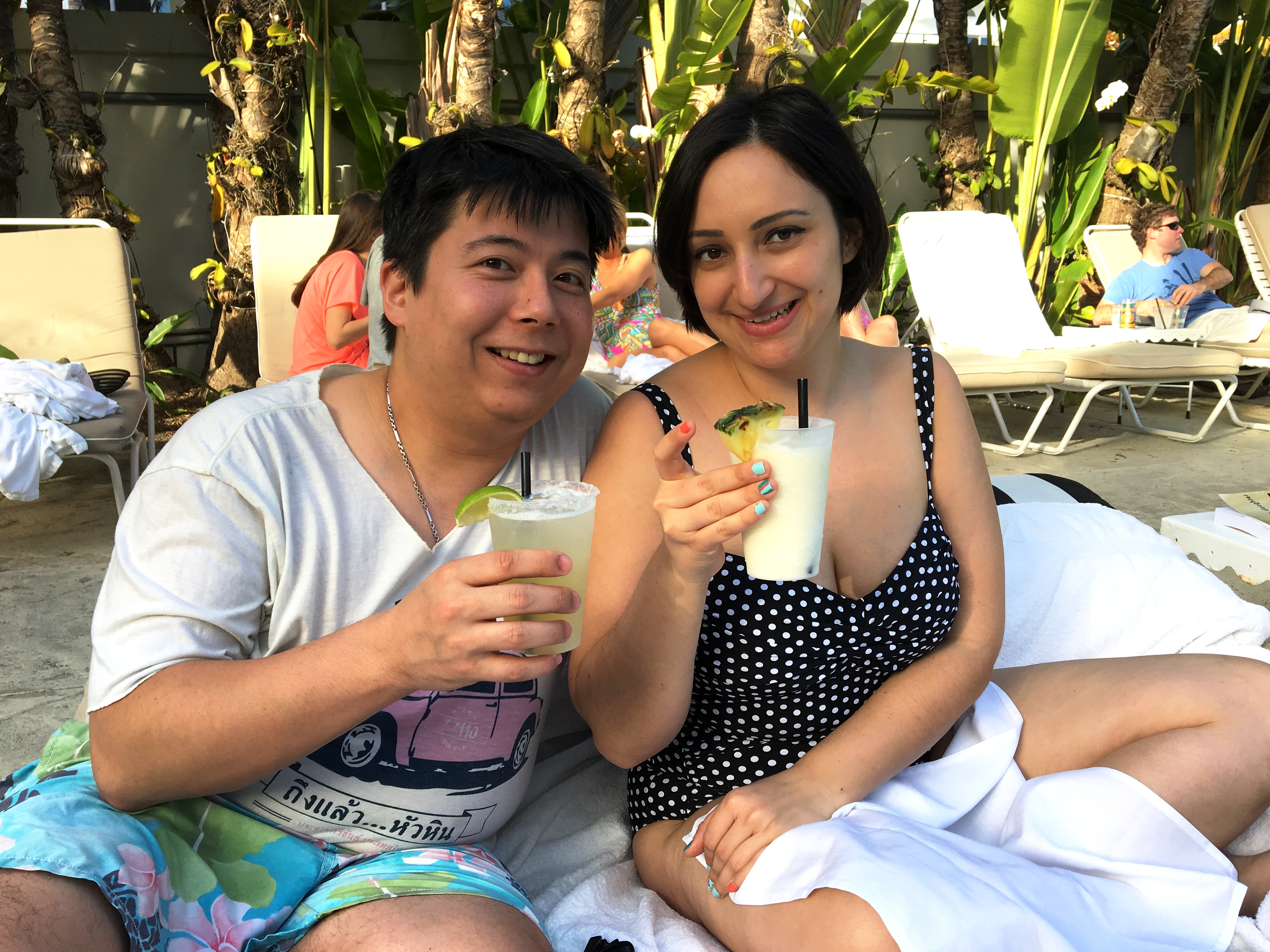 No, she is not quite back yet to 100 percent. Yet she was well enough to fly down with her boyfriend JP and join Nice Jewish Dad and me last month for my birthday weekend in beautiful and balmy South Beach. (But no, before you even ask, let me assure you that we were not wearing matching bathing suits. I just happened to buy her a polka dot one that looked a lot like mine, and we accidentally wore them down to the pool at the exact same time.)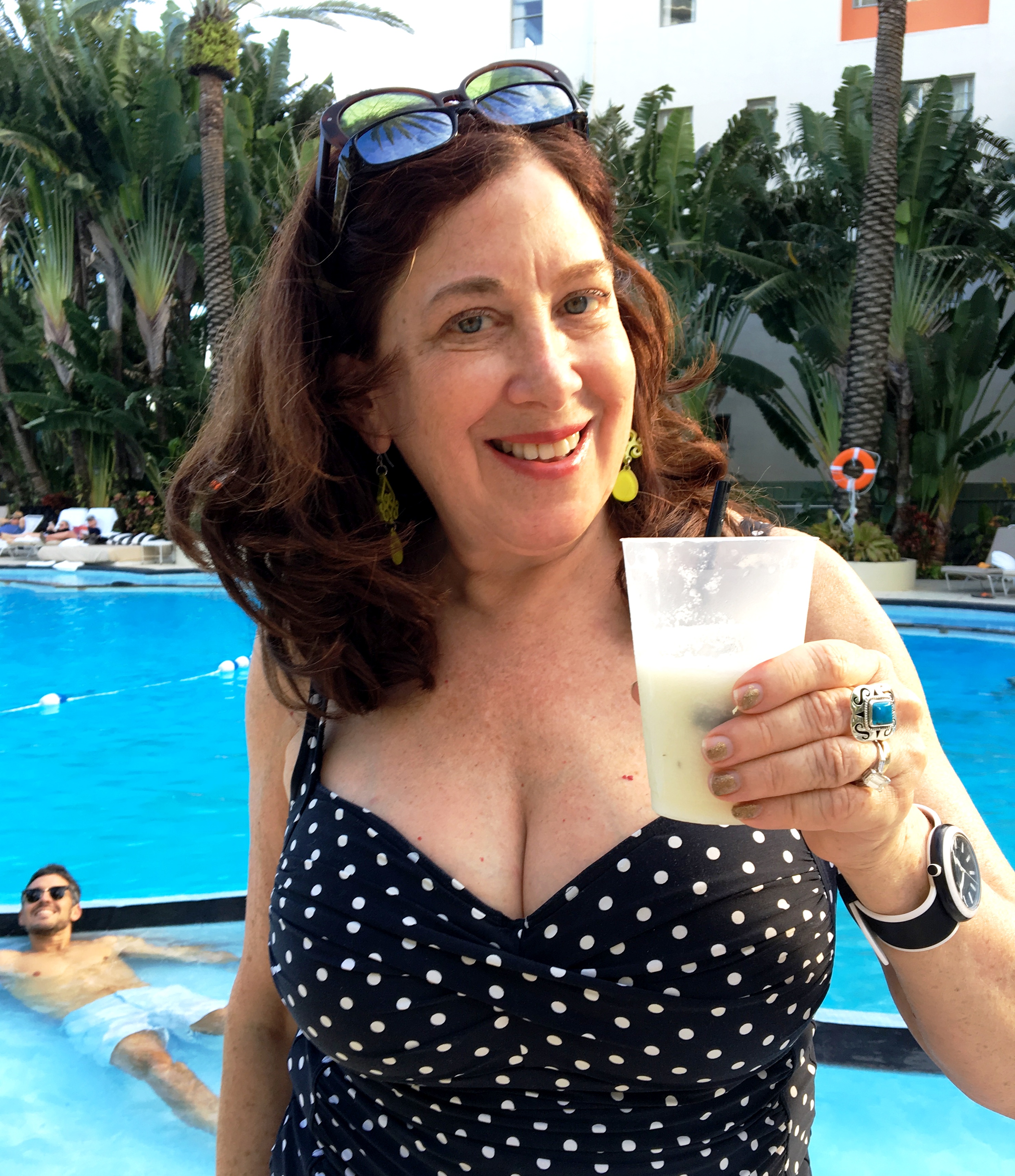 That's my big news.
The bigger news is that not only have I gotten back to my own life as usual too, but also managed to accomplish something that I've been aspiring to do for my entire life.
Well, entire adult life, anyway.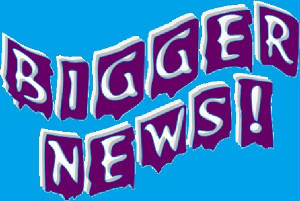 That's the main reason you haven't heard much from me lately.
The navigation bar at the top right-hand side of this page has long listed two short stories that are excerpted from what I often refer to as my forthcoming book. Well, guess what!
After many years – decades, actually – that forthcoming book has finally come forth.
You can buy it if you want. And read it if you want. It's available on Amazon.com.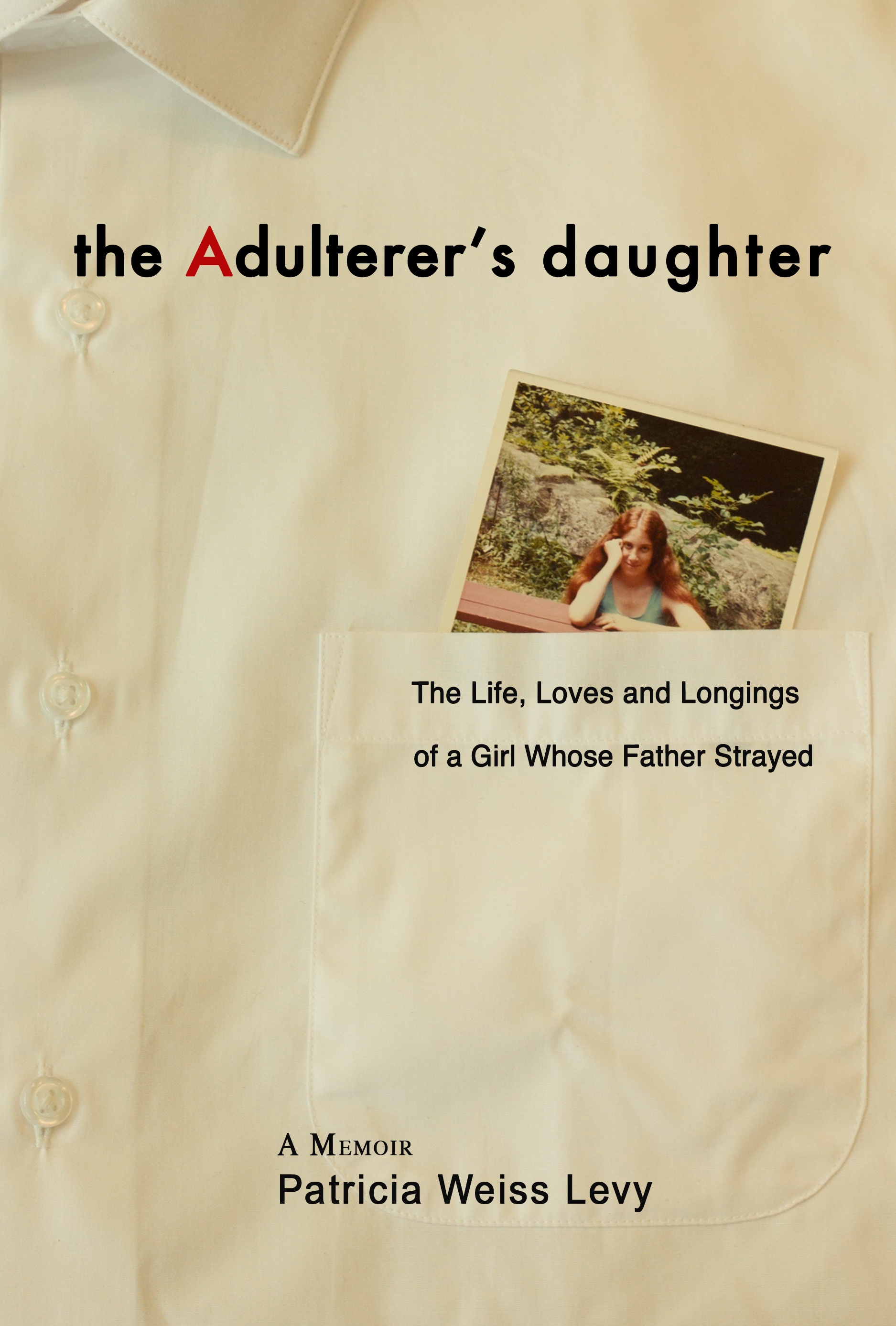 Just search for The Adulterer's Daughter, by Patricia Weiss Levy, which bears the subtitle "The Life, Loves and Longings of a Girl Whose Father Strayed."
I would like to tell you that I am thrilled to finally have it out there, but the truth is that having it out there makes me a little crazy.
It makes me a little crazy because having it out there makes me feel so... out there.
Sure, I have been writing a so-called "personal blog" for over six years now. A blog that is full of relatively intimate details and countless pictures documenting my life as a Nice Jewish Mom.
I know people who are very private – too private to let anyone know what they do and with whom they do it. People who are too private to post almost anything on Facebook. People like my late parents were.
My father used to say that he didn't want anyone to even know what kind of car he drove (an absurd statement, since he was always out there driving around in it). There is no word for how crazy this book would have driven him.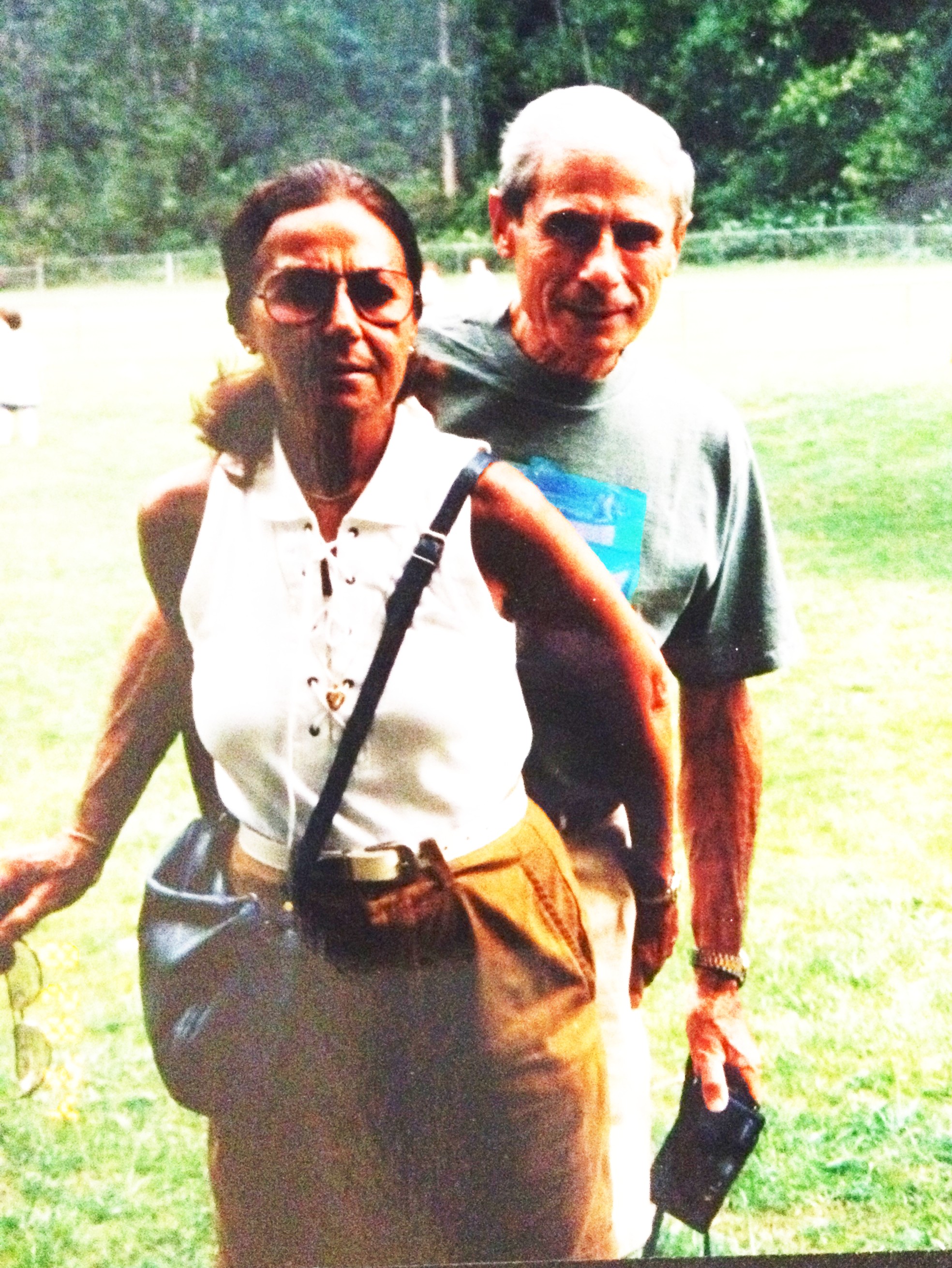 Sorry, Dad. I never shared your penchant for privacy. A private person I am not.
This book, however, is not merely what I'd call "personal." Much of what you'll find in it goes way beyond what I tell you here. It's wide open and almost embarrassingly honest.
It is private with a capital P.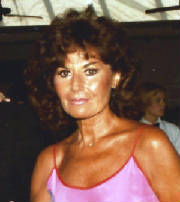 "I first laid eyes on my father's mistress in Women's Coats at Bloomingdale's." So begins my memoir about growing up with a father who kept a mistress for more than 15 years while still married to my mother.
Told in a series of 14 linked stories that read more like fiction, it's not really about my successful, tyrannical father and his torrid affair. That is – or was – his story.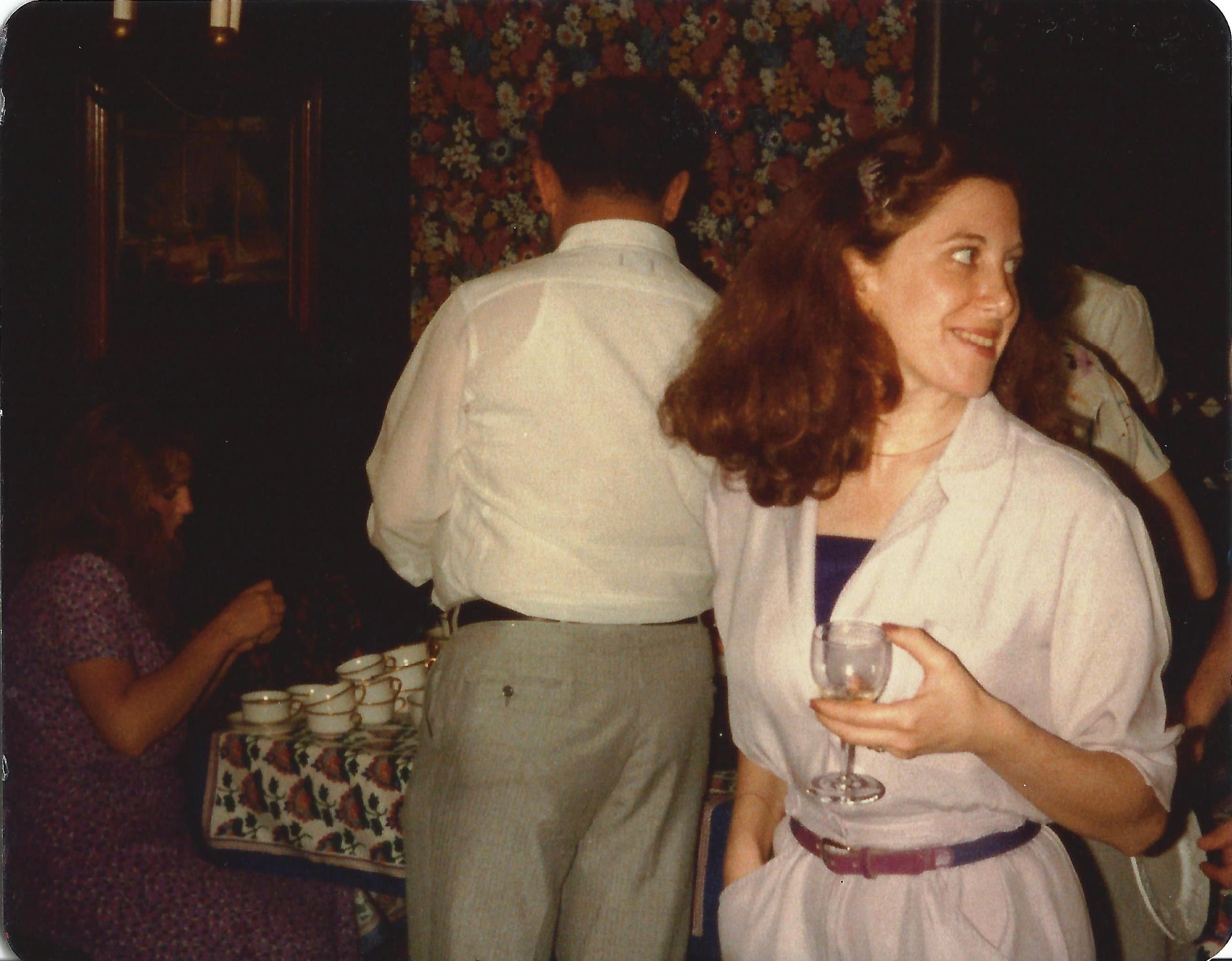 It's more about my own experiences coming of age, and my romantic journey – my "lifelong quest to rise above my suburban Jewish family's dirty little secret and find true and lasting love."
But writing this book and getting it published was something of an odyssey itself.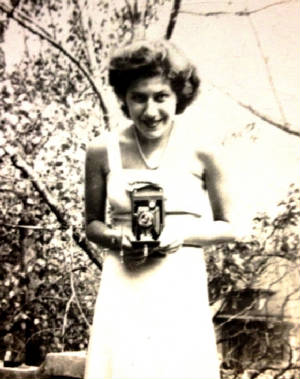 As I note in the acknowledgments section, which serves as a preface for the book, "Memoir is a funny word, and not just because it is fundamentally French, and therefore a little pretentious and a little hard to pronounce. ('MEM-wahr?' Or, as my mother used to say, 'mem-WAHHH?') But unlike biography, which aims to present the story of a life, memoir is simply stories from a life, more often than not pivotal stories that focus on turning points. And as pretentious as it may sound, after spending decades as a journalist, always telling other people's stories and turning points, I felt that it was time to tell my own."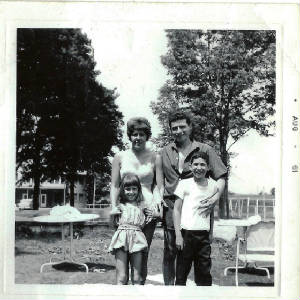 Several friends who have already read the book have asked me how I managed to remember so many details of my life. (Juicy details, though they may be.) After all, most of them took place long ago. But the fact is that most of these stories were also written long ago. It took me a full ten years to finish them, then more than another decade to get them where they are today: in print. So it might be fair to say that this manuscript has a rather checkered past itself.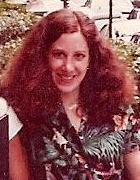 At one point in that history,
when I was struggling to find a publisher,
a friend far savvier about the
industry asked why I insisted on
continuing to remain
faithful to fact.
Why not juice it up a bit to make it more marketable – introduce a murder or two, an unhealthy dose of substance abuse, maybe even a bit of incest, and call it fiction?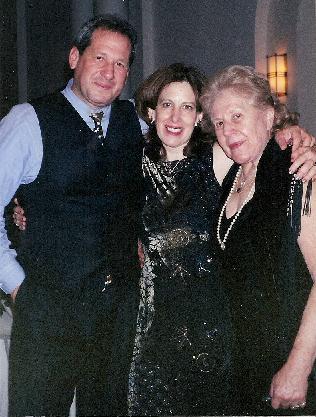 The answer, I explained to her as calmly as I could, was that I had spent years (OK, a decade) trying to document exactly what had happened and precisely how it had. My mother and my brother, the only two people who had been there through many of these events with me, had already read much of it and not disputed a word.
Besides, to me, any intrinsic value these tales offer lies mostly in their truth. Why muck them up with fabricated nonsense now in order to make them more titillating?
I hope you'll find my true, real-life story gripping and engrossing enough as is. Yet, as unsettling as some of the details may be, I don't think you'll find it depressing. There's plenty of humor in there too, I believe, and it certainly isn't meant to be sad. It didn't make me sad to write it. If anything, I guess I wrote it to feel better.
In fact, I've been thinking lately about why I wrote this book in the first place. In part, it was because for too many years -- throughout my adolescence and young adulthood -- I wasn't allowed to talk about many of the issues in it, let alone write about them. When it came to my father's philandering and my parents' volatile marriage, no one was supposed to know. So I wasn't allowed to breath a word.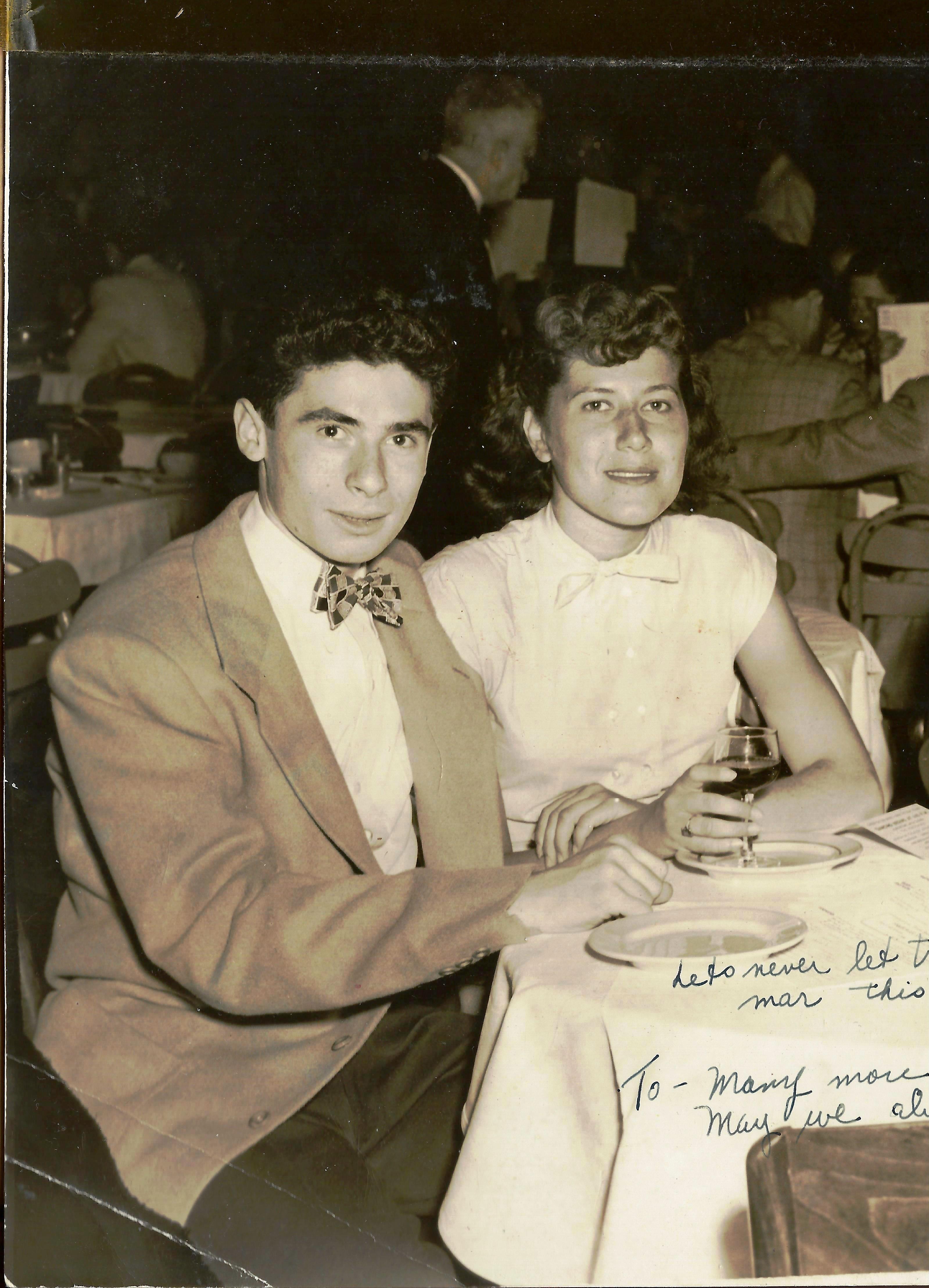 I'm not sure whether it's an inherently Jewish trait, or was specific to my parents' generation, but when I was growing up there was a strict code of silence. You didn't dare divulge details to anyone about anything unpleasant, especially things like illness or infidelity. And when you're forbidden to discuss something, the implicit and unmistakable message you get is that this unspoken thing must be ugly and shameful. If anyone knew, you come to believe, you would surely be shunned.
The sense of shame that results can be even worse than the things you can't mention. It unquestionably was for me. And apparently for my parents. But at this point, my parents are long gone, and I long to be done with the shame for good. I may not actually post about it on Facebook, but there's a part of me that still longs to go on "Oprah." Unfortunately, there is no more "Oprah." No matter. I've found my own outlet for speaking out, and I am all done with keeping secrets.
Someone asked me just last night if writing the book was cathartic. Cathartic? Sure. Of course it was. But for me, it goes beyond that.
Over the years, like any writer, I have developed a voice. It's the voice that I tend to use in this space. The "me" that you have come to know is basically my writing voice. But it is not exactly me.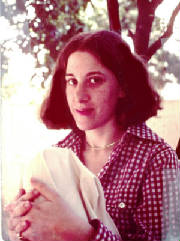 I hate to admit it, even if I'm all done with secrets, but the real me is not exactly the "me" in this blog. Decades ago, a college friend I brought home for the weekend once remarked to my parents that he had come to realize that I had two basic moods: Depressed. And very depressed. Decades later, although I have matured and have much to be thankful for -- including two incredible children, great friends, and a marriage that has lasted over 32 years -- I suppose that's still true on some level. But my writing voice is neither of those things. It also comes in two basic flavors: Upbeat. And very upbeat.
I am an honest and generally candid person. When I speak, I tell the truth and nothing but. But when I write, I find myself almost automatically filtering out the sadness and finding a way to express the truth with an air of light-heartedness, or at least bemusement. I try to find at least a touch of humor, black though it may be, in any situation.
Now, that's what I call inherently Jewish. As Jewish as pastrami on rye.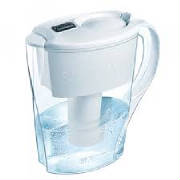 Writing is like a Brita water filter for my brain. But rather than removing the impurities, it distills the details and weeds out the sturm und drang, making the past prettier, or at least much more palatable. It works for me, anyway. Hope that reading my book does something for you.
Speaking of which... Even though this may be a personal blog, I hesitate to use it to promote myself. I may not be a private person, but the one thing I truly am not is a self-promoter. Yet if you're inclined to buy my book, let me make it easy for you. I'll give you the link below.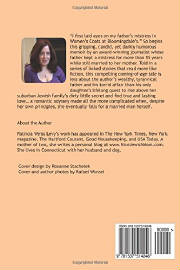 It's only out in paperback and costs $12.99. A Kindle version will be ready soon. I'll let you know when it's available.
And by the way, if you read it and have any comments you'd like to share, feel free to enter them on my guestbook. It would be good to hear what you think. Either way, if you read it, I hope you enjoy it. That -- if it were a word -- would be even gooder.
If you want to buy my book on Amazon, please click on this link: http://a.co/3ie09RU
6:18 pm
Monday, December 5, 2016
A Word From The Weiss
With Hanukkah on the horizon and Thanksgiving still visible in the rear-view mirror, no doubt you are expecting to hear about all the gifts I am gathering, or the fabulous turkey feast that I prepared for my family last week – what sorts of side dishes I served, and whether I cooked the stuffing inside the bird or out. But as much of a balaboosta (good cook) as I may purport to be, I am afraid that stuff far more substantive than stuffing continues to take precedence in my life.
OK, I'm sure you must be growing weary by now of hearing about my daughter's recent calamity. But not nearly as weary, I can assure you, as I am of living through its aftermath and seeing her continue to suffer.
As I have related here more than once now, Allegra was walking home from work one evening in mid-October when she slammed headfirst into a formidable tree branch that stretched across her path. A neurologist diagnosed her with a mild to moderate concussion and predicted that her long list of symptoms – including severe headaches, dizziness, neck and back pain, pressure inside her skull, blurred vision, mood swings, extreme weakness and fatigue, and loss of balance -- would dissipate in about two months.
Two months!?! At the time, we were horrified that her recovery might take that long. Now I only wish it had actually been that short. After recovering slowly but steadily for three weeks, Allegra suddenly suffered a dramatic relapse, returning in most respects to square one. Along with all the above-mentioned symptoms, she has trouble standing or even sitting for long periods of time and eats most meals lying in bed. She has extreme sensitivity to sound and light. We need to speak softly around her and keep all the lights off. And even then she still often needs to wear sunglasses, even indoors on a cloudy day.
As you can imagine, we began to grow extremely concerned and to wonder why no one – either in the emergency room to which she initially went or at the follow-up appointment – had ever deemed it necessary to perform an MRI, CT-scan, or other diagnostic test. But her concussion specialist assured us that the setback in her health was not at all unusual and merely indicated that she had attempted to do far too much too soon.
Indeed, given her normal indefatigable nature, she had not only returned to work three days after the incident, but also continued, as a young jazz singer, to push through several scheduled performances as well. Clearly, all this had been counterproductive. So she took the entire week of Thanksgiving off from work, and I brought her home to Connecticut.
During that time, while I made homemade pumpkin pies and cranberry sauce, roasted a 16-pound turkey and cooked the stuffing (outside the bird, if you must know), my daughter did virtually nothing – nothing, that is, but lie on the couch and do the only thing that doesn't seem to hurt her brain: binge-watch old episodes of The Gilmore Girls. Our hope was that after 10 days of complete R&R (and Rory & Lorelei) she would be ready to return to work after the holiday break.
But it was not to be.
Within minutes of arriving back at the private school at which she essentially runs the music department, it became clear that she was in no condition to function in a hectic work environment.
Fortunately, we quickly learned that she was entitled to up to 12 weeks of paid medical leave. The plan now is that she will take off the three until the school's holiday break begins. Then she will have until after New Year's to recover.
That, we are hopeful, will do the trick – provided that from here on in she does what we now know she should have been doing all along.
Nothing.
Toward that goal, I've been living with her in her New York apartment ever since, taking care of her full-time. We can't go home again -- not because Thomas Wolfe said so, but because she has to remain in NYC to attend physical therapy appointments.
I must admit that it's a little awkward for us both, to say the least, and not only because Allegra, at nearly 27, is extremely independent, and the last thing she wants is to revert to the days when she needed her nice Jewish mom to do virtually everything but wipe her tush.
The other awkward thing is that she shares her apartment with three other young people. I've been living with them now, more or less, for nearly seven weeks. And as tolerant and understanding as her roommates have been, no one really wants anyone else's mom to be underfoot for more than the occasional weekend, even if she brings dessert.
Or beer.
Feeling awkward, of course, is the least of it. Aside from the constant worry about my daughter's health is having to watch her endure pain and not be able to do much to help.
Then there's the heartbreak of having to repeatedly tell her she cannot do anything that she wants to do, and first and foremost on that list is getting to pursue her dreams.
Allegra was scheduled to perform four or five gigs in the next two weeks, as well as to record what will be her third album on a record label. But the only way she's going to have a reasonable chance of recovering at last is by not doing any of those things.
To our relief, the head of her record label proved to be extremely understanding about her condition, and he readily offered to reschedule the recording for early February.
Allegra remained particularly heartsick about one of the gigs, however. It was at a classy, popular New York club at which she had never appeared before, and there was no guarantee that she would ever get a chance to perform there again. A musician friend had booked her to sing there, and we both cried the morning she called him to bow out. It felt to her as if she was giving up what could prove to be the chance of a lifetime.
But then, one night last week, a small miracle occurred.
Someone apparently chose to schedule a private party at the club for the night that she had been slated to appear. The club called her friend to apologize for canceling last-minute and promised not only to give them another date soon, but to pay them for the night anyway!
Forget singing. Now I found myself restraining my daughter from getting up and dancing around the room.
Best of all, I'm happy to report that with constant rest -- coupled with a continued steady diet of motherly devotion and, yes, Gilmore Girls -- Allegra is finally getting a little better every day.
I still feel awkward imposing on the other inhabitants of her apartment. I also must admit that I have begun to miss my normal routine and what until now I thought was my rather boring life.
I miss my friends. I miss my dog. And yes, I must admit, I even miss my husband.
I also miss having something more interesting to tell you, my readers, about than this.
But this is a blog about being a nice Jewish mom. And right now, awkward or not, nice or not, my kid needs me to be there for her. I can only hope that you've missed me as much as I miss you. But sorry. Gotta go. I don't even have time to add pictures as usual. Drop me a line if you have a chance. I will write again when I can.
12:28 am
Thursday, November 17, 2016
A Word From The Weiss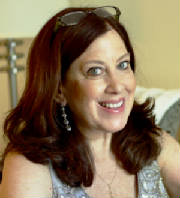 Maybe it was intrusive. Maybe it was insensitive. Or maybe it was just plain Jewish. I will let you be the judge.
But by the time you read this, she will know what I did, and I feared she would judge me. Harshly.
Last weekend, you see, at my instigation, my husband and I basically snuck into our daughter's apartment while she wasn't there without bothering to ask her permission.
We took the liberty of making this meddlesome move – or so I remain convinced – with the best of intentions, meaning out of parental concern, strictly for her own good.
There are parents who snoop in their children's belongings for drugs and other such contraband items.There are those who meddle in their grown children's love lives. (People like that other, notoriously meddlesome Jewish mother – Crazy Jewish Mom.)
I would never deign to do that. Or given my daughter's good judgment, need to.
We performed our little stealth mission with a far less menacing purpose in mind.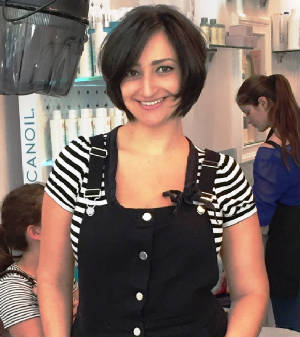 I hope it won't embarrass her for me to divulge what it was we did: go in uninvited, do her laundry, clean her room, change the sheets, and leave some food in the fridge.
We did this not because she isn't perfectly capable of taking care of herself under normal circumstances. Quite the contrary. It's just that four weeks after suffering a concussion, she has yet to return to anything even resembling normal circumstances.
Last month, as I chronicled the last time I had the koyekh (Yiddish for "strength" or "energy") to write here, she had the great misfortune to collide with a large tree branch that extended into her path and bump her kepele (head). Bump it hard! Although four weeks have passed since that incident, Allegra is still struggling – not just to keep her head above water, as they say, but to actually stand up straight. Diagnosed with a mild to moderate concussion, she is still feeling dizzy, disoriented, and completely wiped out.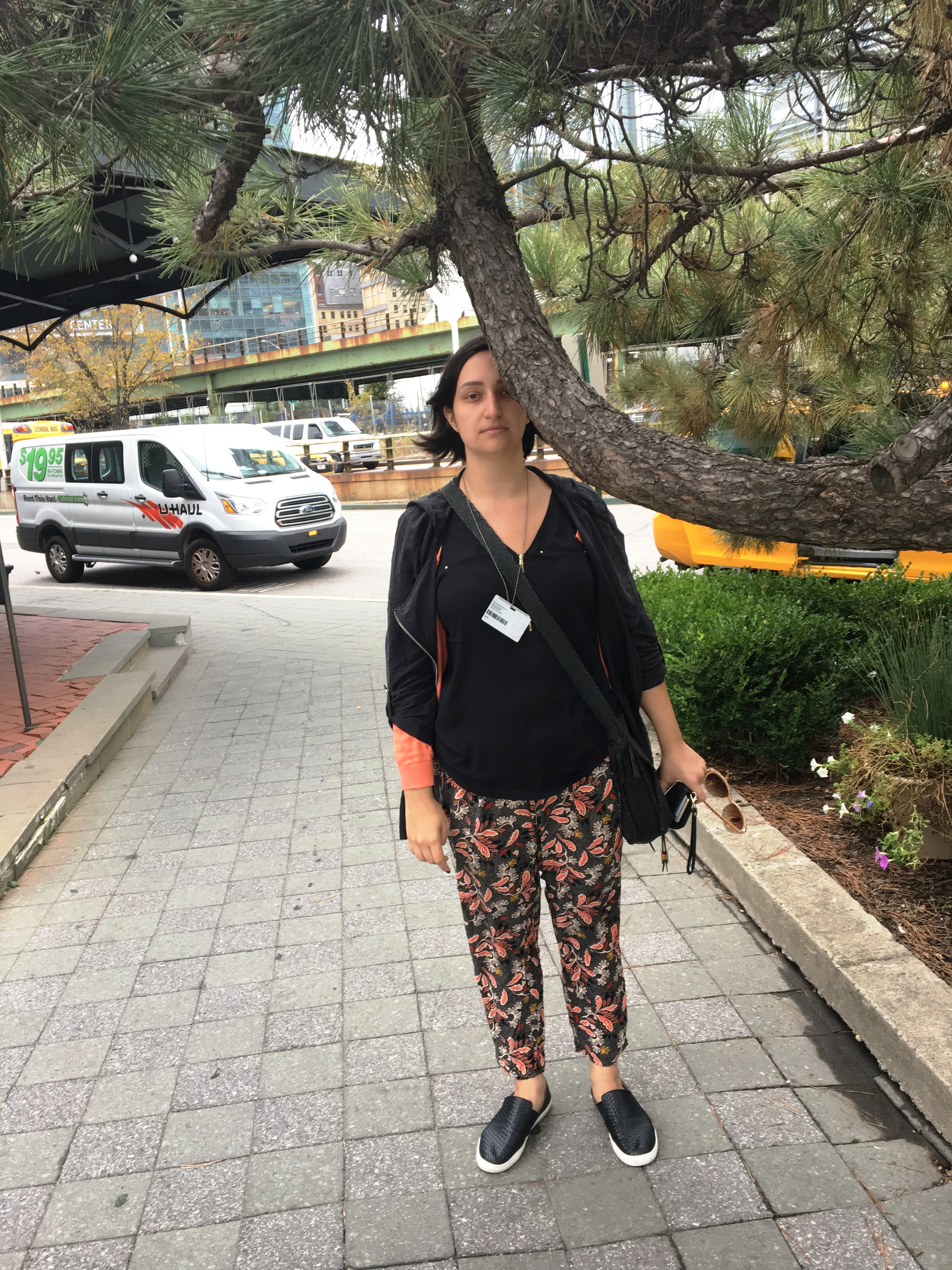 Then there are the short-term memory issues. She still calls me regularly to say things like, "I was supposed to do something tonight, but I have no idea what that was. Do you?"
If only I were NiceJewishDatebook.com.
Couple that with the severe pain in her neck and lower back that persist – presumably a result of the whiplash she suffered during the collision – and perhaps you can understand why she's feeling overwhelmed. She returned to her full-time job within days of the mishap and is still managing to pursue her singing career on the side. By the time she gets home, she's ready to collapse. How can she possibly wash clothes? Let alone carry heavy baskets full of them down to the laundry room in her basement?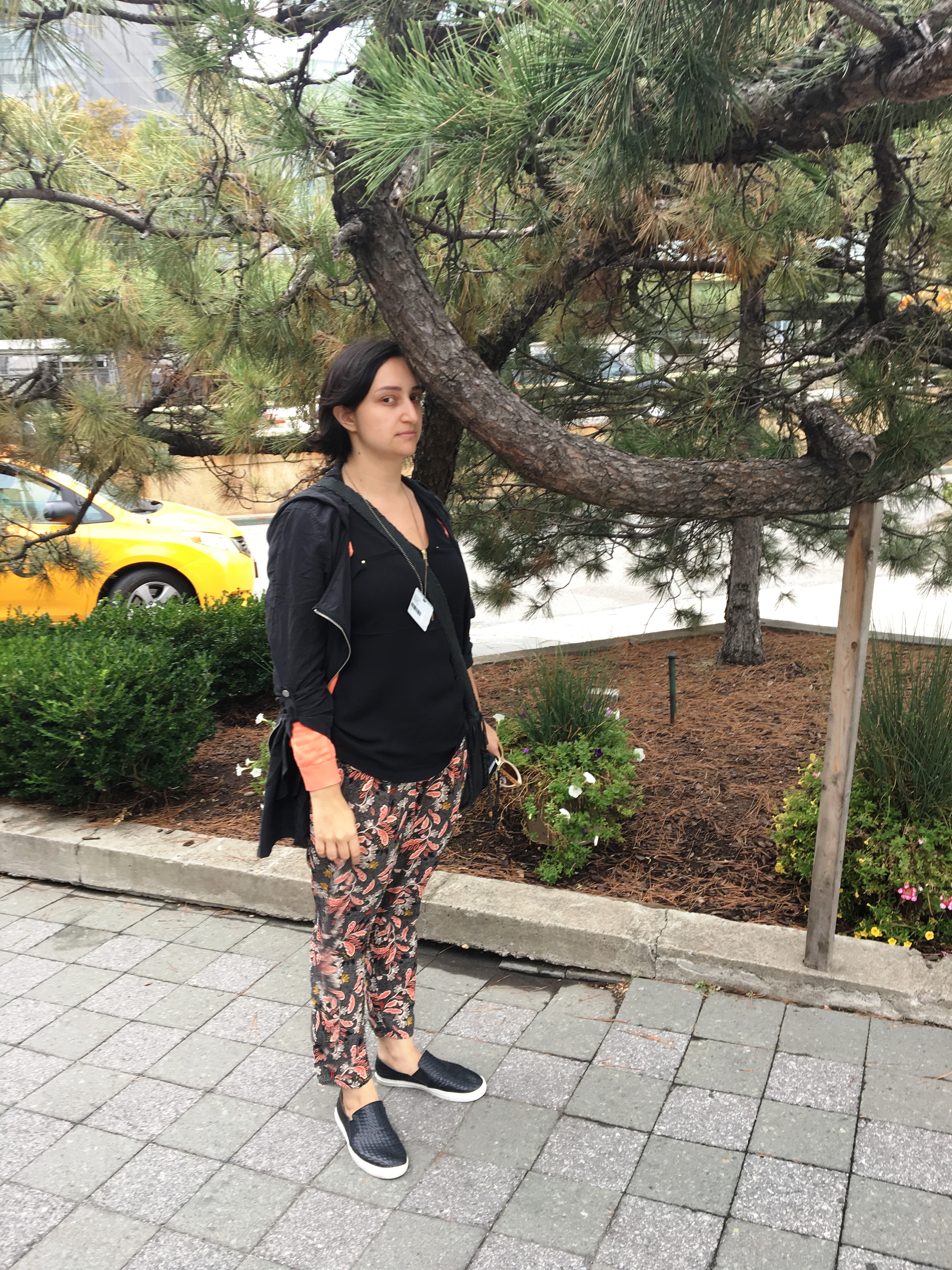 So my husband and I took the liberty of showing up at her apartment without her knowledge while we were down in New York City over the weekend meeting a friend.
Why didn't we simply ask her permission? Simple. I was absolutely certain that if I had asked her in advance, that permission would without question have been denied.
But let's face it. Mother knows best. And I was convinced that she needed us to go.
I had already performed those domestic duties for her every week since the incident, and I was certain that it would be enormously helpful if I did them once again. And as any mother – nice, Jewish or otherwise – knows, when your child is injured or ill, you're eager to do anything and everything that might help a bit.
Yet you soon realize the awful truth: There isn't all that much you actually can do. Especially for children in their 20s and up who are grown and living on their own.
Everyone is familiar with the expression, "It was the least I could do." Well, this, sadly enough, was the most I could do – a handful of routine chores to lighten her load.
I had already spent most of the first week following the accident living with her, and then half the second. The only reason I hadn't gone down for a third week in a row was that our dog suddenly developed a major problem of her own.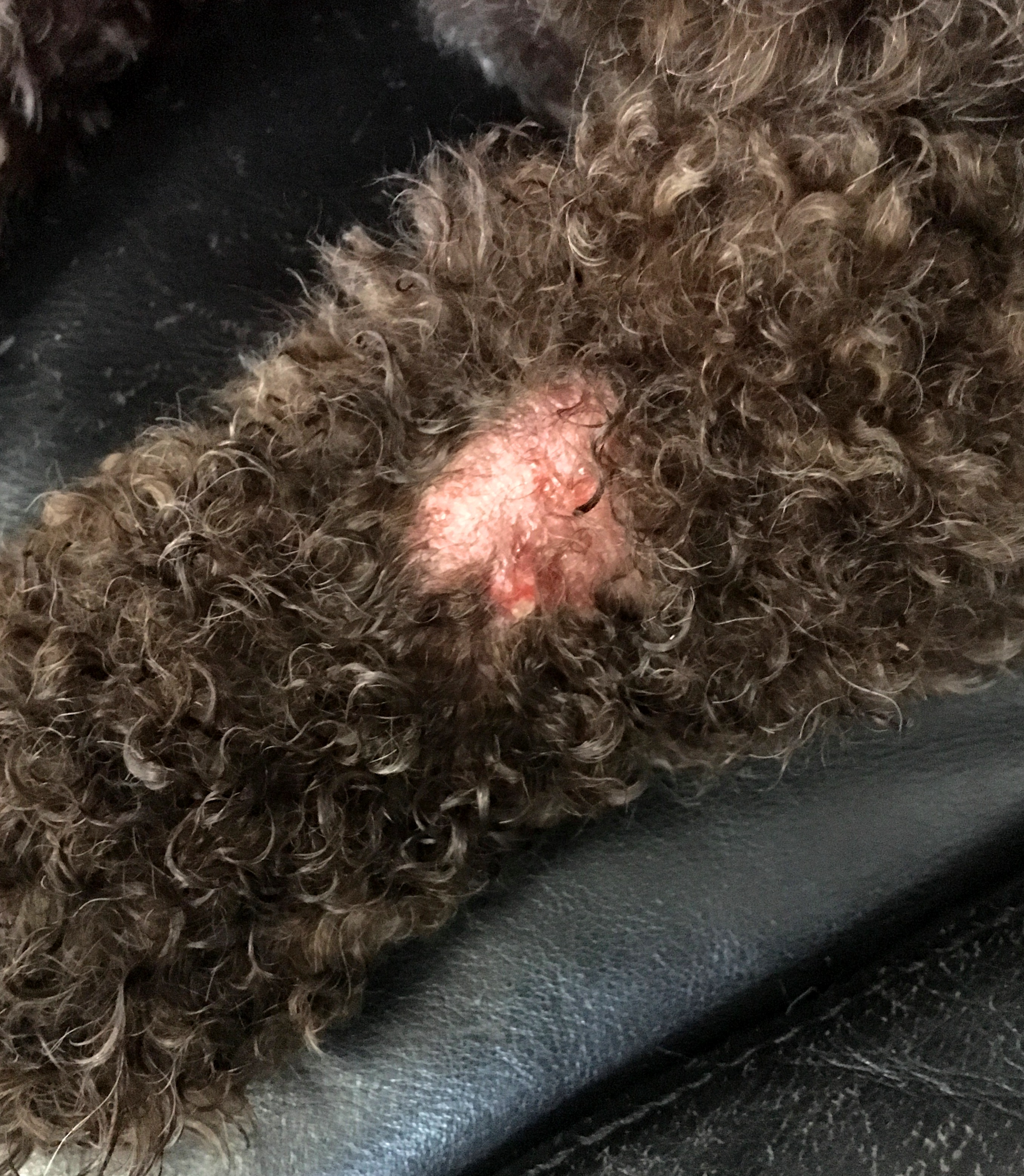 The morning after Halloween, I woke up to discover that Latke had gnawed a big bare patch just above the paw on her left leg. Not only had she licked it until all of the fur fell out, but also managed to inflame the area so much that it was red, raw, and oozing.
Had she gotten into the "Howl-oween" candy? Come undone from the constant ringing of the doorbell? Had a visceral reaction to being dressed up in costume again?
Or perhaps been bitten by a tick while foraging in the fallen leaves? Who knows?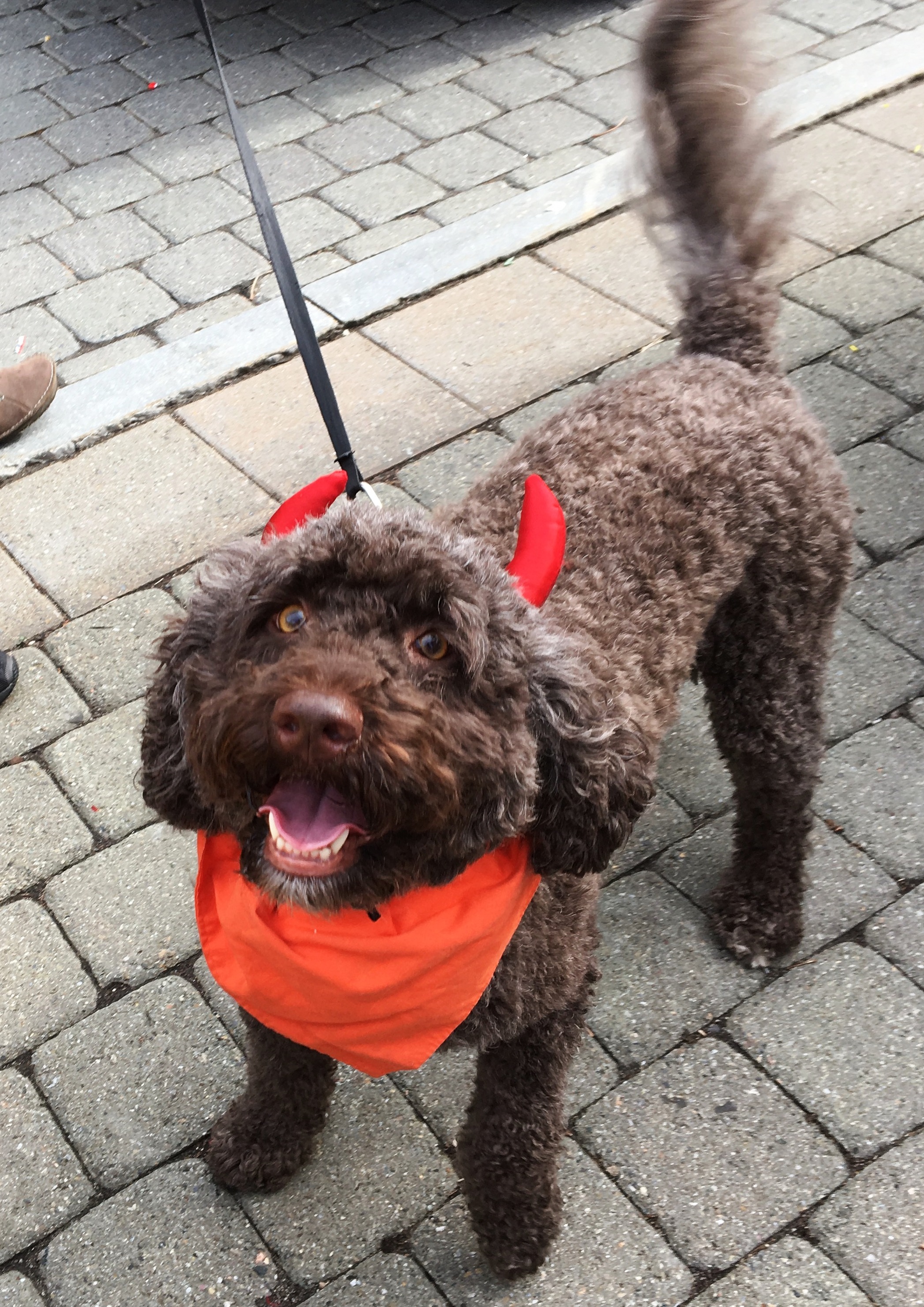 Animals evidently sometimes create these sores, called "hot spots," as a reaction to a bug bite, itch. or other irritation. Why Latke had to do this now, though, I can't say. All I can tell you is that I was now dealing with two daughters with self-inflicted wounds.
Not that Allegra's had been deliberately self-inflicted. I blame her cell phone for that.
Alas, with only one tuches, you cannot go to two parties (even pity parties) at once.
Poor Latke had been relegated to wearing a large plastic Elizabethan collar (a.k.a. "cone of shame") around her neck to prevent her from continuing to nibble on her injured paw and perpetrate any further damage. And so, although she doesn't generate much in the way of laundry, I was obliged to stay home and tend to her care and feeding instead.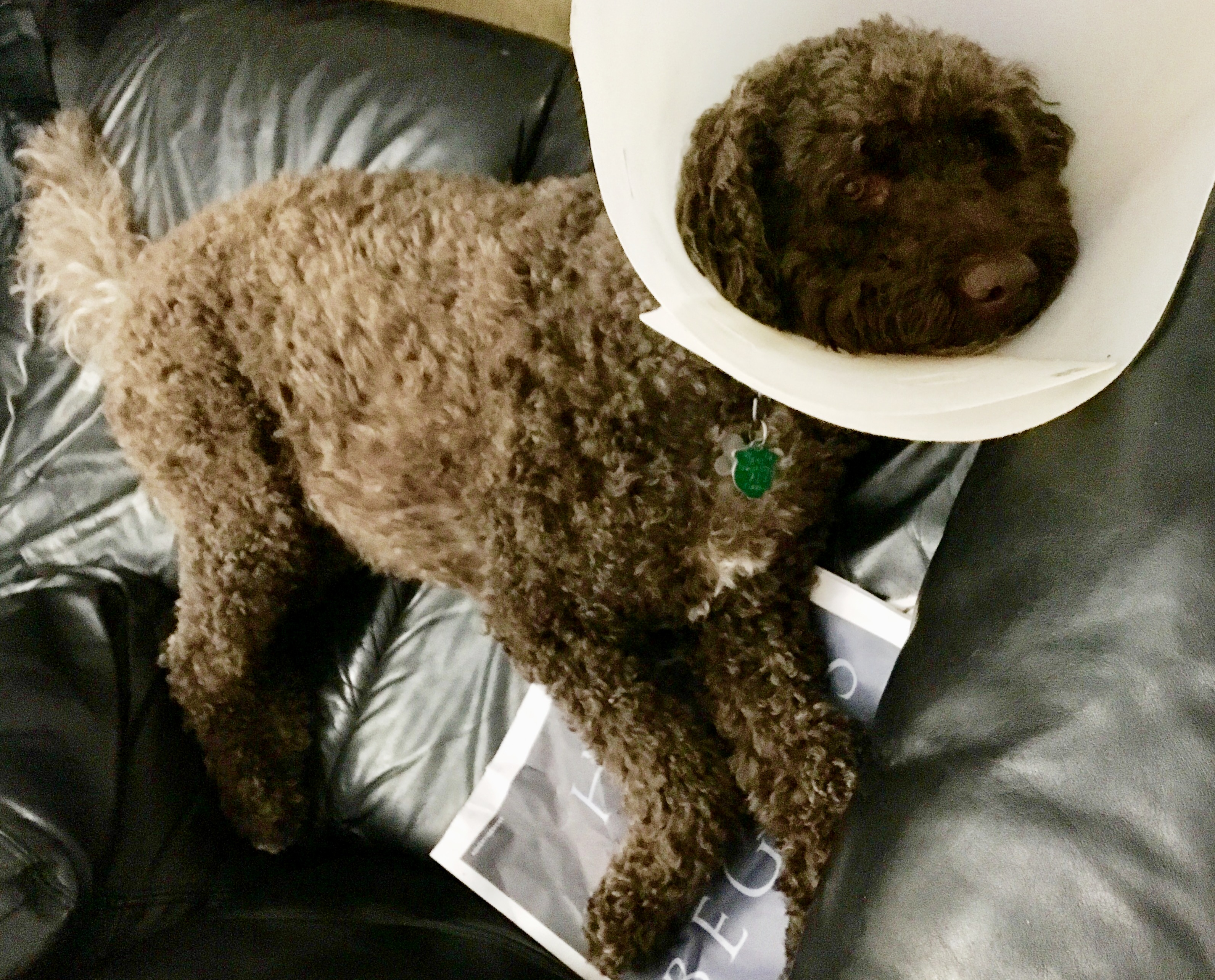 But by that weekend she was well enough for us to leave her at doggy daycare and venture down to the city to visit Injured Daughter No. 1.
Then came the election, following which I barely had the koyekh to leave the couch.
By week's end, though, we had long ago committed to driving down to see our friend Tom, a former college classmate of my husband's who was visiting from North Carolina.
The next morning, when we woke up in our hotel, my husband asked how I wanted to spend the day. Go to a museum? Tour some art galleries? Take a walk in the park?
Not quite.
They say that when you're a parent, you are only as happy as your least happy child. All I wanted to do was help make that child a little happier. Or make her life a little easier. Meaning that even though Allegra was away, I wanted to go do my mom thing.
Which is to say that old-fashioned, nurturing, care-and-feeding thing.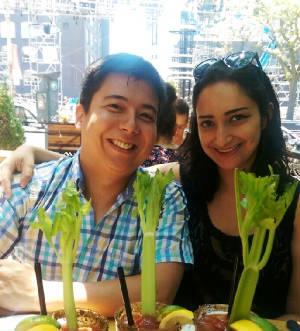 Where, you may wonder, had Allegra gone, considering that she was still impaired? She was away in Philadelphia for the weekend, spending some time with her boyfriend. Poor JP had already come to see her in NYC three times since she'd had the accident. It was now her turn to do the schlepping, she felt. And I can't say that I blamed her.
The only question was whether we could get into her apartment in her absence.
With luck, one of her two roommates was home when we arrived, and she let us in. After apologizing for dropping in unannounced and confessing the purpose of our visit, I made sure to leave the door unlocked when I took the laundry down to the basement. Then I went out to pick up some fresh produce at a nearby farmer's market.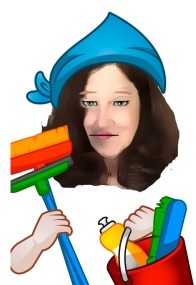 Big mistake. When I returned with all my bundles, I discovered that the roommate had since gone out and left the apartment door firmly locked. Now what?
I piled my packages up against the door in the hall, assuming that no neighbors would actually be so deceitful as to pilfer fruits and vegetables. Then I returned to the basement, grabbed the empty laundry basket, and went to plead with the doorman.
"Oh, silly me," I said, sounding as endearing, casual, and unsuspicious as possible. "I was in the middle of doing my daughter's laundry and foolishly locked myself out."
I'm sure that no doorman is allowed to give out keys to any resident's apartment. Not even if the person asking happens to be their mother – nice, Jewish, or otherwise.
The fact is, though, that I've been over so much lately that he must think I live there. Why else would he have forked over those keys without hesitation, no questions asked?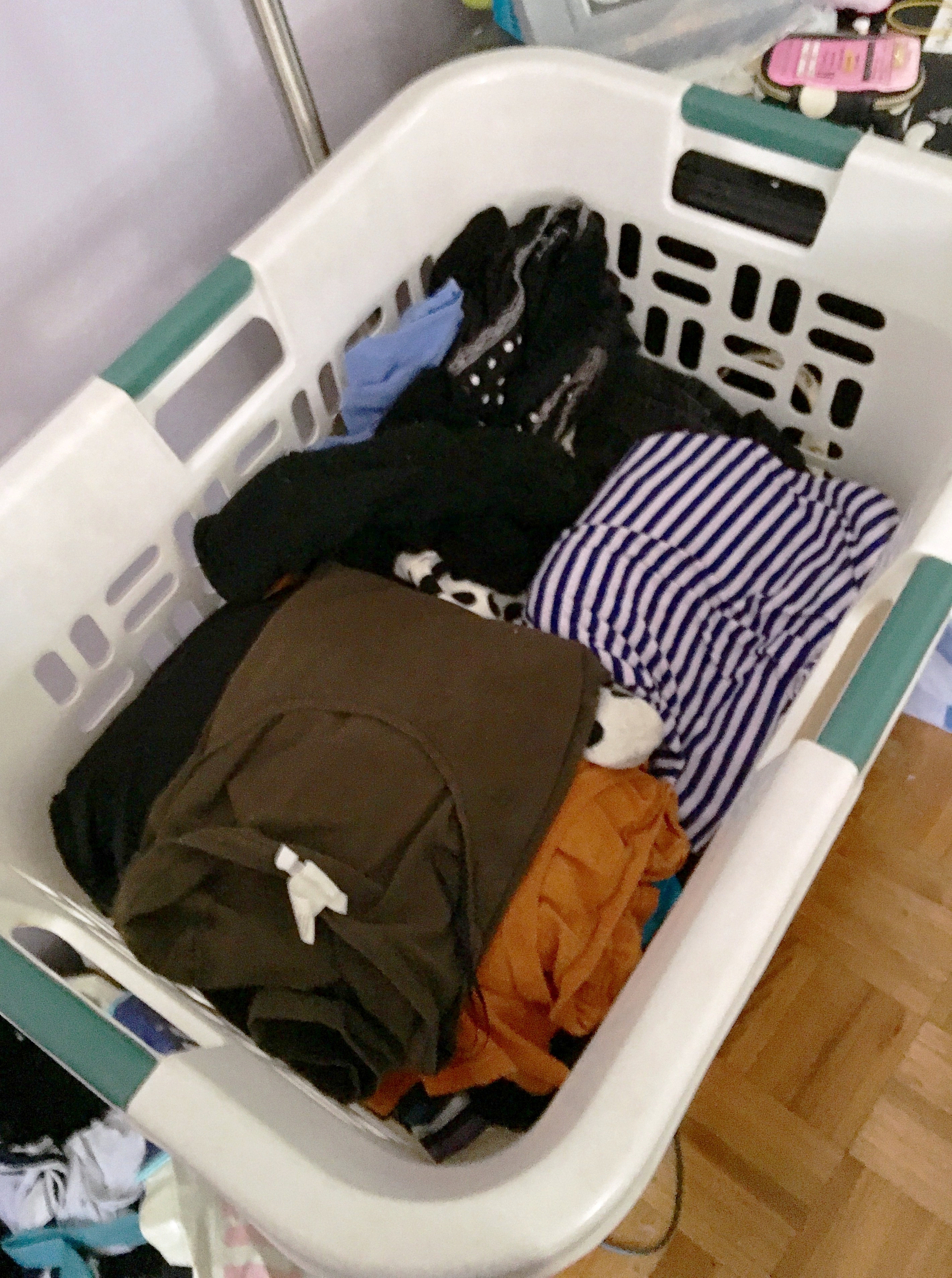 After washing, drying, and folding Allegra's clothes, I put away the groceries and, with my husband's help, put fresh linens on the bed, then laid out her favorite pajamas. She was returning from Philly early Monday morning and going straight to work. By the time she got home that night, I figured she would be ready to fall into bed and pass out.
Thanks to us, she could.
But after returning the keys to the trusty doorman and driving home, I began to worry. Not everyone wants to come home to find that someone has been inside their home messing with their stuff. Even (or maybe especially) if that person is their parent.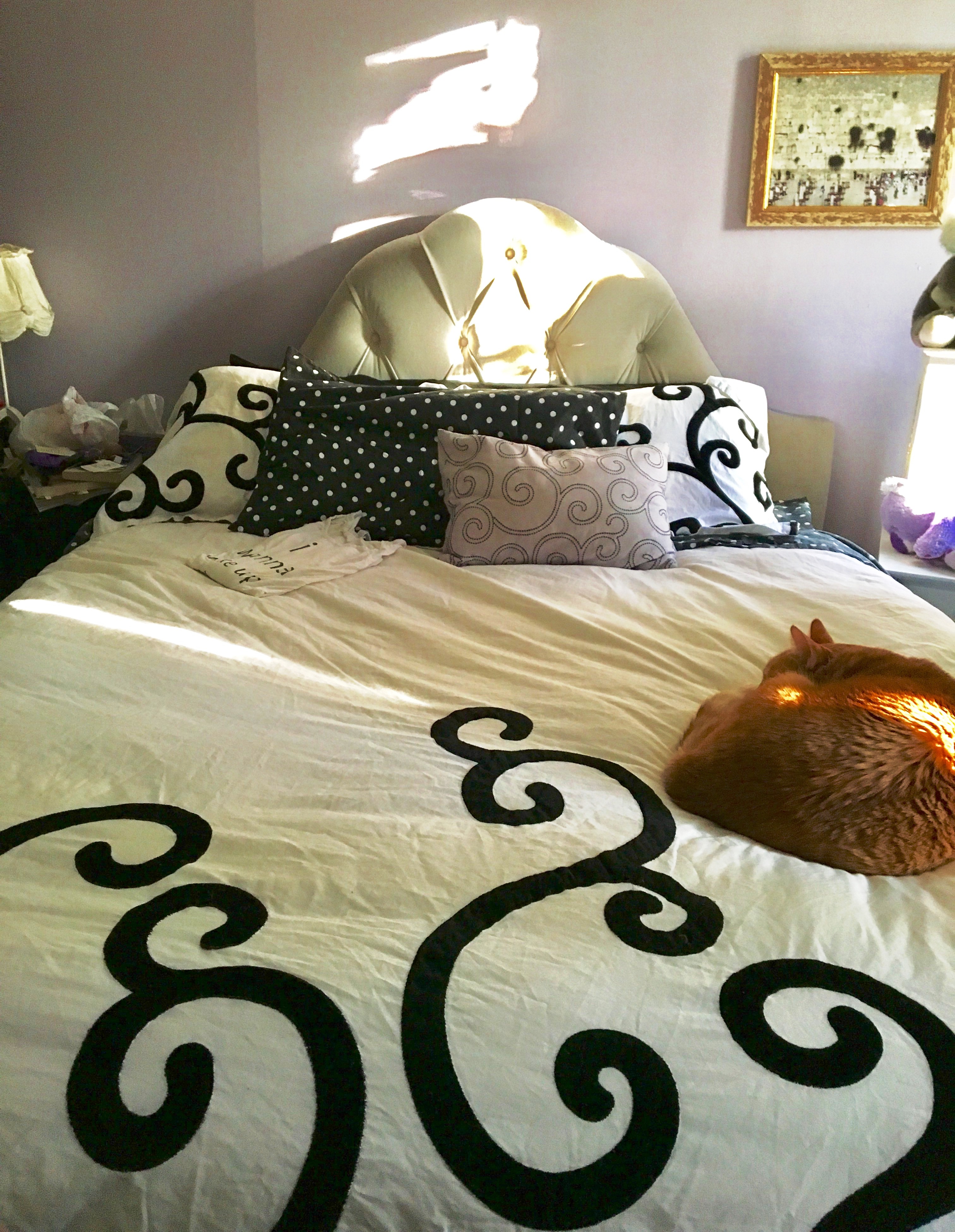 A nice Jewish parent who is known to have issues with learning to let go, no less.
Would Allegra be grateful to us when she returned, or at least pleasantly surprised? Or might she freak out and be offended by our intrusiveness, potentially even livid?
As crazy as it may sound, I spent the next 48 hours in suspense, tinged with terror.
What had I been thinking? Why, oh why had we gone in there? What had we done?
By Monday afternoon, I could stand it no longer. I also thought that it might be wise to prepare Allegra just a bit by giving her a hint of what to expect. Besides, it might be helpful for her to know that there was food waiting for her, so she didn't need to shop.
So I texted her to say that BTW (by the way), we had visited the farmer's market near her building and left behind a small assortment of items she likes in her fridge.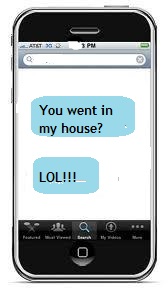 "You went in my house?" she was quick to text back.
I held my breath in abject fear… until she followed up those words with the cheery acronym with which young people punctuate nearly every utterance these days.
"LOL."
Well, now at least it would be less of a shock, and she wouldn't suspect burglars. (Not that your average burglar tends to do your laundry and lay out your favorite PJs.)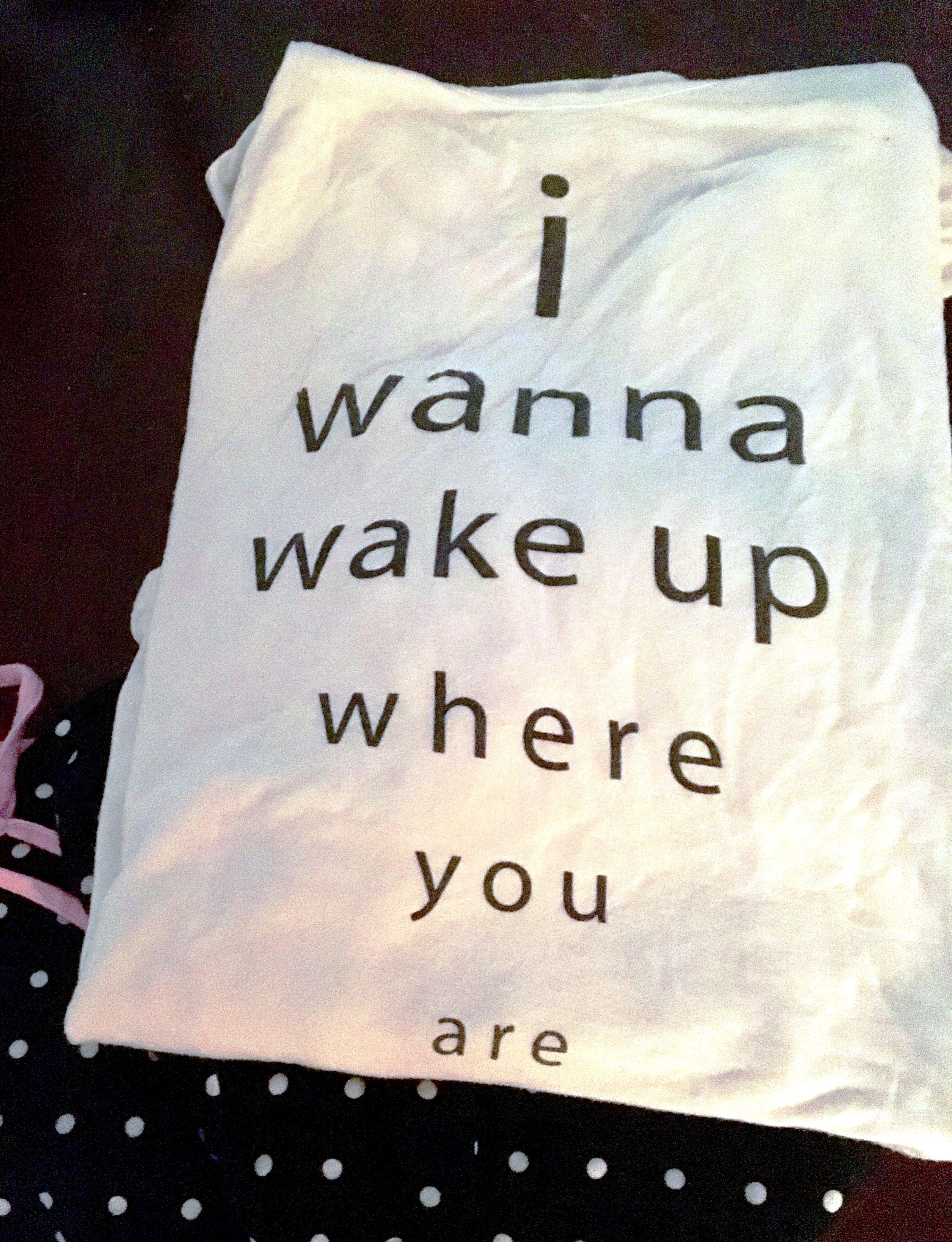 As my daughter well knows, I take a Zumba class every Monday night from 6 to 7 at the local Jewish Community Center. So it was no surprise when my cell phone began to ring promptly at 7:01.
"Uh, tell me. Have there been elves in my apartment?" a familiar voice asked.
Then she actually did it. Laugh out loud. And I breathed a sigh of relief.
"Yes, it must have been elves," I said. "They thought you could use a little help."
Then we discussed which items inside the fridge those pesky elves had left for her.
I must confess that it has felt good to be needed again, if only for a few weeks. Nonetheless, I can't wait until my daughter is fully back on her own two feet and I am no longer needed.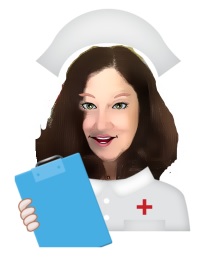 Right now, I'm looking forward to having her home for Thanksgiving, along with my son and daughter-in-law, so I can take care of them all on my own turf without feeling intrusive.
This being Thanksgiving, they can expect plenty of care. Not to mention feeding.
But Latke's leg is finally on the mend, so if necessary I'll go back down to the city afterwards to deliver care packages and perform more domestic missions of mercy. After all, I'm still my daughter's mother. And for now… well, that is the most I can do.
4:02 pm