A Word From the Weiss
Is it just me, or does everyone feel like their life entails enough drama, tsuris and nachas – that is, enough to kvetch and kvell about – to warrant its own reality TV show? Well, The Real Nice Jewish Moms of Connecticut may not be airing in primetime any time soon, but it recently occurred to me that it might be high time for me to go on a certain existing reality show instead. Or, more precisely, for my daughter to go on it. And given the nature of this particular show, I would be obliged to go with her.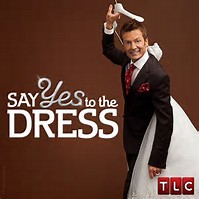 If you are a woman of a certain age (that is, my daughter's, which is 27), give or take, then there is no need to explain when I say that I'm talking about Say Yes to the Dress. This phenomenon, now in its 15th season on TLC, entails brides-to-be shopping for their wedding gowns at Kleinfeld's, the most exclusive bridal salon in all of NYC.
OK, let me be perfectly honest. I wanted us to go on this show not because I crave attention or publicity, but because I craved attention and publicity for my daughter. That is, I thought that this would be an ideal way to help promote her career as a jazz singer. Even if it would most likely lead to her buying an extremely expensive wedding dress. (No, they do not GIVE you the dress. They do their utmost to SELL one to you.)
After all, they don't need to give away dresses to entice people to go on this show. Almost every young woman of a certain age (my daughter's), as well as her mother, would give her right arm (or at least ring finger) to get on. That's how popular it is.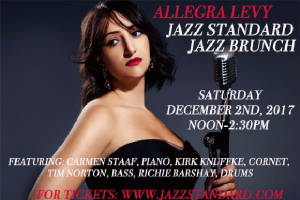 So don't imagine for one second that simply anyone can go on it. I didn't. I knew that Allegra needed an angle – some special drama, personal hardship (i.e. tsuris) or other distinction that would make her more compelling than your run-of-the-mill or even runaway bride.
In other words, she needed a hook. And we were pretty sure that we had one. Maybe even more than one.
One night, when I couldn't sleep, I sent Allegra a link to the online application for the show. She never mentioned this, but soon after she filled it out and submitted it. And the show apparently agreed that she indeed had an angle (or maybe even more than one). Because they contacted her almost instantly, requesting more information and photos.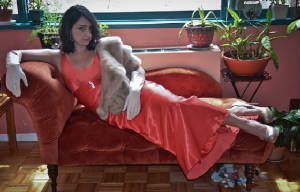 One of the angles that she'd used to promote herself did, in fact, relate to her singing. We had once seen an episode in which a beauty pageant queen explained that she had been wearing beaded and glittering gowns for years, so she needed something even more spectacular for her wedding day. Allegra could legitimately say the same.
And so she had.
As I would later tell them myself, she already had closets full of shimmering gowns. They are her work clothes – her everyday (or, more accurately, every night) attire. So, for her wedding dress, she really needed to find something that would kick it up a notch.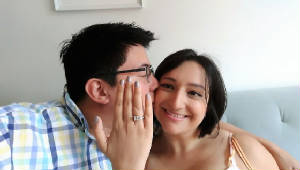 Then there was the multicultural nature of her match made in heaven (or, actually, in Hong Kong). Allegra is a nice Jewish girl. Her fiancé, JP, is half Hong Kong Chinese and half German. She has dubbed their impending nuptials "My Big Fat Jewish Chinese German Wedding."
Yet there was still one more selling point that my daughter had up her sleeve. (Although given our taste in bridal gowns, there would probably be no sleeves involved.)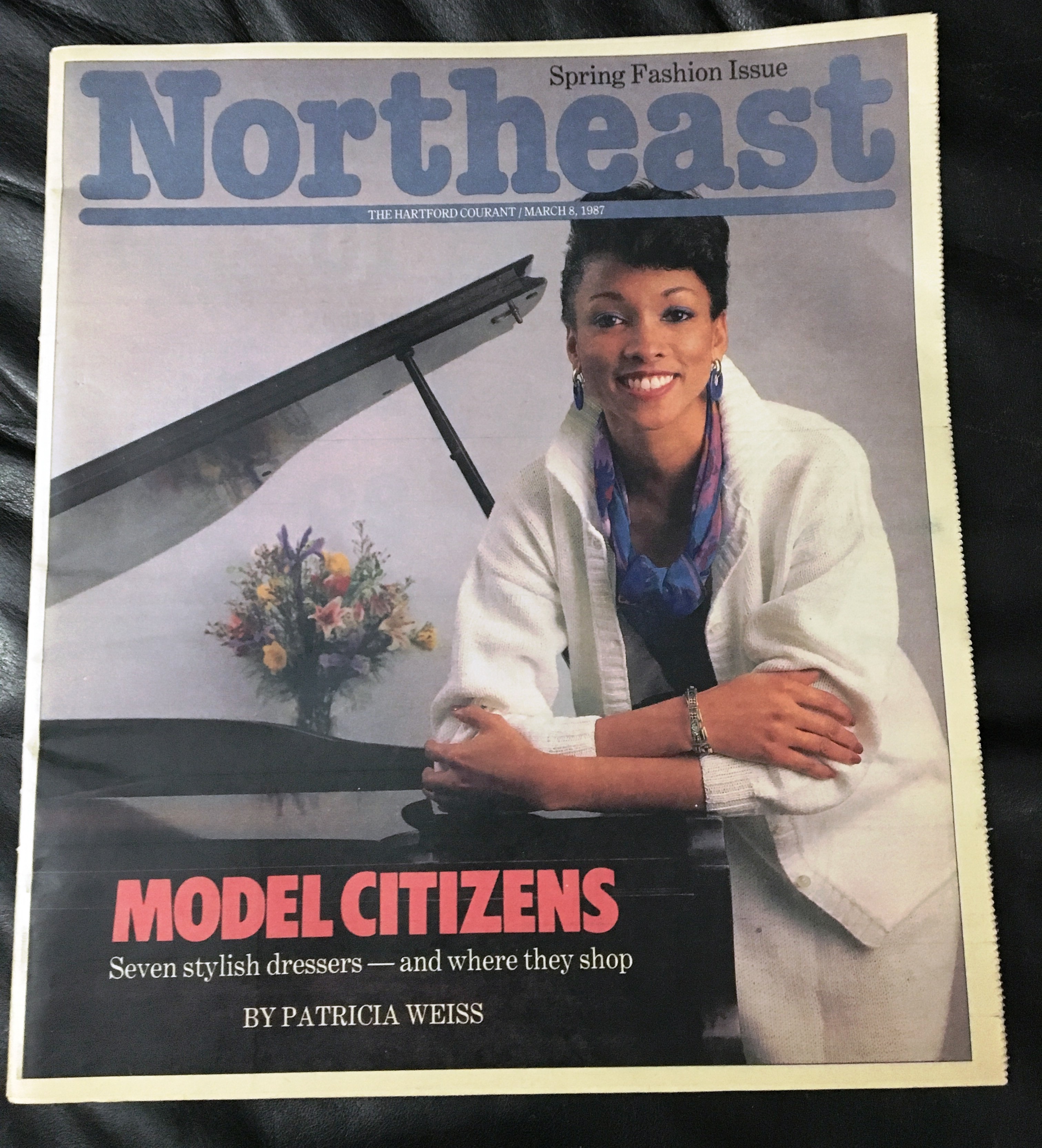 As I have indicated, Say Yes to the Dress thrives on drama. Especially family drama. They like it when the mother of the bride, or some other member of her entourage, has a vision of what the dress should be that clashes with the bride's own preferences. Years ago, I was a fashion writer. I wrote about fashion for USA Today, and later served as the fashion editor for a Sunday magazine in Connecticut. I produced fall and spring fashion issues showing slinky models striking poses in the latest styles. I also covered the semiannual fashion shows held by NYC's top designers.
To say that I am still what you might call a "fashionista" now was a bit of a stretch. However, I did have strong opinions about what sort of gown my daughter should wear. And whether or not these would conflict with her own, that probably sounded promising.
It was promising enough, at any rate, for the show to interview her over the phone. This was followed by a live screen test, also performed over the phone via FaceTime. That presumably lived up to their expectations, for they proceeded to screentest me.
I guess they had to be sure that I had at least a modicum of personality and would not just sit there like a lump… or a potato latke.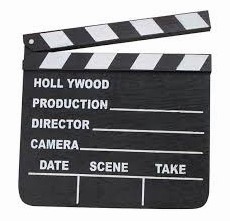 Have you ever had a screen test (albeit one performed over the phone via FaceTime)? I hadn't. So I must admit that I was a little anxious. At least, as luck would have it, it was slated for an afternoon right after I already had a hair appointment scheduled. I still agonized over what to wear and, more significantly, what to say. I even prepared a script for myself, although I knew that I wouldn't be able to actually read from it while looking into the phone exhibiting at least a modicum of personality.
During the five to ten minutes I spent on camera, I forgot half of what I'd planned to relate. But I managed to rattle off my spiel about Allegra needing to kick it up a notch for her wedding. I also talked about how close a relationship we had – how we were beyond best friends. Even though my daughter has a full-time "day job," we managed to speak to each other several times a day, almost every day. When she'd spent a year in Hong Kong singing at the Four Seasons Hotel there, we'd still managed to talk almost daily, despite the 12-hour time difference, even if this meant that one of us was typically in a glittering gown and the other in a nightgown. (Which one of us was in the PJs? You get one guess.)
I was not prepared for the last question they would ask me, however. If Allegra came out on the show in a dress that I didn't like, was I prepared to be honest?
Hmmm.
I hemmed. I hawed. Then I gave the most candid answer I could muster. Which went something like this: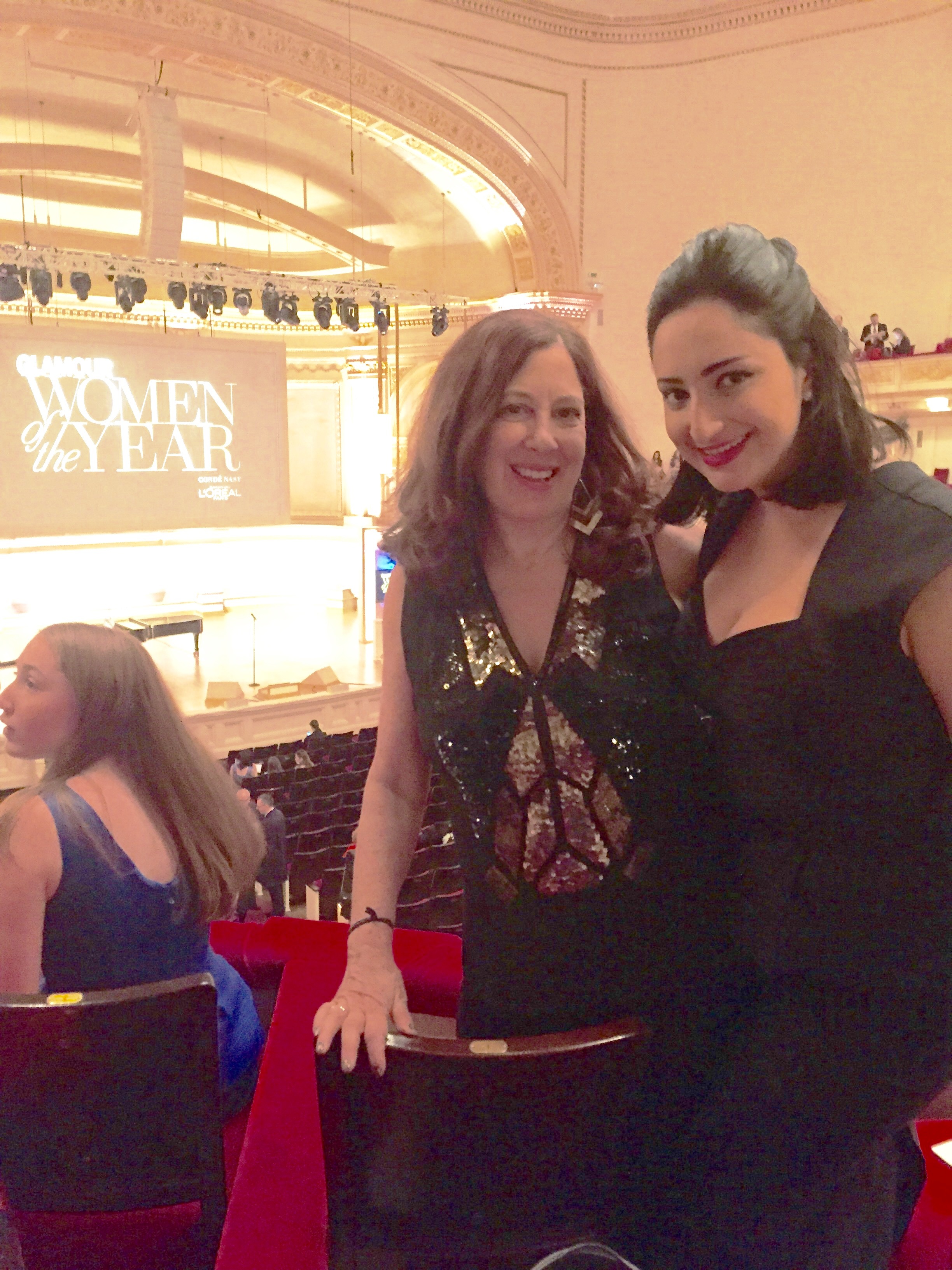 "I love my daughter so much that I would never say anything that might crush her." On the other hand, she had such a fantastic figure that I was certain she would be able to find a dress at Kleinfeld's that looked absolutely stunning on her. So I couldn't imagine allowing her to buy anything that truly didn't. For this reason, I thought that I could afford to be honest with her – not brutally honest, necessarily, but gently honest.
I guess that they were satisfied with this reply, or whatever else we both said. For Allegra was told by the nice young woman who had screened us both that if the show was interested, they would give us a choice of several dates sometime in the distant future. But a few days later, we heard back from them. Never mind the choice of future dates.
TLC wanted us ASAP. Were we available to go on the show the following Thursday? That is, were we ready to say yes to Say Yes to the Dress? What could we say but "YES!?!"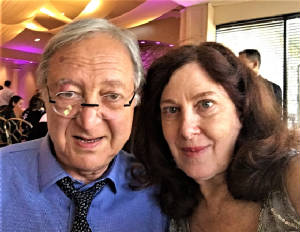 Allegra was told that she could bring only three people on the show, including me. But so many of her friends wanted to get in on the act that she persuaded them to let her have four. This would not include my husband, to his enormous disappointment, although not necessarily mine.
I knew that he would have only one thing to say about each dress that she modeled: "What does it cost?" That would instantaneously suck the joy out of what promised to be the experience of a lifetime. I did my best to explain this to him. "Honey, we're not going to Kleinfeld's to save money."
Allegra was told that we should expect to be there for six hours, and that we needed to arrive "camera-ready."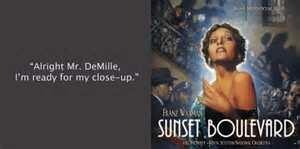 Camera-ready? Even if we'd had more than a few days to prepare, I'm not sure that anything, including industrial-strength Spanx, would have made it humanly possible for me to be "ready for my closeup, Mr. DeMille." Allegra made hair appointments for herself and the rest of the group. But I decided to go as myself. Go as is, that is. Just kidding! I would spend at least an hour and a half transforming myself into a female contortionist as I tried to blow-dry my own hair.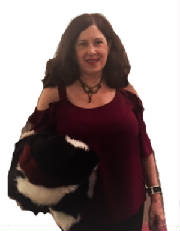 I would also shell out for a new top just for the occasion at my favorite local shop, Kimberly Boutique, after explaining my mission to the instantly envious staff (my main mission being to not look like a whale in high heels on TV). OK, maybe the item I chose wasn't the most slimming garment possible – no small consideration, considering that, as everyone knows, the camera adds 10 pounds. Then again, the cold-shoulder effect was "on trend," as Kimberly noted, and I thought that it looked reasonably glam and tasteful. I was going to play The Mom on this episode, after all. I didn't want to look skanky.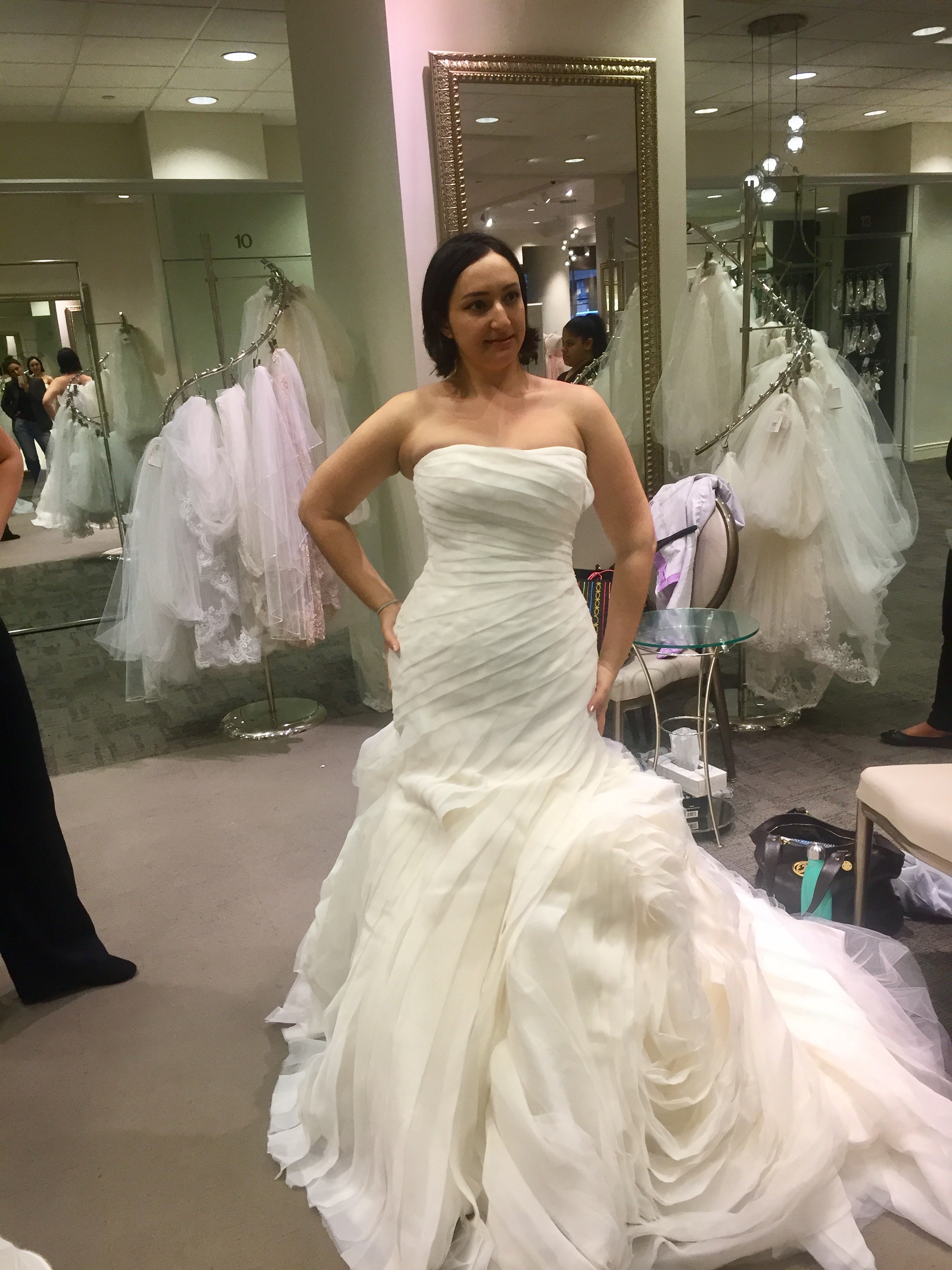 Allegra had already made one shopping foray to David's Bridal with my daughter-in-law Kaitlin and her dear friend Leslie to try on gowns. She wanted to do some advance research to see which styles suited her best. What suited her best at David's Bridal was a strapless Vera Wang. The Sunday before we were scheduled to shoot, I got to go on a second such outing, to The Bridal Garden, the special bridal shop on West 21st Street where Kaitlin had found her wedding gown when she and my son Aidan were married last summer.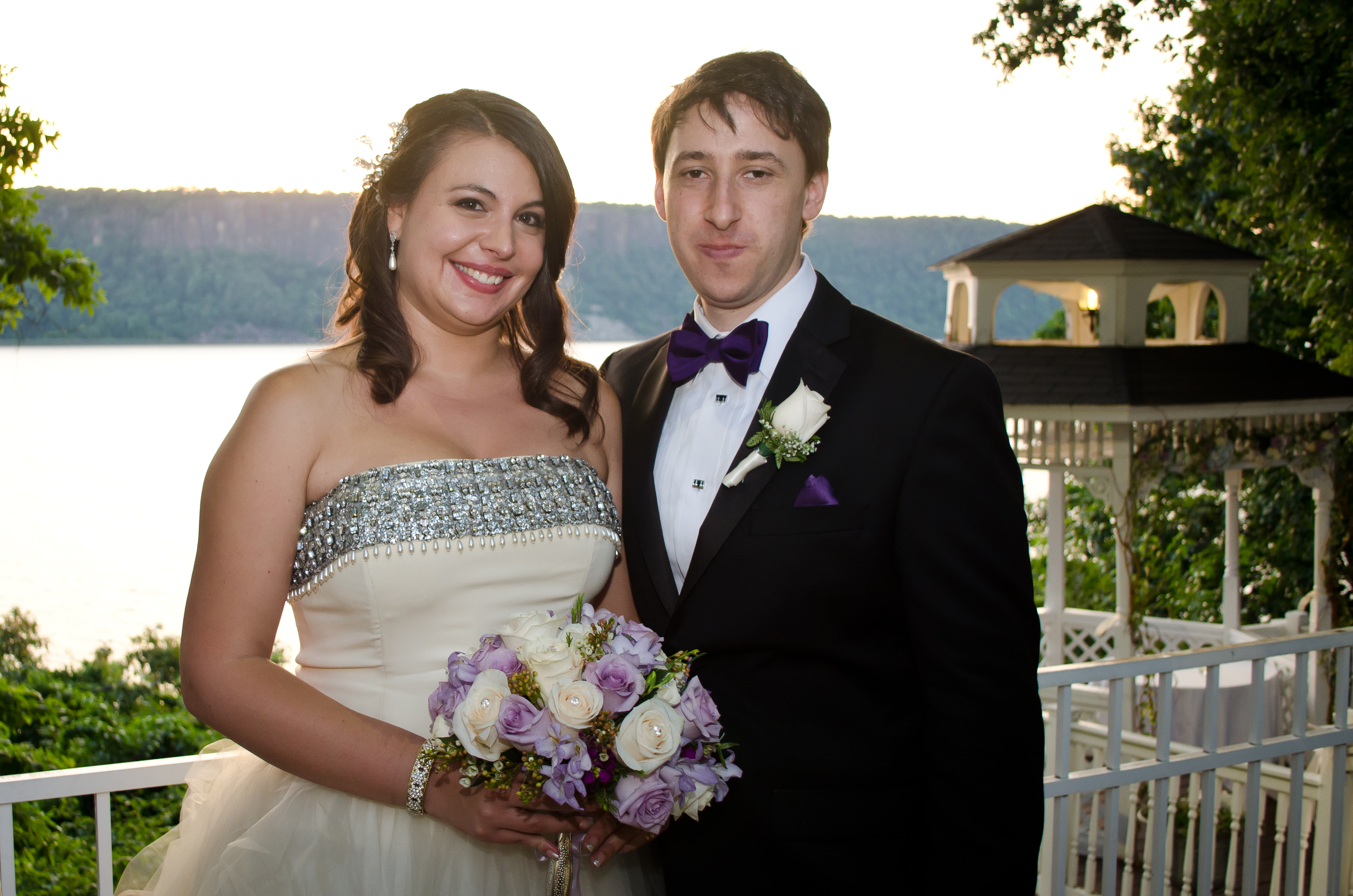 The special thing about The Bridal Garden is that its inventory consists mostly of samples and overruns donated by top wedding dress designers, including Vera Wang, Marchese, Ann Barge, Lela Rose, and Monique Lhuillier. It then sells these at a deep discount. Equally compelling to us was that, as the only completely nonprofit bridal salon in NYC, it donates 100 percent of its proceeds to the Brooklyn Charter School, a tuition-free K through 5 school for disadvantaged children in Bedford-Stuyvesant.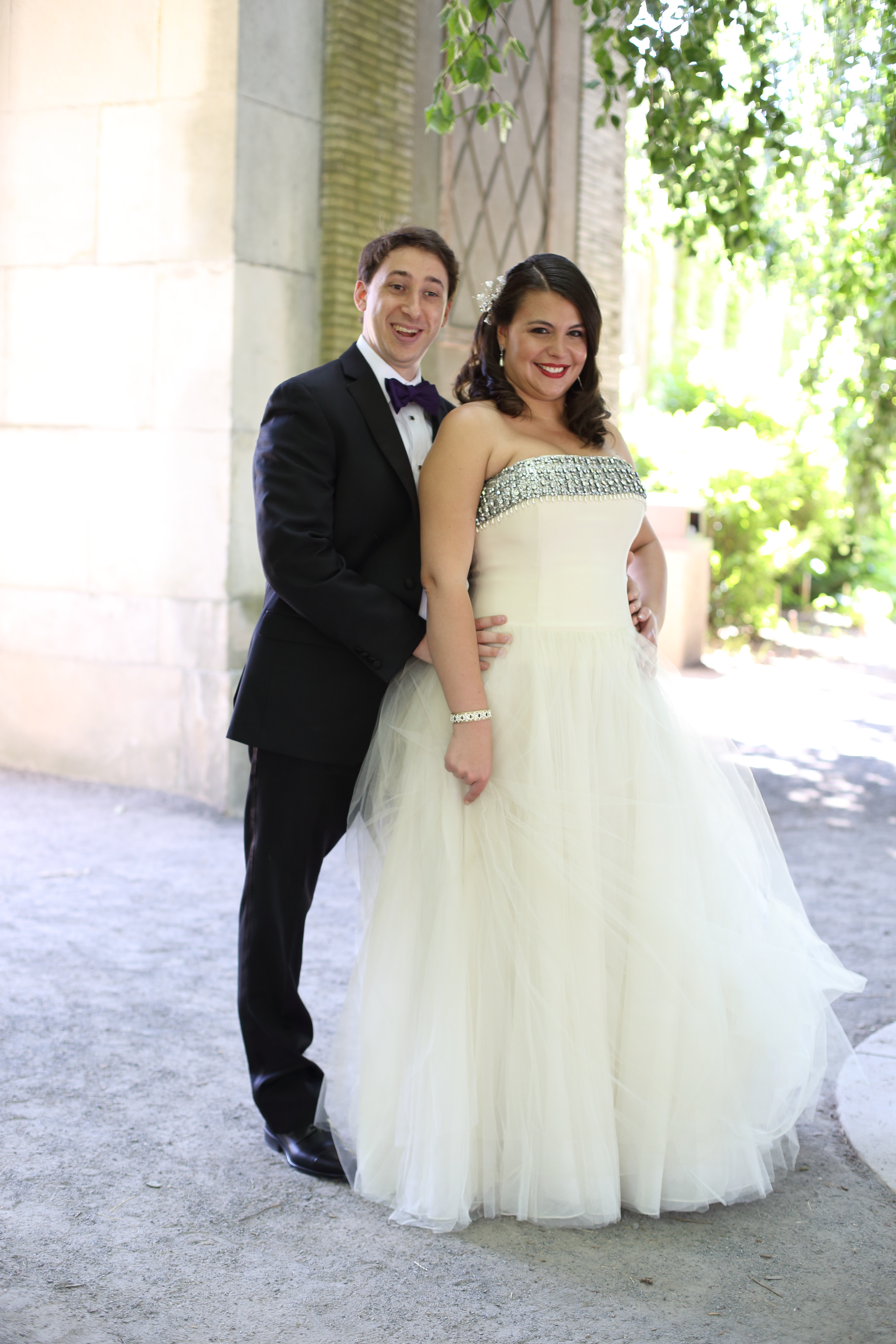 As ecstatic as Allegra was to have been chosen for the TV show, she was eager to contribute to this worthy cause, just as Kaitlin had when she bought her own gorgeous Vera Wang gown there. So it was a little unnerving when our entire group fell head over spike heels for a breathtaking Badgley Mischka mermaid-style gown there. It customarily sold for $3,000, but was marked down to a mere $999.
We had little doubt that she would end up spending more at Kleinfeld's. Quite a bit more, perhaps. If she didn't find anything that she loved there, at least she now had a back-up plan. Yet if she didn't end up saying yes to a Kleinfeld dress, the chances of her episode ever airing might be flimsier than a tulle wedding veil.
So she ruefully said no to The Bridal Garden gown. Oh, well. On with the show!
The following Wednesday night, I drove to NYC with her good friend Emily. We had to be at Kleinfeld's by 1:30 p.m. sharp Thursday and couldn't risk arriving late.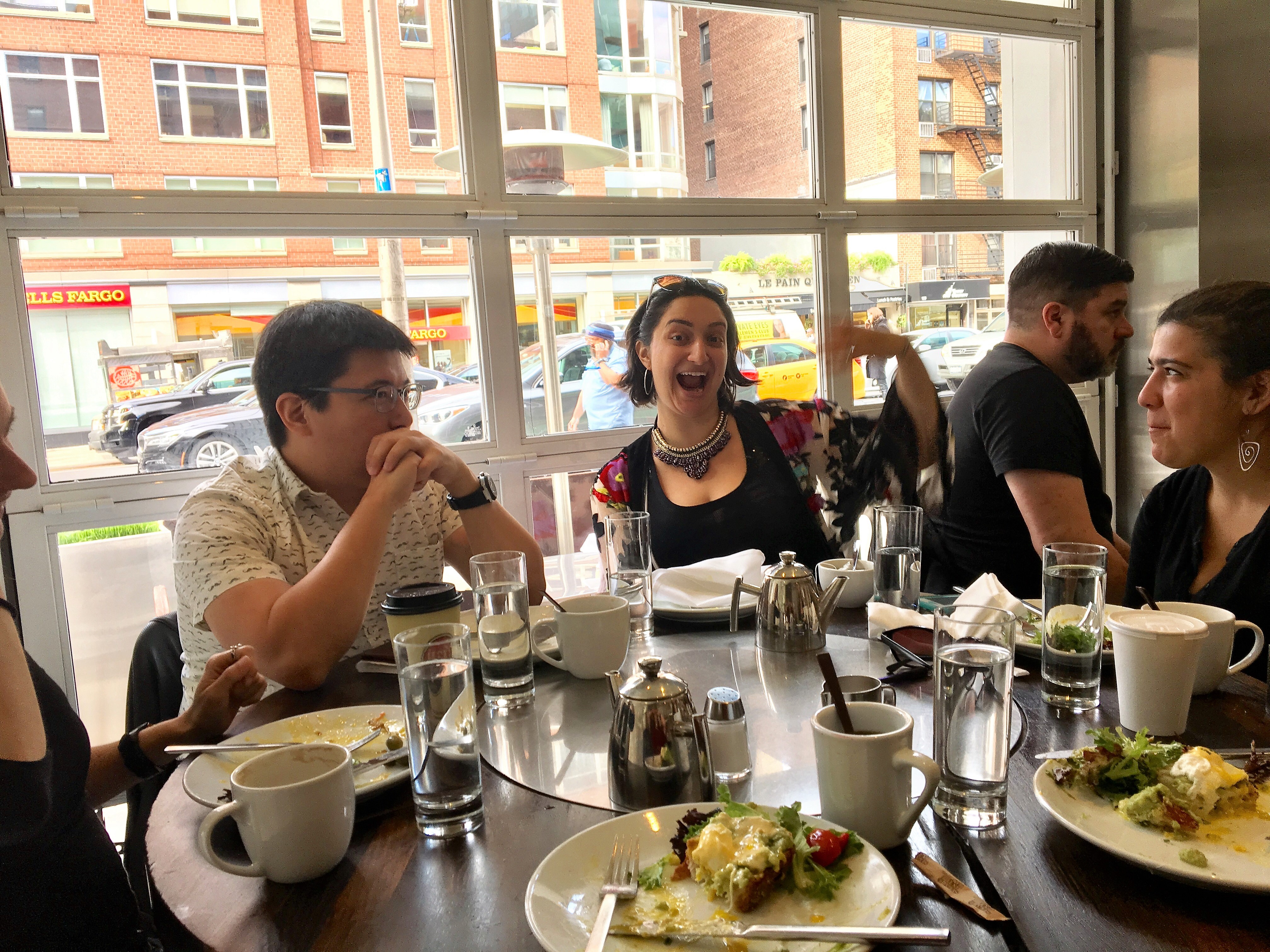 JP joined us all for an early lunch at Cafeteria, a trendy eatery near Kleinfeld's. Presumably, we would not be fed a thing during the six hours that we would be filming. But we were all so nervous and excited (not to mention worried about looking svelte). Who could think of eating now?
Then it was on to Drybar, part of a chain of salons where they will blow-dry your hair for $45. As planned, I had turned myself into a human pretzel while curling my own locks that morning. But I readily succumbed to their offer of a beverage while waiting, and downed a Mimosa – OJ spiked with champagne. Yes, I'm a real nice Jewish mom, but to play one on TV? A little dose of liquid courage couldn't hurt.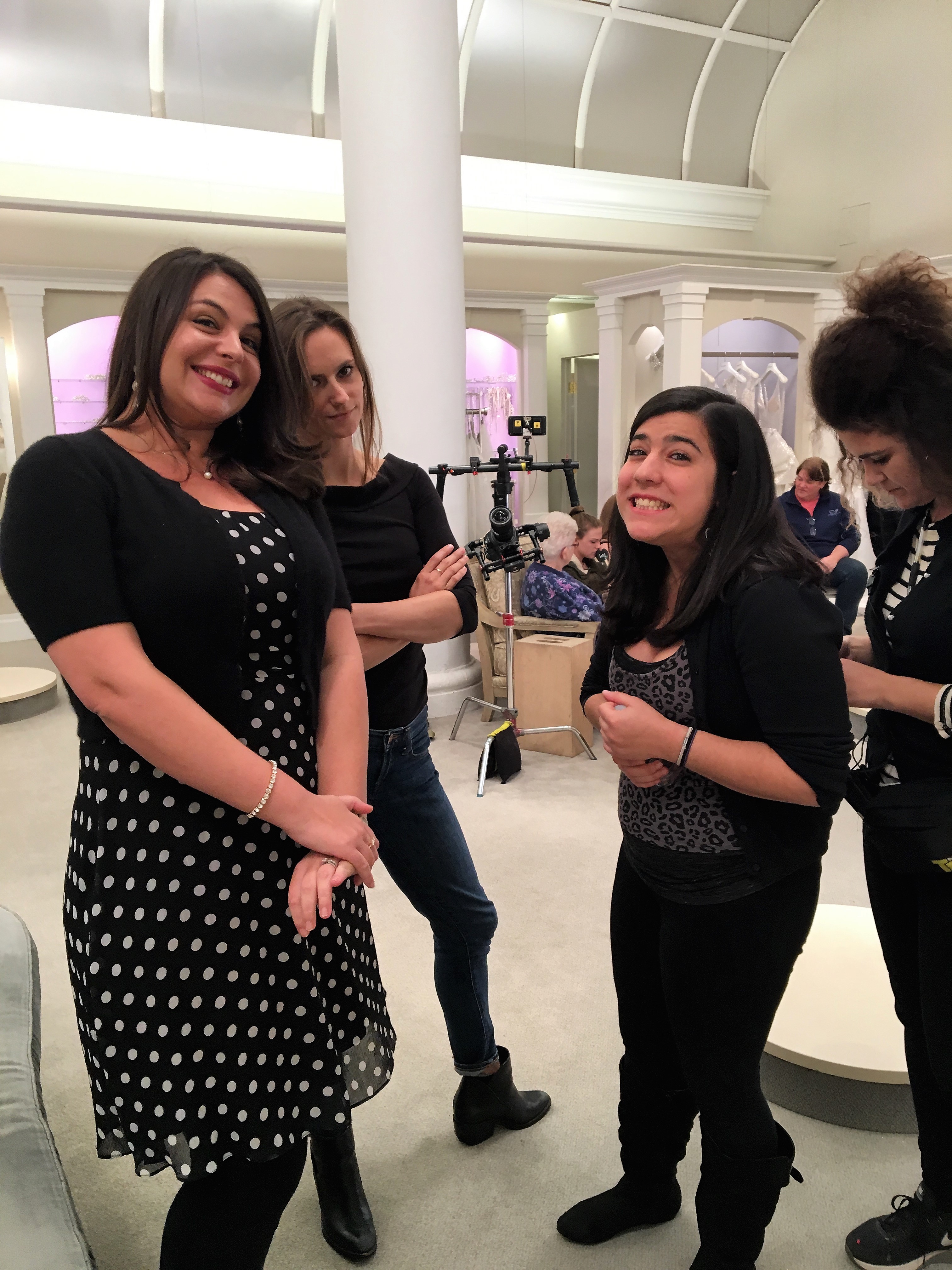 We arrived breathlessly at Kleinfeld's right on time, and were soon all hooked up with hidden microphones. Then Allegra was whisked to the back of the salon, where we were told she would be briefly interviewed. This interview, alas, was not so brief. She was gone for at least an hour.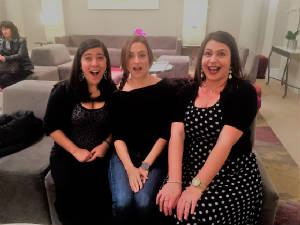 Meanwhile, the rest of us – Kaitlin, Emily, Leslie, and I – practiced reacting to possible dresses. "Look like you love it!" I ordered, snapping them on my iPhone.
They beamed.
"Now look like you're not so sure." (Meh!)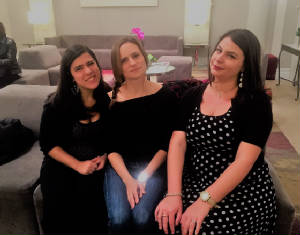 While we waited on the couches that lined the lobby, we peered longingly into the well-lit salon, which looked like a winter wonderland filled with headless mannequins draped in snow-white dresses, as well as future brides in every possible shape and size giddily trying them on.
We also watched in fascination as the front doors suddenly burst open and a large gaggle of giggling teenage girls flooded in, trailing none other than Randy Fenoli.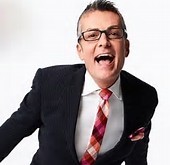 For anyone who may not know, Randy is a popular wedding dress designer and one of the show's main bridal consultants, all of whom have become celebrities in their own right. He had arrived just in time to be spied by these star-struck passersby from the Midwest. They could hardly contain their joy bordering on ecstasy as they posed with him for a group picture in the lobby, their chaperones looking on with a mixture of puzzlement and pride.
Finally, Allegra rejoined us, and a producer came out to give us directions. We were about to meet Randy on camera ourselves. After a brief intro, he would ask Allegra what she did for a living, whereupon she would answer by spontaneously bursting into song.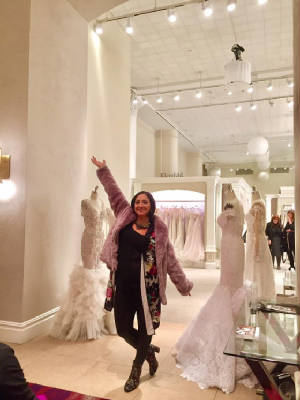 What would she sing? No problem. There's something major I forgot to mention.
Shortly after Allegra had done her screen test, she had been asked to write a jazzy jingle for the show. She'd promptly obliged with a ditty that ended with a "scat" solo sung as only a jazz singer can. The producers had loved it and wanted to include it on our episode.
At least five minutes into shooting this segment, however, someone suddenly realized that there was something wrong with Randy's mic, so we had to reenact the entire scene again, trying to look natural and not stare directly into the cameras this time. Argh!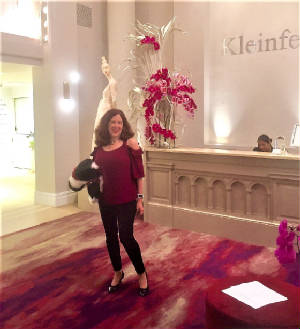 Although most of the questions Randy asked were addressed to Allegra, I knew that I needed play my own role to the hilt. The role of mother-of-the-bride-slash-fashionista, that is. So soon after I was introduced, I blurted out a little speech I had prepared.
I explained that I had once been a fashion reporter, but now contented myself with buying clothes for members of my family – my husband, my son, my daughter, my daughter-in-law, my niece, my nephew, and now JP. "Soon after he met Allegra, he discovered that dating my daughter meant that he had to say yes to how I thought he should dress. But I guess he doesn't mind too much, because they're engaged, right?"
This prompted an immediate question from Randy. "What was wrong with the way he dressed before?"
Gulp.
"Oh, nothing," I replied. In truth, there wasn't. But I don't think I sounded convincing.
Randy followed up by asking me what kind of wedding dress I thought Allegra should wear. I was prepared for this one and had rehearsed that answer, too.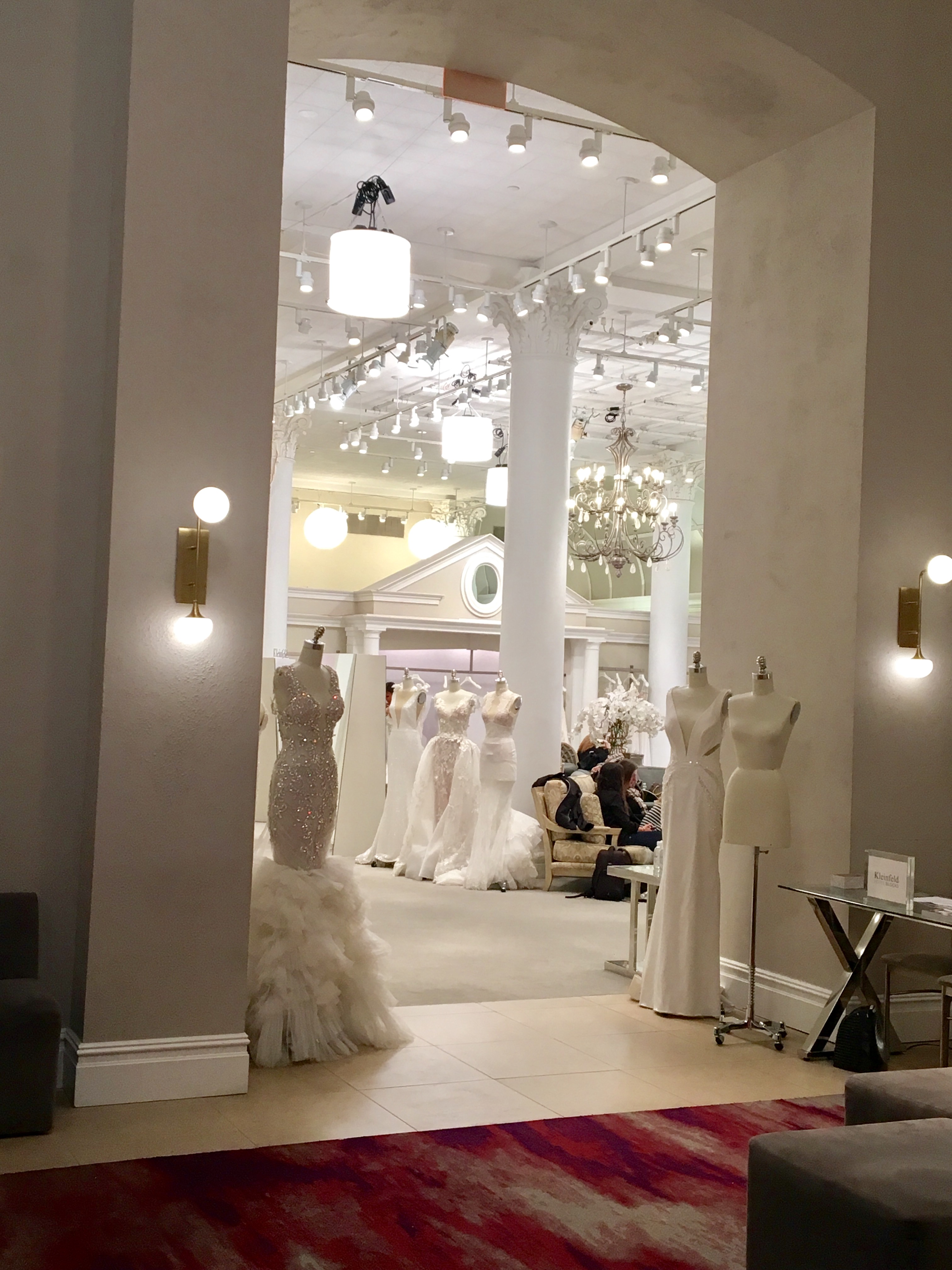 "Oh, anything at all," I said blithely, "as long as it has a mermaid or trumpet silhouette with a strapless or sweetheart neckline, and it hugs her body down to here, then flares out into a cloud of 'wow!'… preferably in silk, organza, or maybe silk tulle."
Fearing that this might sound a bit too specific, I followed it up with a second opinion.
"Honestly, though? She can wear whatever she wants."
Randy smiled, nodded, and sized me up with a knowing glance.
"I don't believe you," he said.
Was I already being painted as the evil mom? I had no time to ponder this alarming prospect. We were immediately ushered at last into the cavernous salon, which was filled with pale-colored upholstered couches, towering floor-to-ceiling columns, gleaming chandeliers, and hundreds of dazzling sequined, beaded, and billowing white dresses embellished with ballgown skirts, lace, ruffles, peek-a-boo patterns, and trains long enough to rival Princess Diana's.
Then the trying-on began.
Spoiler alert: There will be no spoilers here. I don't want to detract in any way from the show when it eventually airs.
Plus, even if I wanted to, I can't show you any of the dresses Allegra tried on, because we were asked to put our cellphones away.
I won't even tell you whether she actually ended up saying yes to a dress or not.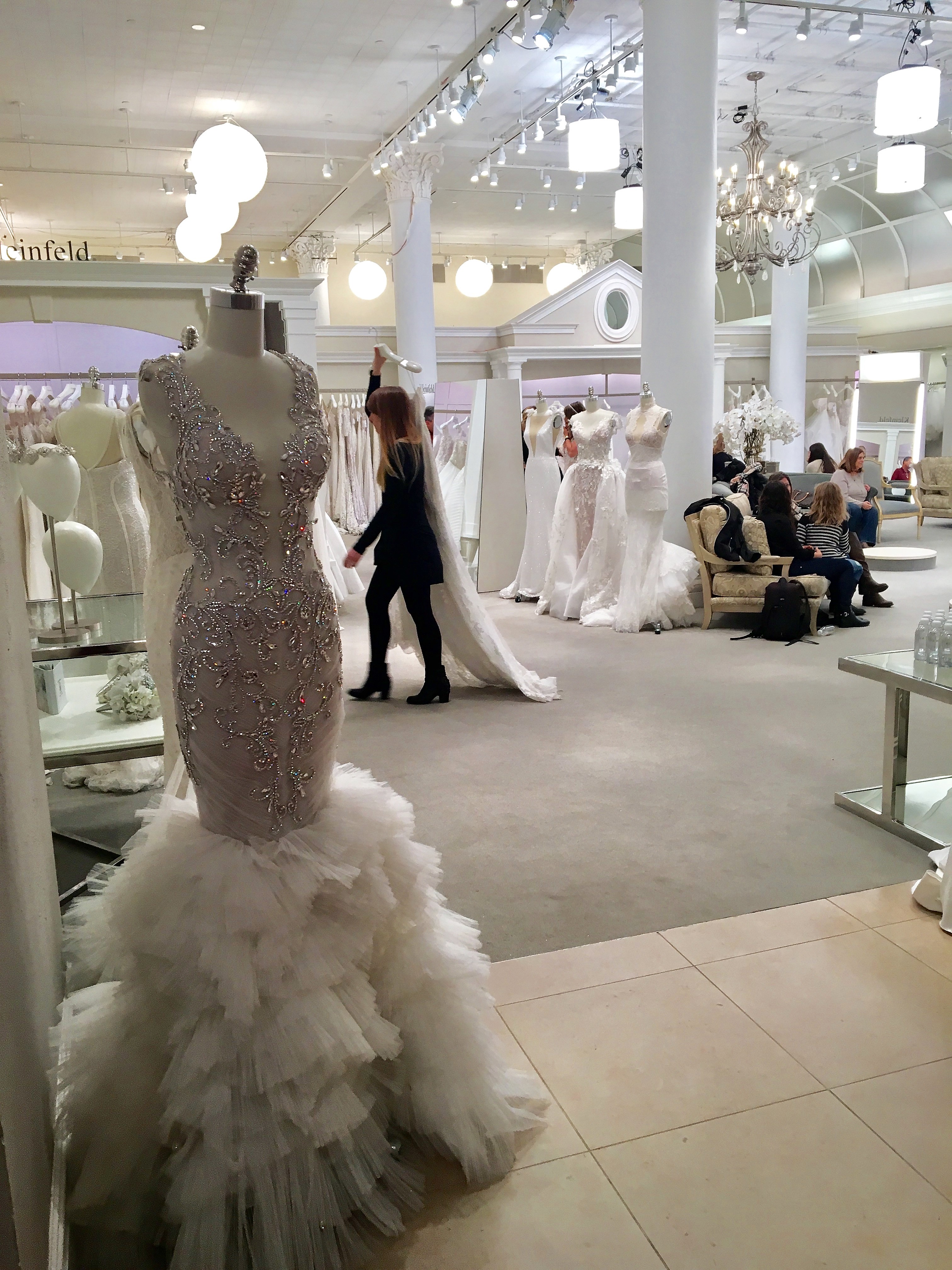 All I am willing to report is that, as exciting as it all was, the rest of the experience ended up being exhausting and, well, a bit unnerving. For, as honest as I was prepared to be, it was horrifying to see my daughter step out in a series of wedding gowns and to have to weigh in on camera about whether I liked them before I could ask her if she did.
But I will divulge that when she sashayed out in one overly ornate dress, I dared to utter the one word that instantly sprang to mind, never mind that it was in Yiddish.
Ungapatchka.
Randy instantly demanded a translation, which I did my best to supply, never mind that there is no word in the English language that comes close to being equivalent.
"It means everything and the kitchen sink," I said, knowing that this was hopelessly inadequate. "That dress just has too much going on."
In that way, I think I totally did my part to play up the Jewish mother angle.
The former fashionista element, though? That, I was a little less comfortable about.
After Allegra had finished trying on dresses, I was escorted to the back of the salon myself and interviewed on camera, under hot lights, for what felt like at least an hour.
In relation to what I'd said earlier about buying clothes for family members, I was asked if these people knew that I was out shopping for them. I explained that I never actually went shopping for anyone. It was just that if I was out and about and happened to spy something that would look perfect on someone I knew, I would often buy it for them.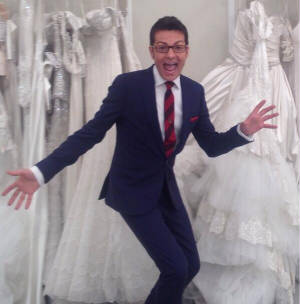 "I guess you could say I'm a self-designated personal shopper," I explained.
The producer, a pleasant Scottish woman with a dry wit, seemed to like this phrase so much that she repeated it slowly as she jotted it down. I envisioned that I would end up on the show with that title printed beneath my image: "Self-designated personal shopper."
But now I'm not so sure that this is quite where that line of questioning was going.
She began to ask me leading questions, like, "Do you sometimes see people and think that they're wearing the wrong thing, or they ought to change their hairstyle or whatever?"
I looked at her, surprised, and shrugged. "Sure," I said, "I guess."
Who can help doing that when they're on the subway or they go to, say, the DMV? So, I thought to myself, "Doesn't everybody?"
She then proceeded to ask what I thought she was doing wrong, and how she should change her own style. In other words, what might I do if I gave her a makeover?
Hmmm. Did she genuinely want a few fashion tips, or was she just trying to brand me as the fashion police? She was dressed in all black, as was almost everyone connected with Kleinfeld's or the show. Hers looked like comfortable clothes, a plain black top and tailored slacks intended for a long day of hard work behind the scenes. Who knew what she wore under normal circumstances, or when she was all dressed up?
Whatever the case, this felt like a trap. So I looked away and squirmed.
"Come on. Just tell me. I can take it," she prodded.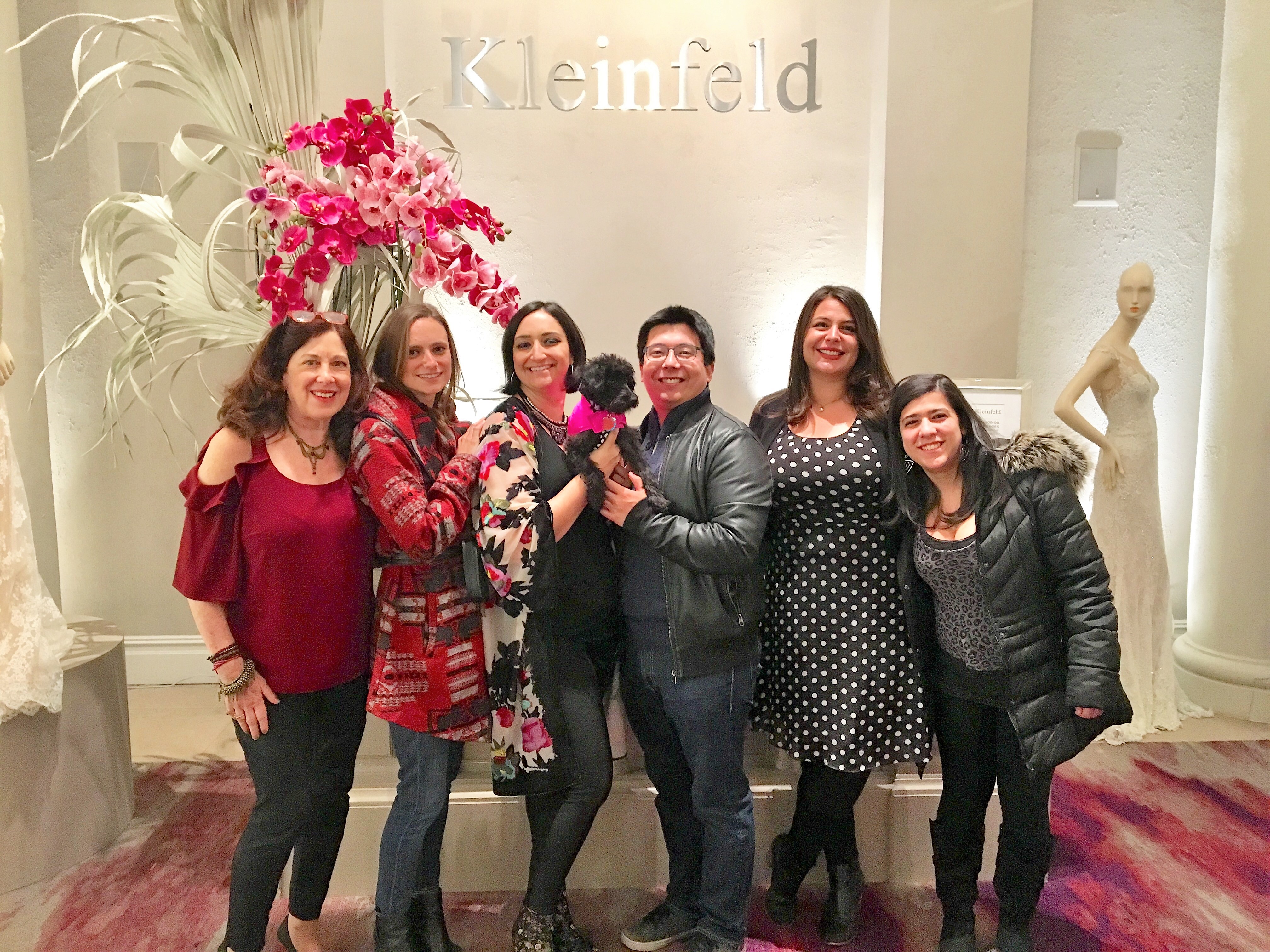 You know how they say of some people, "She can dish it out, but she can't take it?" Well, that's not me. I'm closer to the opposite. I can't take it. Or dish it out.
Instead, I gulped again and continued to avert my eyes. "I really don't feel comfortable answering that," I said. She shrugged and finally moved on.
Days later, though, as I reviewed the conversation, that's what would stick with me most. Was she trying to brand me as the fashion police? Or, just as bad, a snob?
Talk about drama! Not to mention tsuris!
I am certainly not any of the above. I'm not one of those people who walk around judging other people – not for the way they behave, and surely not for the way they dress. I used to write about fashion way back in the '80s. What the heck do I know now?
All I know is that I love my daughter, and I hope she is happy with whatever she wears for her wedding, and, far more importantly, with the man that she weds.
They should live and be well in whatever they wear. I will happily say yes to that!
Note: Our segment of "Say Yes to the Dress" probably won't air until next fall. I will keep you posted.